We laughed, we cried, but most importantly, we did not hurt anyone.
Well, after 8 weeks, 8 movies, and 8 million laughs, last night marked the last SF Movie Knights event, capping it off with the greatest horror movie ever, and I might go on to label it simply the greatest MOVIE ever, Tommy Wiseau's masterpiece of American cinema, "THE ROOM".
Thank you not only to everyone who came out last night for the final event, but to everyone who supported the Knights during the last 2 months. Without you guys, we would still be watching movies and laughing alone. Every dollar that was spent on the prints & tickets helped pay for all of the chairs, the pizzas, the pinatas, the prizes, and the Meteor Juice. And we hope to continue the Movie Knights tradition when we open our new Zerofriends Pop-up retail store in North Hollywood in 3 weeks!!! yes!
Oh, however, we are doing a couple small fun things this weekend at the store as it will be our last weekend open, but I will announce those later today:)
Until then, check out some of the amazing photos from last night's final shindig.
The final night kicked off SWEET, literally, thanks to Alicia the hipster dinosaur!
"Ohai, Alicia!""Hey Tommy, I have to go now."
And the hottest 11-year old girl ever showed up to Kick Ass*.
*The 11-year old reference is a joke, jerk.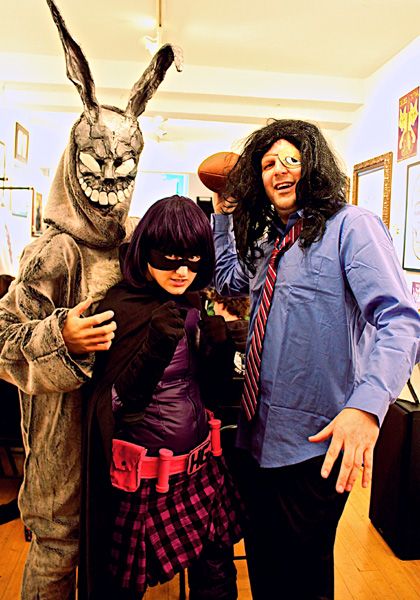 Ohai, Frank, hai Hit Girl, I have something to do, I have to go now.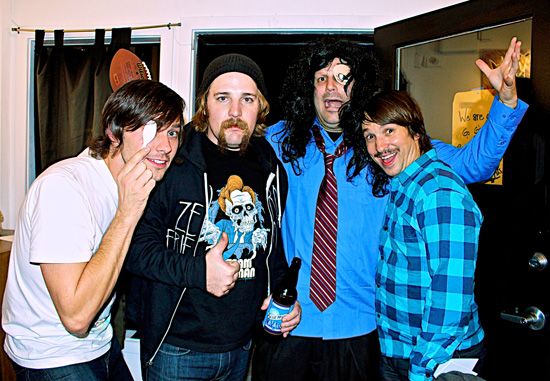 Ohai, guys. Why are you all dressed up like my friends Sean, Brian & Brandon? I have to go now, byyyeee.
Speaking of Zerofriends' own Brian Kennedy….Ohai, greatest tattoo on the planet, your tattoo is a lot like my movie The Room, they are both great, and they both deal with so much real life situationals. Like love, and betrayal, and naked chests.
Ohai Kiersten, I'm your favorite customer. Byyeeee.
"Ohai, doggie", says Robert Bowen to doggie.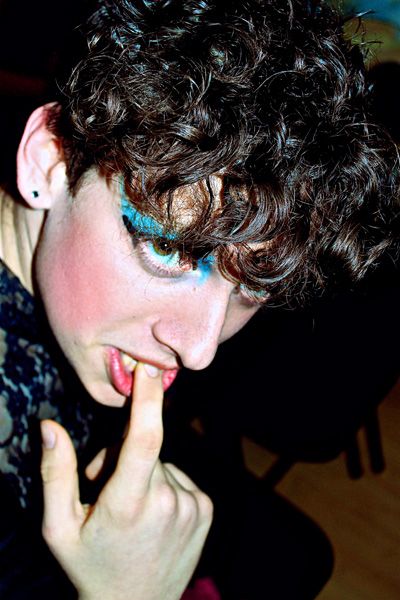 Ohhai, Lisa. You look beautiful in your makeups.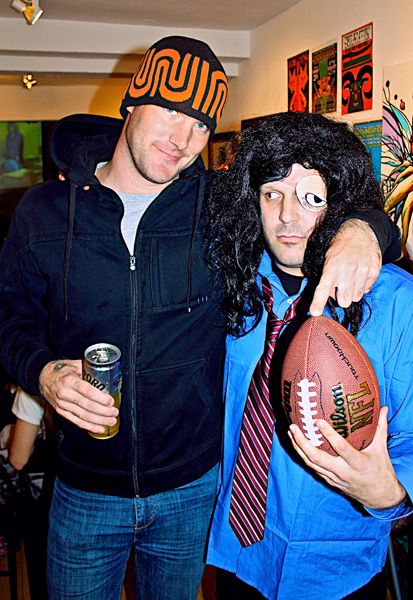 Ohai, Giant! So anyway, Nate Van Dyke, how's your sex life?
Footballs, the american sport of Americans, was played even in the smallest of rooms.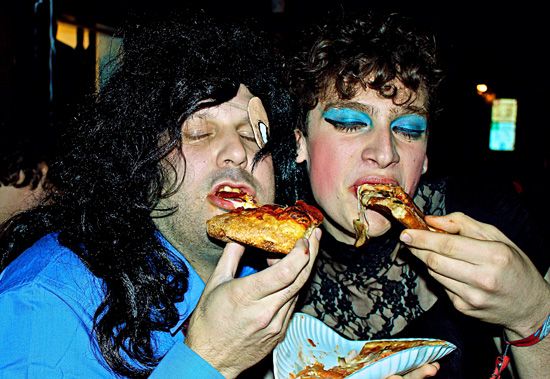 Ohai, Lisa, you already ordered a pizza, you think of everything!
Ohai, Sean. Yes, you definitely have cheese-cancer. But don't worry about it. I have to go now.
Ohai SPOONS! You would look great in a frames...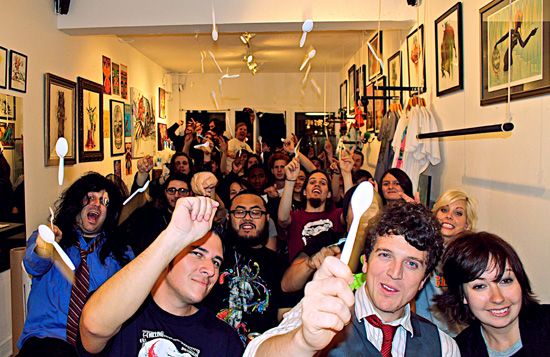 But you would look even better THROWN!
Ohai, everyone, I would like to discuss with you my movie, the greatest movie ever made on film and digitals.
(I'm taking this one SO hard for the team it's not even funny. You're welcome, people who already make fun of me.)
Ohai Gary's friends. After the movie is over, I'm giving out portraits of myself and DennyDennyDenny boy that you can remove some of your framed spoons and replace with pictures of me, the greatest great person who has ever lived without getting a promotion.
(Tommy & his essentials…)
Denny & some kind of money. But WHAT KIND OF MONEY DENNY!???
Ohai, Robert, Ohai Sage, Ohai lazy-eyed psycho.
After my movies, I drew pictures so that everyone could enjoy without hurting ANYONE.
Ohhai! Magically, my long-time eye fixed itself!
YOU INVITED ALL MY FRIENDS! GOOD THINKING!