It's no mystery that the entire horror genre has shaped my creative life ever since I watched Romero's Creepshow and then dressed up as a severed head on a plate for Halloween in 3rd grade. It's also no mystery that, more specifically, INDEPENDENT horror movies have been amongst my greatest loves during these formidable years. Evil Dead, Dead Alive, Bad Taste, Night Of The Living Dead, Re-animator, Henry, Basket Case, Cemetery Man, and, more recently….Adam Green's HATCHET & HATCHET 2.
And simultaneously, it's no secret that Hatchet director Adam Green is a huge supporter and fan of underground art.
So I guess the horror gods who control the gory planets and stars helped guide Adam & I towards each other in a dark alley where we could each shape-shift into our favorite monsters, battle to the death, declare it a draw, high five, and decide to collaborate instead of fight!
And I am more than glad that we did, because I am extremely proud of the disgustingly cool visual Louisiana gumbo that we brewed up for your eyeballs.
Adam Green & I met recently at a Weekend Of Horrors event in LA and shortly after, we started crossing paths more frequently and after realizing that both of our "origin story-arcs" were very similar (our careers were both forged from years of passionate DIY experiences with our art forms), it was a natural progression to collaborate when the time was right. And that time….is right…NOW.
In honor of Adam Green's recent amazing feat of releasing HATCHET 2, a truly independent horror movie completely uncut and unrated in mainstream theaters this past October (something that no other movie has done in over 20 years!), he and I teamed up to create an ultra limited HATCHET 2 Art Print that is available now exclusively through ZEROFRIENDS, who also produced the print.
This art print ALSO marks the FIRST little project that Adam Green & I collaborated on, but NOT NEARLY the last. He and I have just officially started working on a REALLY REALLY COOL ART PROJECT that has never been done before that we are both ecstatic about. But more on that later. For now, enjoy the colorful madness that we created to honor one of the coolest events in recent independent horror history:) Oh, and getting to draw Victor Crowley's scarred visage and Danielle Harris' perfect one wasn't so bad either! Here are all of the details for the HATCHET 2 art print, which is AVAILABLE NOW, exclusively online at ZEROFRIENDS.
"HATCHET 2" Limited Edition Giclee Print
By Alex Pardee
17" x 22"
Printed with archival inks on Velvet Cotton Rag paper.
Ultra Limited edition of 100
Each poster is signed, numbered, and bled upon by artist Alex Pardee and HATCHET 2 Director Adam Green
$50.00 Each.
CLICK HERE OR ON ANY OF THE PICTURES TO VIEW/PURCHASE THE HATCHET 2 PRINT EXCLUSIVELY ON FROM ZEROFRIENDS!
Direct link to purchase the Hatchet 2 Print:
http://zerofriends.com/store/index.php?main_page=product_info&cPath=28&products_id=348
Click HERE to view a high-rez detailed view of the print!
(please note this image is watermarked and the watermark does not appear on the actual print)
Adam slaving away signing while I stand there with a camera and a whip.
Some details of the print, which I can honestly say is the most detailed print i have ever produced to date!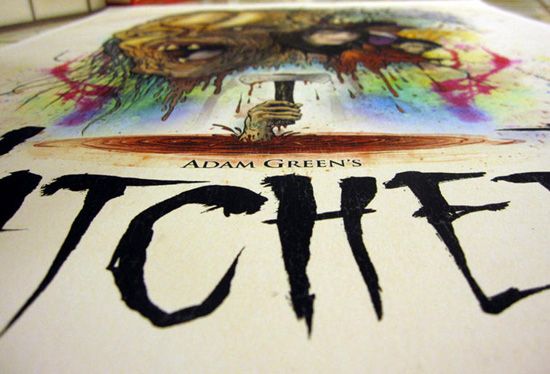 Thank you all for your continued support, and if you missed it in the theaters, please keep your eyes peeled for HATCHET 2 on DVD & BluRay sometime soon!
Love, Alex & Adam
VICTOR CROWLEY LIVESSSSS!