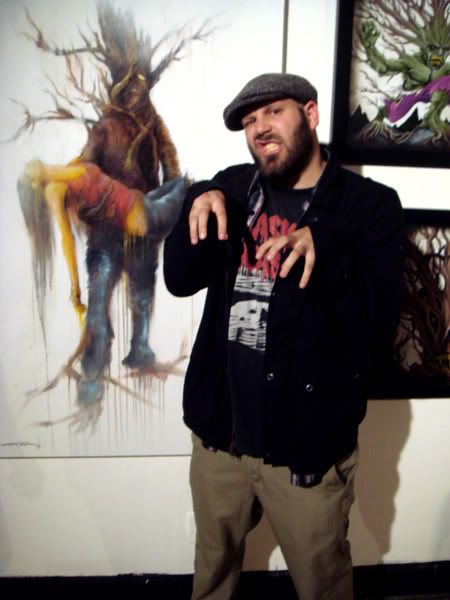 Well, it officially took over an official year, but the official "Night Of The Treeple" Cinematic Clothing Line that I designed with HURLEY is officially out, and officially CELEBRATED, as we had the OFFICIAL release party at Club 6 in San Franciscoffical. Let's go OFFISHING!!!
I was too officially nervous to have a camera on hand, but thanks to
STEPH GRANT
and WIlliam from JUXTAPOZ, here are a handful of official photos of the art show, shortly before CAGE, TOPR, GRAND INVINCIBLE, and PAPERVEHICLE OFFICIALLY destroyed the official stage with awesomeness in the musical department.
Enjoy.
Club 6, the official scene of the crime.
before the show started, I had to whisper my weight gain secrets to Cage.
Actress Sandwich. Me, the 2 lead actresses of the TREEPLE trailer (Marrissa D and Merisa B), and my favorite insanely hot walrus woman in the middle who's TOPR impression is uncanny.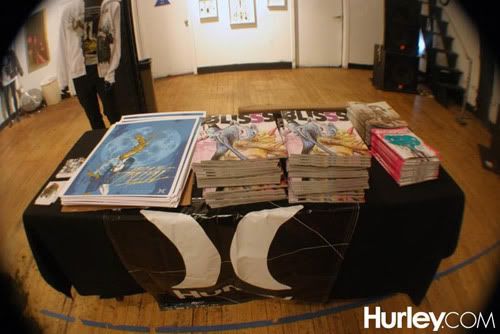 Yah, all this shit was FREE! And EDIBLE! if you like paper.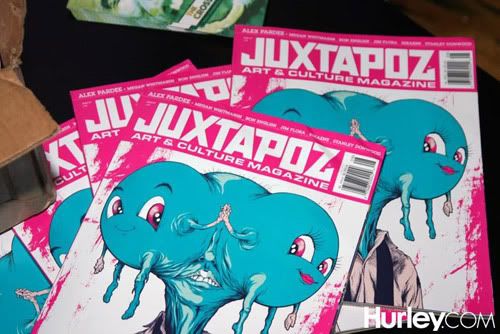 JUXTAPOZ broke open the vault and supplied some familiar mags!
The Macy's crew holding the insane 7 color screen-prints that
BURLESQUE DESIGN
printed for the show! These prints were limited to the show, but zerofriends.com will have a handful of second run prints soon.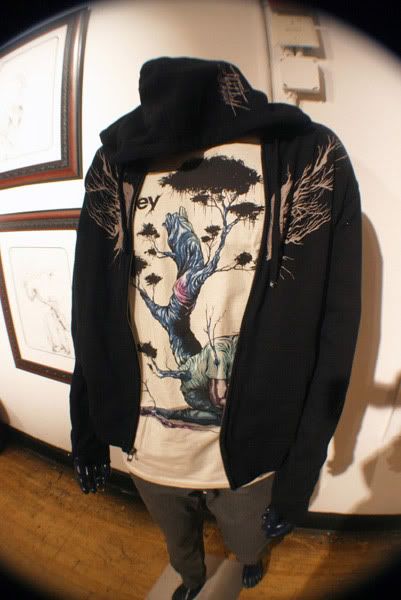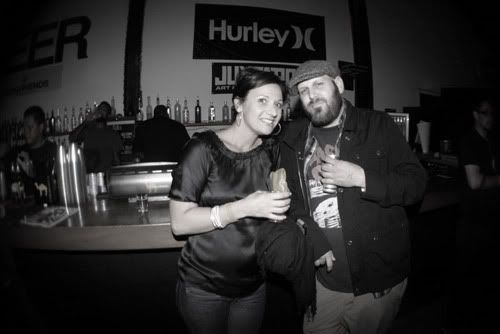 Sales-mistress, Laura from Hurley and myself.
Sean Leonard, of Zerofriends, sang "I kissed myself and i LIKED iiiiiittttt" all god damn night. Brad Isdrab and Lucien Shapiro sculpted an amazing Treeple installation that was pretty dangerous, but beautiful. And it was acting weird...like a tree.
Nate Van Dyke (right) showed up to prove that he's not taller than Alex Tarrant when there's a beer on Alex's head. FYI the person who took this picture was standing straight up.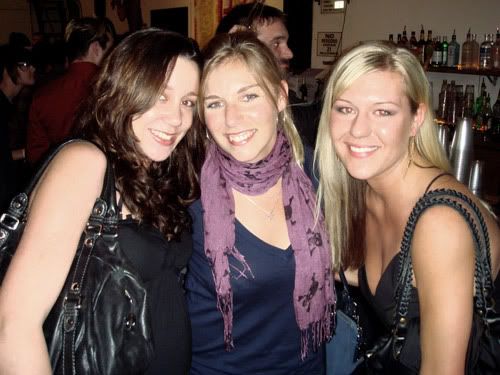 THE GLOJ! (The Gorgeous Ladies Of Juxtapoz)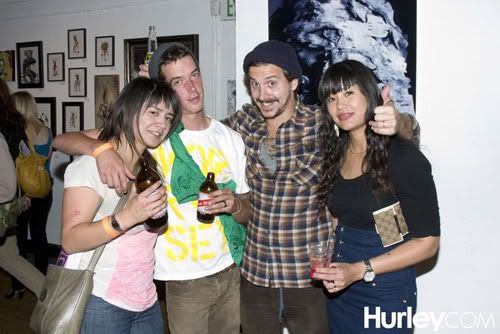 Jon Dragonette gave a thumbs up to the fact that he created the DOPEST PHOTO EVER for the art show. (see below)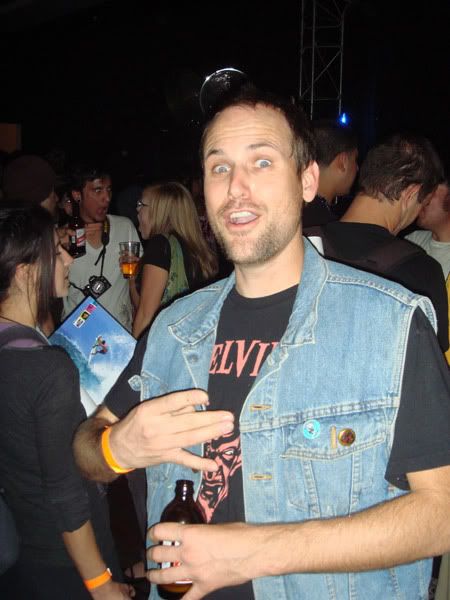 Skinner, one of Sacramento's most prolific artists, made time to rip off his denim sleeves and come down to show some art and plot death, while the 2 people in the background just found out each other has herpes!
One of Skinner's pieces.
One of the new pieces i did for the show.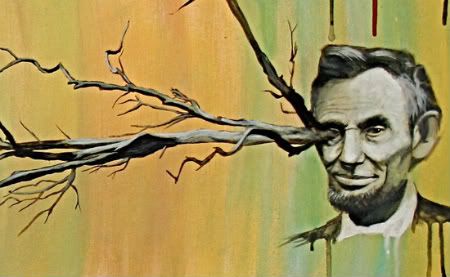 Robert Bowen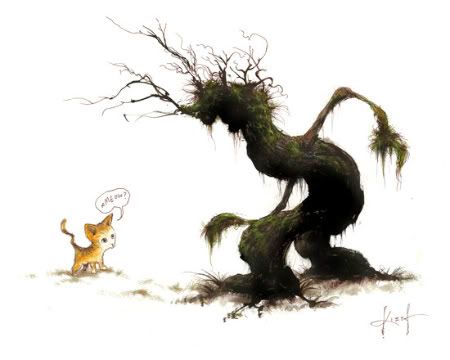 Legendary comic book artist, creator of the MAXX, Sam Kieth's piece.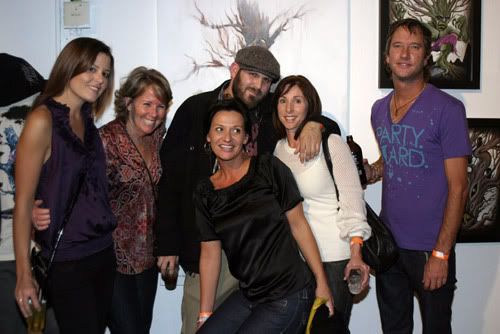 With Joe McElroy from Hurley and WIlliam from JUX.
Rehearsing for the show with Robert Bowen, Aesop Rock, Cage, and F. Sean Martin. We ALL want to kill you. I promise.
Gratuitous desaturated uncomfortable shot.
Thank you to everyone who came out to the show and support us.
It was fun.
Now, its time to work on the Tree-quel, or perhaps part 3 of the Tree-logy.
For more pics of the art at the show, go here:
http://www.hurley.com/blog.cfm?aid=25493
and for a video, go here and go to the bottom and click play video:
http://www.hurley.com/blog.cfm?aid=25551