Well, after 3 years of being Bunnywith#2-less, we finally reprinted it in all of its demented glory and it is now for sale on zerofriends.com
click on any of the images to purchase, or just go to zerofriends.com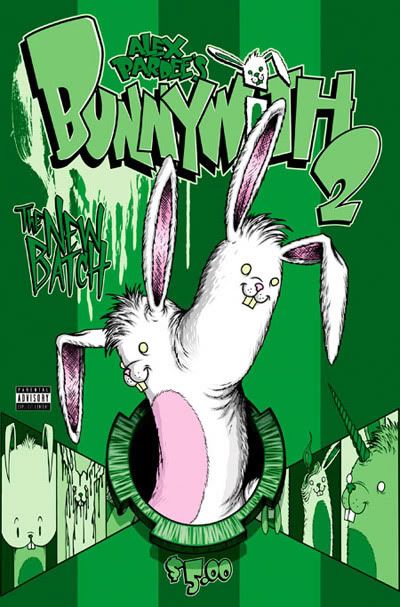 DIrect link to purchase:
http://zerofriends.com/store/index.php?main_page=product_info&cPath=24&products_id=210
Some info about the book:
"By Alex Pardee (that's me).

"BUNNYWITH #2"
B&W. 36 pages. Originally printed and sold out back in 2005.

This is the first time it has been available in 3 years!


Bunnywith #2 is a follow-up collection to the original Bunnywith Comic.

This new issue contains over 250 MORE Bunnies "WITH" something,

like BunnyWITH herpes, or BunnyWITH 7000 eyes. Yes, it sounds like a dumb idea, but it works
because the possibilities are endless, and the humor ranges from juvenile, to
way over anyone's head. And when we say endless, we mean ENDLESS.

This is the second issue out of four. When all four issues are complete, there will be
a total of 1000 Bunnies, thus the subtitle "My Book of A Thousand Bunnies".
The first printing of this book sold out within a month of publication, and since
has not been available until now. You NEED this book to live.