Deformed twins, secret animals, hallucinating stuntmen, donut-fucking, serial killing teachers, treeple, and the evil computer from the Matthew Broderick epic adventure, War Games. How could these all possibly relate to each other? Simple, they are all characters in the imaginary (or maybe not-so-imaginary) universe that I am displaying tomorrow night at my new solo show, "Self Portraits Of Other People", that opens THURSDAY NIGHT, 7pm @ Upper Playground in Portland, OR.
As promised, below are a few photos of us setting up my And if you feel inclined to digest some spoilers, skip down to the bottom and see a chunky visual preview of some of the 42 pieces of art that are hung in the gallery for this show!
Anyway, enjoy this little pre-prep mission, and be sure to check out the show if you are around Portland. If you can't make it on Thursday, the show will be up for 2 months! Heres the info one last time:)
"Self Portraits of Other People that I Drew by
Myself Pretty Much"
OPENING RECEPTION:
June 4th from 6:00 - 9:30pm. Beverages from Redhook will be
provided as well as music from DJ Mighty Moves.
FIFTY 24PDX Gallery / Upper Playground
23 NW 5th Ave, Portland, OR 97209
503.548.4835
Now for some adventures via photos over the last couple of days: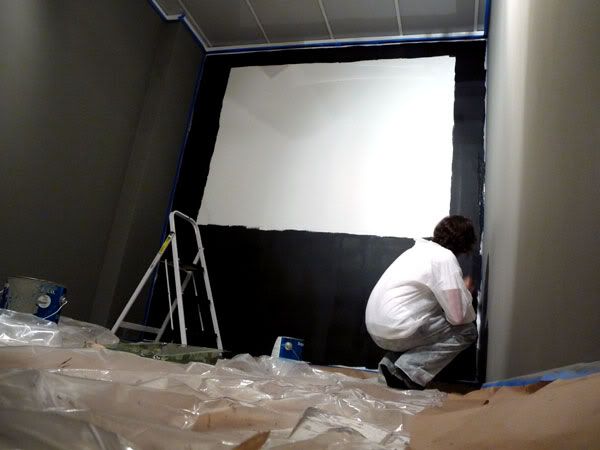 Sean painting a makeshift projector screen.
Adam (aka MacGruber) forging a hanging dvd projector mount out of a dishwasher tray, some tape and fishing line.
Adding some details, or better yet, "tree-tails" to the projector screen.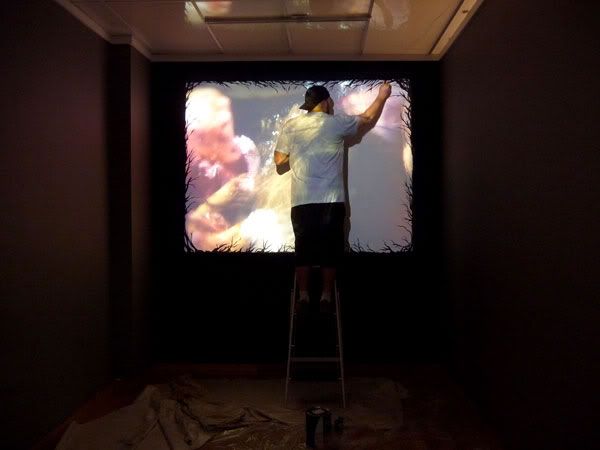 Doing my best window impression. Note, it's not a very good impression.
Pressing firmly on Leatherface's torso, hoping he's stickier than Van Dammes fists in Kickboxer.
Took a quick break with Adam & Sean (bottom row) to go a little north and visit amazing illustrator Blaine Fontana (top left), he loves fingering me.
So then, we took a trip over to one of the illest design/motion graphics firms in Portland called Kamp Grizzly
(Kamp Grizzly's site)
and hung out with Kamp Grizzly's head honchos, Kevin & Dan, along with DangerEhren from
VALLEY SKATE & SNOW
in McMinnville. Stories were told of burglery, taxidermy, roofies, and computers. Those dudes seriously had one of the most inspirational studios I've seen. it was huge, full of critters and "fish", and they are working on some really cool projects, and hopefully we are going to collab on some video stuff soon. Check it: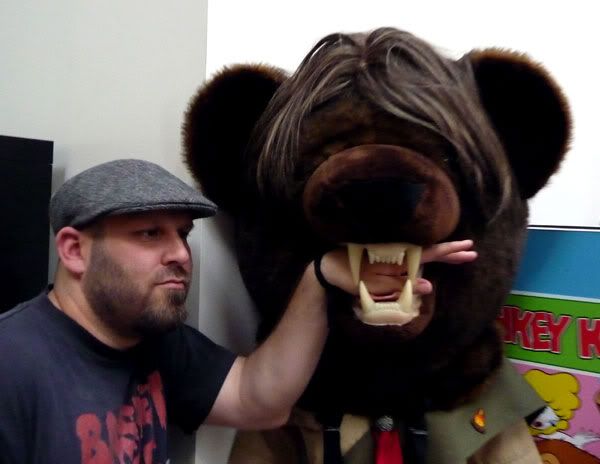 I was REALLY excited to be at Kamp Grizzly, as you can easily tell by my piercing grin.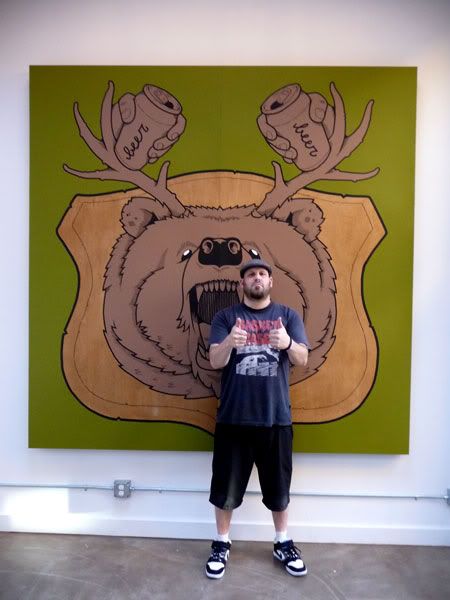 Me taking FULL credit for Jeremy Fish's masterpiece on the Grizzly walls. Good job, me.
Sadly for me, this was NOT a bootleg copy of "Hell Comes to Frogtown", which i think is definitely Roddy Piper's Greatest Hit.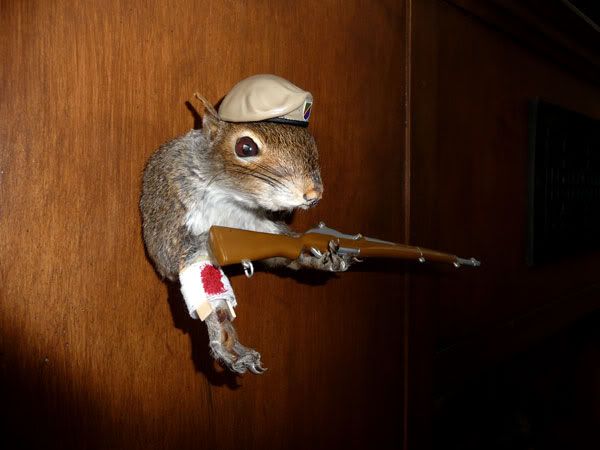 The Guardian, takes a beating and still keeps fucking guarding the place! True soldier.
Once again taking full credit for something too dope for me to handle.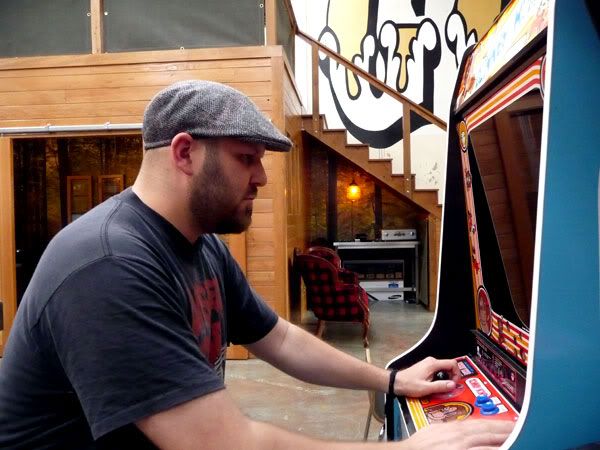 Oh yah, while i was there, we filmed me going for the world record at Donkey Kong like my hero, Steve Weibe. Did i do it??? Full video with results coming soon. Don't want to spoil it for you, but i think i did pretty damn awesome.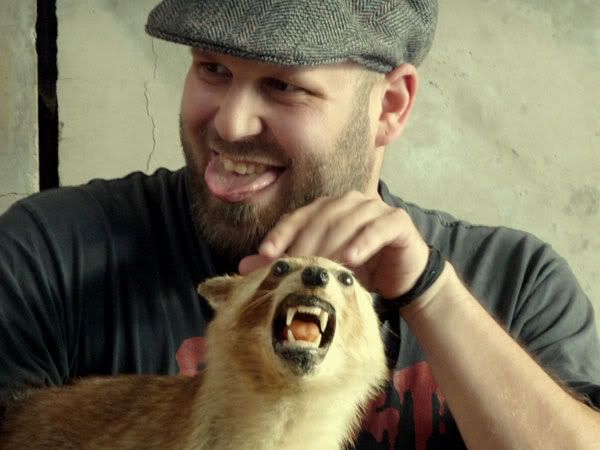 This is by far my favorite picture of me forever. I am SO goddamn happy when little wolverines want to date me and let me cuddle. Yes, thats definitely a cuddle-face on her.
The Kamp Grizzly team with me, adam, and my new wolvie girlfriend.
So, then it was back to work....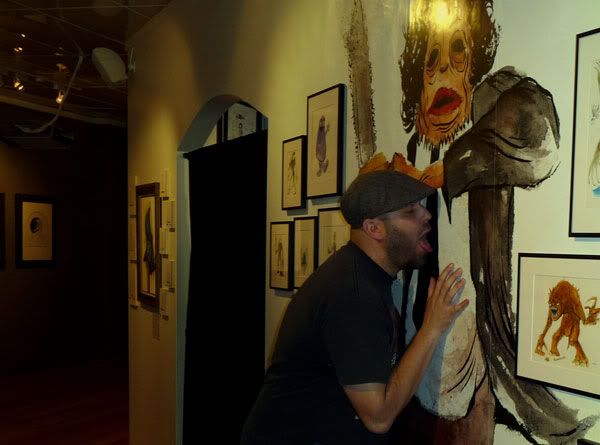 ...where I continued to lick my favorite transvestite's chest.
And one of the nicer sections of the installation. Come check it all out on Thursday, which is either today or tomorrow depending on when you read this.
yes, this adventure has been fucking amazing. Meeting a ton of local artists and eating a ton of mac'n cheese and voodoo donuts. So I hope to see you tomorrow night at the opening. Here is a sneak preview of some of the paintings that will be on display/for sale at the show. and there will be a bunch of neighboring galleries around there too so make it a night of art and then probably strip clubs or 80's video games. or both, as most people out here do.:) Enjoy.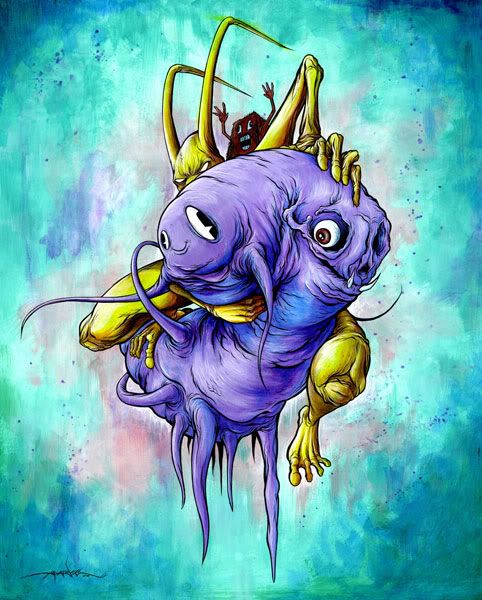 This one will also be available as a super-limited print at the show.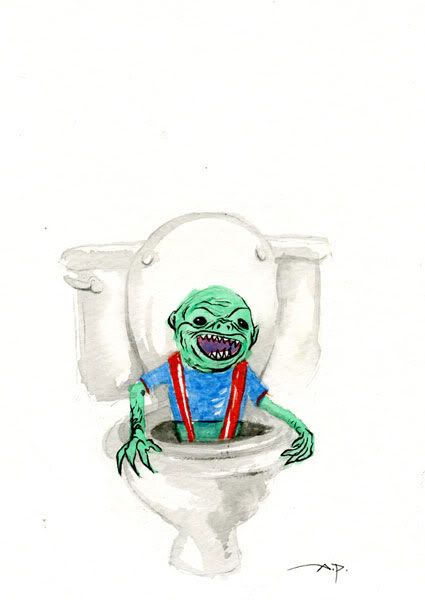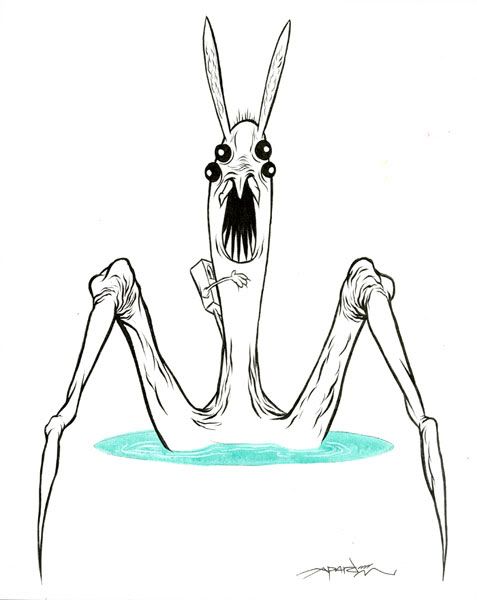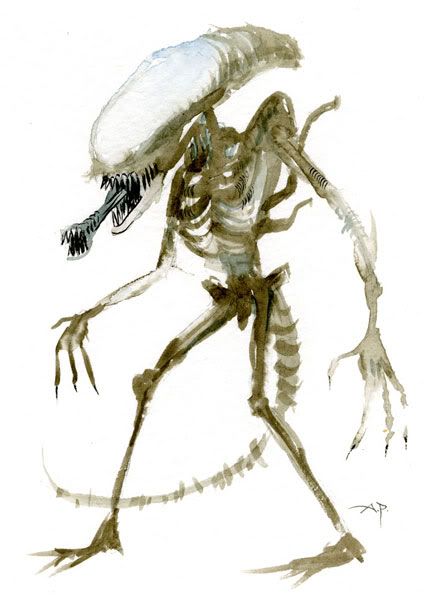 Pics of the opening to come shortly. Thanks for reading all of this madness.
Goodnight.
Love,
Alex