If you are around the Grater Los Angeles area tomorrow evening (i say "grater" rather than "greater" because for some reason whenever i go down there my bowels get shredded like pepper jack), make sure you come by my official LA release & signing of my first original vinyl toy, "The Walrus Rider"!
This release & signing is going to be a little epic because I figured since it's on a Saturday night, and there is always a ton of secret weird coke-infested parties going on in Hollywood, I should make it worth your while to come say hi to me and the Walrus.
Like my favorite creepy ice cream man used to say when I was little, "Here's the scoop":
WHEN: Saturday, June 13th (thats tomorrow) @ 6pm-10pm
WHERE: Munky King Gallery @ 7308 Melrose Ave, Los Angeles (munkyking.com)
WHAT: Alex Pardee (me) will be signing and selling my new HUGE vinyl toy, "The Walrus Rider" (seen above, blonde chick not included), which was designed by me, and produced by Upper Playground and The Loyal Subjects
WHY: A) Because my beard will be nicely trimmed and seeing it in person might make your blood feel better. B) Because you can be one of the first people to own the WALRUS RIDER, which is limited to 500 pieces worldwide. &C) Because i will scribble on it for you, chat with you, and you have a chance to WIN an ORIGINAL FRAMED PAINTING OF THE WALRUS RIDER!!!
HOW MUCH $$: "The Walrus RIder" will be $75 to purchase
ADDITIONAL DETAILS: Every person who purchases a Walrus Rider Toy will be entered in a raffle that will be held at the end of the signing @ 10pm. The winner of the raffle will WIN an original painting done by me of the Walrus Rider! (winner MUST be present at the time of the RAFFLE DRAWING!!!)
Also, we are also releasing an ultra-limited Giclee print of the Walrus Rider painting as well, signed and numbered by me. Here is a pic of the FRAMED ORIGINAL PAINTING that you can WIN, as well as the Giclee print, that has a little extra flavor added to it;)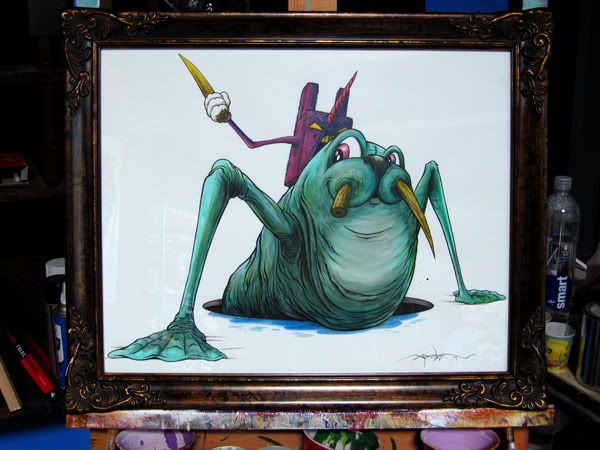 The painting is 20" x 16" and done with watercolor and ink.
The Limited Giclee Print, which is an edition of 30, signed and numbered by me.
So yah, come on down to Munky King tomorrow and say hi. YOU DONT HAVE TO BUY ANYTHING TO SAY HI OR GET STUFF SIGNED:)
And check out how big this thing is! (photos from my recent SF release/singing)
See you there!!!