Sooooo.....
My solo show,
"Letters from Digested Children"
has officially opened and I am exhausted. I think I have worked my body to the point where my immune system is no longer even trying and I can hear AIDS knocking on the door to my blood.
With that being said, the last 3 weeks that i spent preparing for the show have been extremely fun and rewarding, even if that reward turns out to be
AIDS.
WIth 90% of the paintings and installation completed in those 3 weeks, and 90% of my blood filled with Red Bull and fear of failure, it was a mental roller coaster ride often resulting in sleep deprived hallucinations, frustration at my lack of certain artistic abilities, and stress that made my heart swell up like Will Smith in Hitch and my eyes to pack more bags than a discarded husband.
But it wasn't just me that almost died from inhalants and lack of a good insulated workspace. The entire Zerofriends collective helped out more than i could have imagined. Adam Peterson, Dave Correia, and basically took the reigns and created the entire Teddy Roosefelt Monster Installation from scratch based off of some scribbles by Dave and I. That was easily the highlight of the show. Darren Scott, and Sean Leonard (along with the UP crew) helped paint and hang the show, as well as
bake the children that everyone ate
the night of the show. Blake made music for the ambiance, and Aubrey Trinnaman took photos the whole night. It was actually the first time that our entire Zerofriends Collective worked together and created something of this caliber in such a small period of time, and it just makes me more excited for next time, when we are going to go bigger and better.
And the opening went great.
So, if you are interested, I just uploaded a SHITLOAD of photos to my myspace profile documenting everything from the start, to the install, to the opening.
If you get a chance, go over and check them out, and also remember that for a few more weeks, a handful of pieces are
still available for purchase on UPPER PLAYGROUND'S ONLINE STORE.
Below are a few of my favorite pics from the whole process, but here are the separate links to all of the photos (over 100!!)
Click here for all of the preparation / install / behind the scenes.
Click here for all of the opening night photos.
And Click here to view all of the paintings.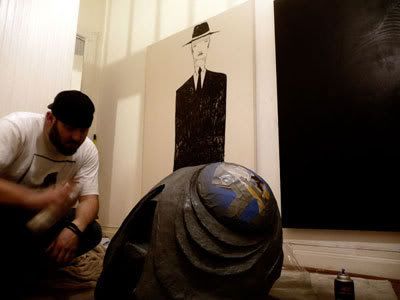 Thank you.
Alex