I am holed up in my rabbit-cave and immersed in my own world of extra appendages, lost children, blood and insomnia so much that I miss a lot of amazing and inspiring art that swims around on the internet.
However, one of my favorite illustrators (and in my opinion one of the best alive),
JAMES JEAN
, just opened a new solo show entitled "KINDLING" at the
Jonathan Levine Gallery
in New York the other day, and it blew me off of my feet.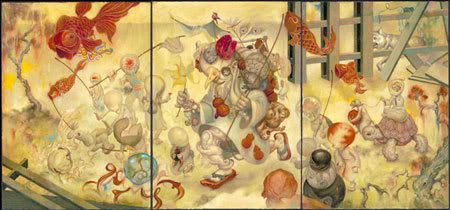 "The TOY MAKER" By James Jean.
My jaw disconnected itself from its ligaments, fell to the floor, and i blindly stepped on it out of pure awe of his new work. I wish I could see it in person. Things like this both anger and inspire me out of pure admiration of talent. Where as a lot of artists that I stumble upon blow me away the first few times I see their work, a majority of them seem to teeter off and become repetitive, which numbs my eyes to the actual craftsmanship of the art. James, on the other hand, continues to be so far ahead of anything I can even imagine, in both style, narrative, and execution.
If you're not familiar with his work, do your eyes and heart a favor and go take a look at
HIS WEBSITE
.
And while I am on the subject of inspiration, here is a list and links to 12 of my favorite illustrators that, over the last 10 years, have consistently driven me to keep trying to evolve and learn. Whether its technical talent, passion, originality, imagination, or sheer emotion, I dream about one day being half as good any of these artists:
1.
JON WAYSHAK
scrapbookmanifesto.com
2.
SAM KIETH
3.
JAMES JEAN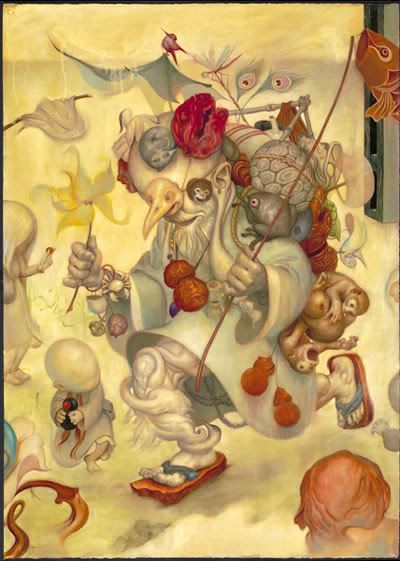 4.
GREG CRAOLA SIMKINS
5.
GRIS GRIMLY
6.
TOMER HANUKA
7.
DAVID CHOE
8.
AARON HORKEY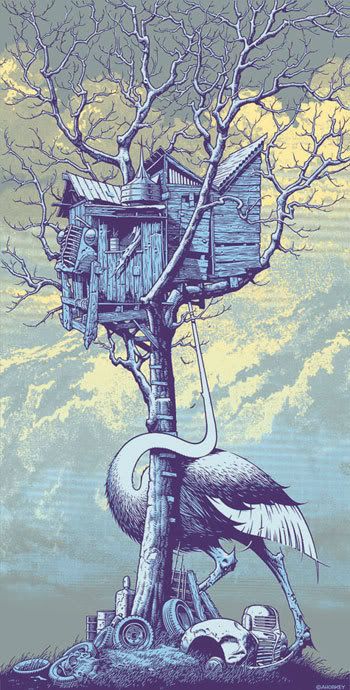 9.
SKINNER DAVIS
10.
PAUL POPE
11.
WAYNE BARLOWE
12.
GEOF DARROW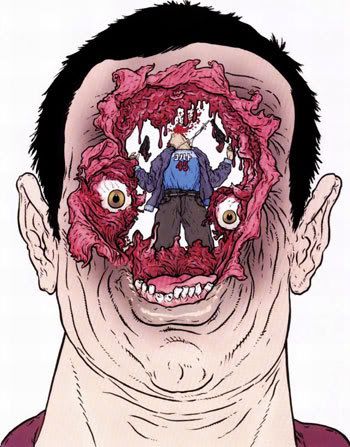 HOPE YOU ENJOYED THEM AS MUCH AS I HAVE.
WORD.