"I want to come home to eat the pancakes. It's icky in here..."
-Milton, Age 7 1/2 (written from the inside of a monster's stomach)
I was going to give you an in depth reminder / preview of my new solo art show , "LETTERS FROM DIGESTED CHILDREN" opening tomorrow, Jan 8th at
5024SF Gallery in San Francicsco
but Meredith Woerner from the amazing Sci-Fi news site
i09
did it way better than i could, so find out all about the show and see some exclusive preview images by
CLICKING HERE.
Shortly after I recover from the show that myself and all of the
ZeroFriends
crew have been setting up for 5 days straight. Its gonna be fun.
Hope to see you there!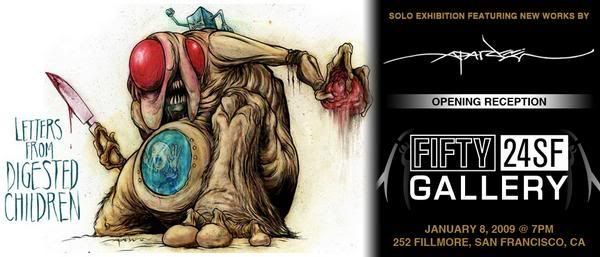 "LETTERS FROM DIGESTED CHILDREN"
New drawings and paintings by
ALEX PARDEE
JAN 8th / 7PM ALL AGES WELCOME
@ 5024SF / UPPER PLAYGROUND
252 Fillmore St
San Francisco, CA 94117
415.252.9144
http://www.fifty24sf.com