Have I always wanted to co-host a cooking show? Not really. I know nothing about cooking, unless you count the endless ways I would exploit the
SnackMaster
back in the 90's.
But have I always wanted to eat BRAINS??!!
FUCK THE FUCK YES.
And I got to do just that.
MASTER CHEF CHRIS COSENTINO
invited myself and Upper Playground to his restaurant,
INCANTO
, in San Francisco, where he offered to show me that he can make splendid morsels using an entire Pig's head. The only requirement was that i had to eat everything, including the brains. And since I passed away recently and joined the ranks of the stench-filled undead, I figured that a little handful of brains might actually be appetizing...
The verdict....?
Well, you'll just have to watch the 6-Part Mini-Series presented below.
What? You're a vegetarian and you can't believe I would do such a thing?? Well, shut the fuck up, hippy! Chef Cosentino, whose world famous gourmet dishes include assholes, eyeballs, hearts, and intestines, has an amazing basic philosophy in his style of cooking, which simply states, "I am not a proponent of killing or hurting animals, and I believe that if you DO kill an animal, you better be man enough to eat the whole fucking thing!"
And that, like bent over blind bombshell, is something that i can get behind.
Hope you enjoy the show (and the photos):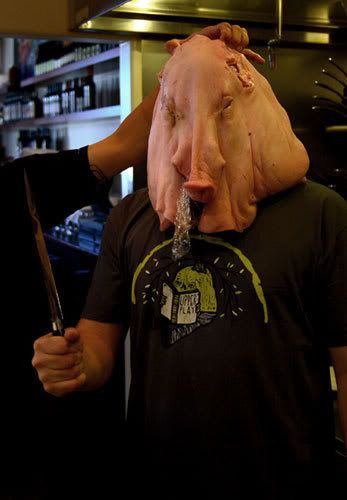 PART 1:
PART 2:
PART 3:
PART 4:
PART 5:
PART 6: