More new shit for the more new year for real. OK that made as much sense as
Fred Fenster
. But whatever, check it out.
Gallery 1988 just released a small Fine Art Print Set of my watercolor character portraits that I did for their CRAZY FOR CULT 2 show last year!
Heres a bunch of facts in rapid succession:
Each giclee print is 8"x 10" and printed on Heavy Stock Somerset Art Paper with archival inks and is signed and numbered by me and is a limited edition of 300.
Got it?
Oh yah, each one is $40, but you can get the whole set of 6 for $200.
To purchase them and to get more info,
CLICK HERE FOR GALLEY 1988's WEBSITE.
And it's my job from this point on to make them increase in value over time so you make a good investment. So I'm going to get back to work.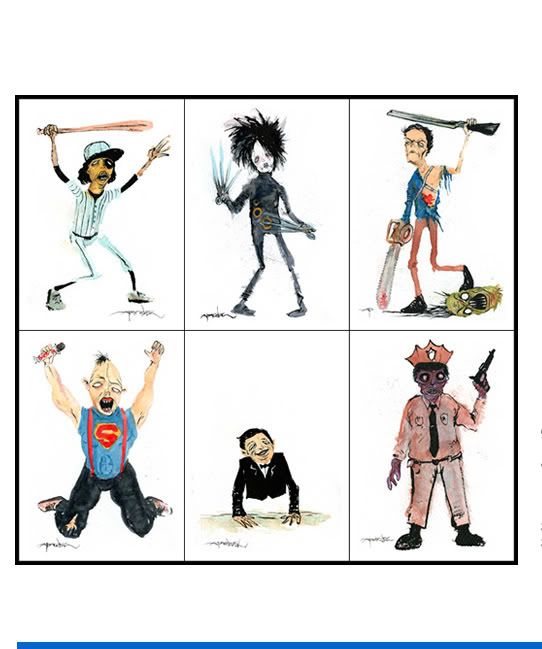 But in the meantime, here is a list of the character prints and a little personal factoid about each one (from left to right, top then bottom):
1. Baseball Furie #1 (From "The Warriors"): The Cable Guy is one of my favorite movies, and one of the best parts is when that dude that looks like Tim Burton gets up and karaoke's at the party, and that is the same dude that says "No one fucks with The Orphans" in "The Warriors". So naturally, i had to represent the Warriors. And I love Baseball and fighting.
2. Edward Scissorhands (From "Edward Scissorhands"): After this movie came out, I was at an emotional crossroads in my life and i had a hard decision to make about which direction to take with my teenage years. Do I tease my hair, hide from the sun get skinny and cry when my gay handler dies? Or do i go on the Anthony Michael Hall comeback journey and do steroids and rape the high school prom queen with my bro's? Luckily, I chose neither and went on to just be plain awkward.
3. Ash (From "Army of Darkness"): For every single character in this film, i've known at least ONE person in my life who looks like that character. And this movie kicks ash.
4. Sloth (From "The Goonies"): When I saw this I was 9. So i'm not sure I fully understood hollywood make-up effects. I remember being completely horrified by Sloth, the candy-loving gimp in the basement that becomes a mentor to Chunk, the fat kid. "He's a MONSTER," I said to my dad. And he replied, "He's not really like that, in real life he's a FOOTBALL player! He's just ACTING." And then I was even more horrified that in real life, the NFL let hideously deformed ogres play professional football.
5. Johnny Eck (From "FREAKS"): This movie is from like 1930 or something. How the fuck they pulled this character off with no CGI is still completely beyond me. But I love this little handsome halfy. I wish I painted this one in black and white.
6. Cop #4 (From "They Live"): This movie ruled because none of the characters really had names. Not even the main fucking character! So whenever I talk to anyone about this movie i say things like "Yah, and then the wrestler guy punched Spawn in the groin for like 20 minutes just to get him to wear sunglasses! It was awesome!" So naturally, they wouldn't dare stoop to giving a lowly COP a name if the STAR is nameless. OBEY.
Goodnight.