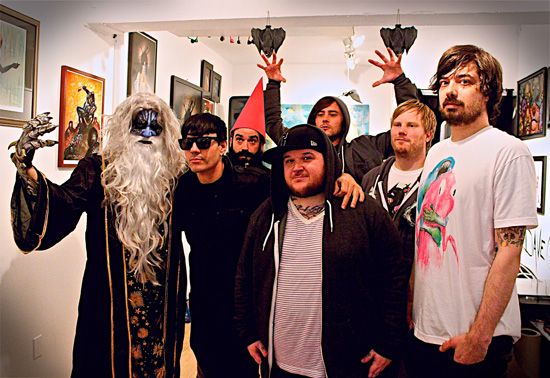 From Left, Me (In Dark Ice Wizard form, Cage, Jeremy Fish (in Gnome form), Chauncey, Sean Leopard (in the back), Darren from Zerofriends, & Aesop Rock (in Aesop Rock form).
Halloween is over, pumpkins are rotting, tempting me to hug them so hard that their squishy rotten skin & guts spill all over me, and the Zerofriends SF store is officially closed…but our friends Aesop Rock, Cage, & Chauncey made sure that we closed our doors with dignity. Check out some photos from the AMAZING free in-store performance that my fellow members of Cardboard City blessed upon all of us in the form of awesomeness. And thank you everyone for coming out to the event (look at that crowd above!), dressing up, hanging out, and supporting us alongside Cage & Aesop Rock, in what was a perfect experience for me, the Darkest Ice Wizard from the Coldest Unknown Realm.
Fresh off his hosting of Movie Knights a couple weeks ago, Robert Bowen made sure that everyone stayed out of BIG TROUBLE IN LITTLE STORE...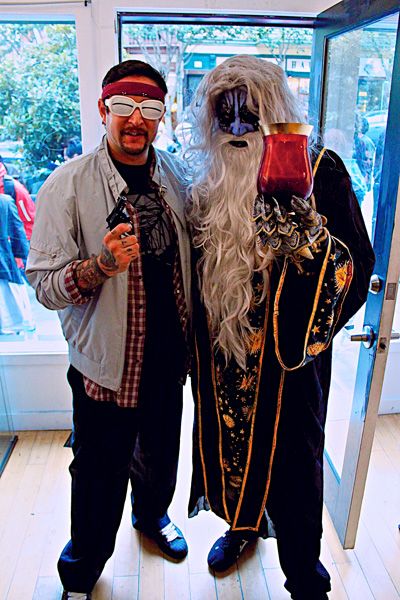 Even though I TOTALLY COULD HAVE protected the store simply with an "Ice Shield" spell, cast from the Staff of Frozen Souls.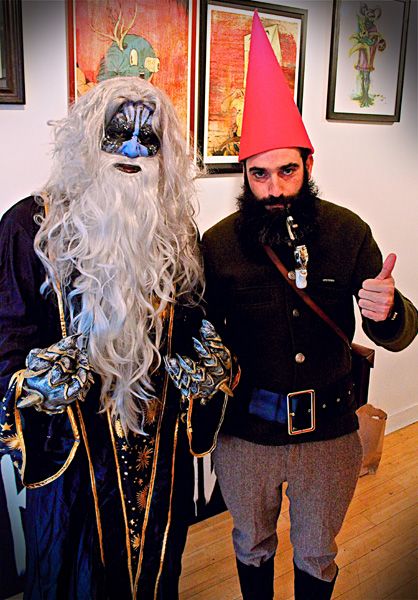 Wait, we had protection from a GNOME-Fish as well?? Dude, we got this covered!
Aesop Rock warms up cozily in front of an Armwhal.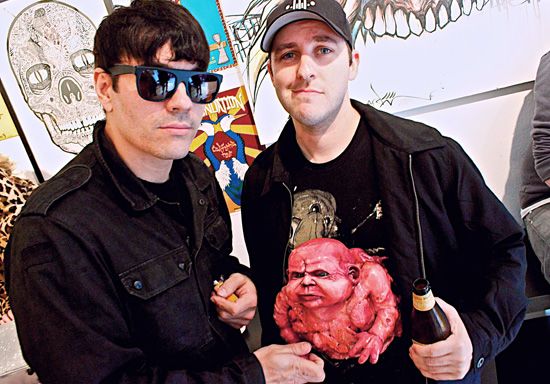 While Cage has a meet n' greet with his biggest fan, Dave Correia's brother Kuato from Mars. Cage thought he had met Kuato before, but he didn't Totally Recall it.
Then I got to share my Icy Goblet of Blood with Cage, who drank it all in one gulp, which meant I needed more icy blood asap…
WHAT?! Walgreens has NO icy blood?!!
Special appearance by G'NR's Buckethead and Bozo the Super-Patient Clown
And Zerofriends friend Mike Kershnar showed up as Mike In Wolf's Clothing!
Cage treats other's intenstines like he treats his own: He puts cigarettes out on them while Dark Ice Wizards watch in awe.
HOLY SHIT WHAT THE HELL IS THAT!!!?
Oh, good, ok, it's just Sage, who is kinda human. For a minute I was scared.
I offered this Icy Goblet of Blood to the Gods in exchange for having such a cool event.
But before we got started I had to make sure I taught Chauncey, our DJ for the night, a new Orbital Ice Spell.
Conjuring up the stars of the evening, Cage & Aes!!!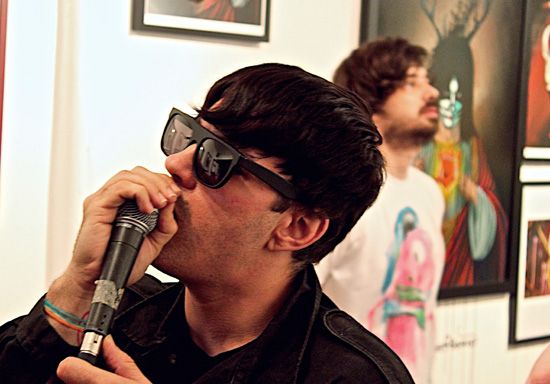 Searching to be held but nobody wants to hug…
AESOP ROCKED.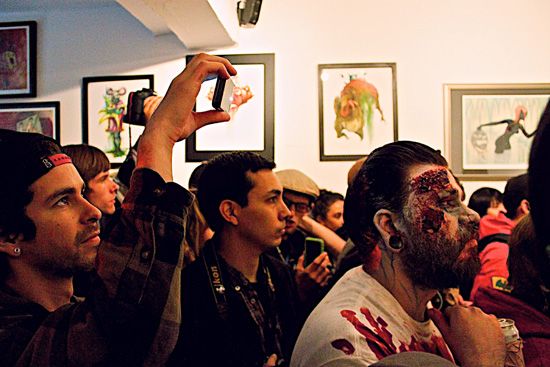 The intimacy of zombies.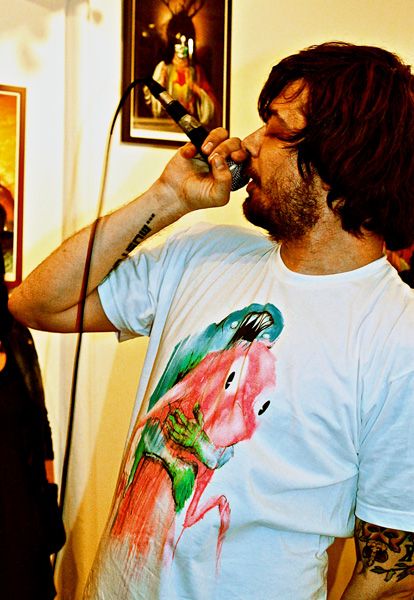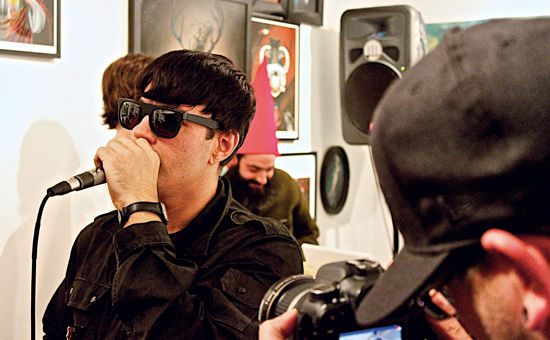 For the first time ever in public, Jeremy Fish RIPPED a kazoo solo during Aesop Rock performing "PIGS".
Cardboard City
I love everything about this photo.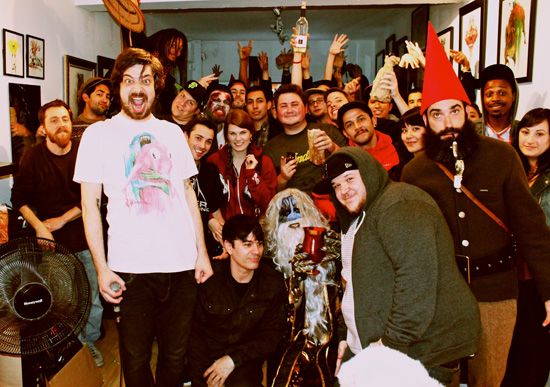 The crowd was all snuggly. We loved it.
Then maybe the cops came….or maybe that's the Blue's Brothers' car.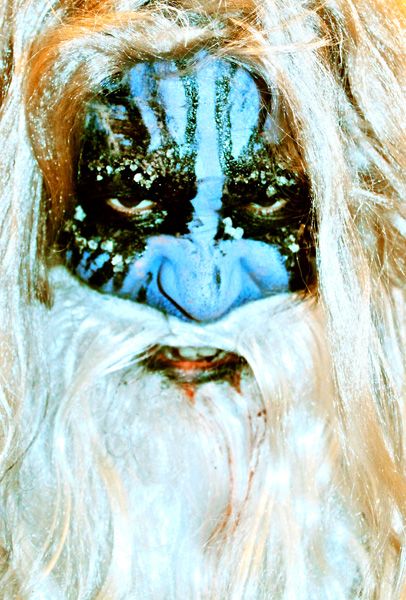 Speaking of BLUEs Brothers.
Drawing visual recipes for Ice Dagger spells for fans.
Packing up to leave we got a fun visit from Allyson (center)from
DIRTY GHOSTS
, one of my favorite recent bands.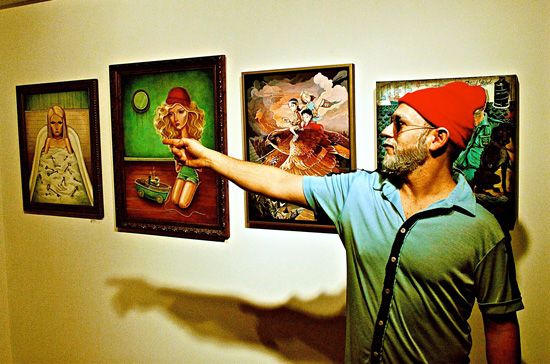 Then we capped off the night by hanging at the BAD DAD's show at LOPO Gallery in SF. Dang, good night. Happy Halloween.