THE MOVIE KNIGHTS ARE MARCHING INTO LOS ANGELES!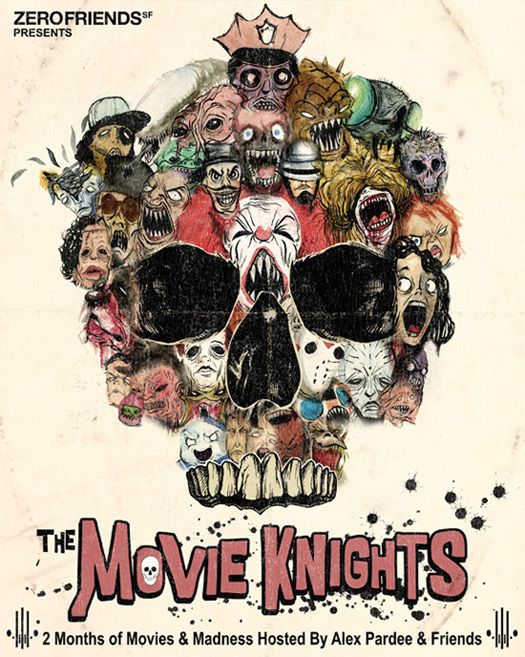 The only thing that makes me sadder than knowing that I won't be around to bring The Movie Knights tradition to our LA Zerofriends Store is those "sad dog" commercials that hopefully hire happy actor dogs and put weeds and dirt on them for dramatic effect . HOWEVER, the planets have aligned and the Knights have a new General. Zerofriends Super-Director
STEPHEN REEDY
, over the course of the next couple of months, will be hosting and sharing some awesomely fun screenings and events at the Zerofriends LA store! And I wouldn't want anyone else for the job! The dynamic will be amazing and it will make the LA Movie Knights events that much more special. Whereas in SF, you had me, my bad homemade t-shirts I would make for the show, and terrible puns being shouted by me throughout the film. And in LA, you will have Stephen, who can make
Cliff Clavin
envious of his knowledge about everything in the universe sharing behind the scenes knowledge, personal stories, short films, food, guest hosts, and prizes at the screenings:)
More to be announced soon, but our FIRST L.A. Movie Knights event is tomorrow, THIS WEDS, November 17, at 8PM! A few things have changed tho, so read all the info:
MOVIE KNIGHTS LA is a FREE event.
Unlike the SF events, Movie Knights LA will NOT always be on Wednesdays, so stay tuned for weekly info.
Seating is on a first come, first serve basis.
Movie Knights takes place AT THE ZEROFRIENDS LA STORE.
There will be a short section of pre-programming on most occasions, as well as some small snacks provided, all of which will vary at each event.
So yah, set your DVR to record Glee or whatever you do on a Weds night, and come join the crew for our inaugural LA MOVIE KNIGHTS! And we are jumping off with one of my favorite splatter comedies of all time, an over-imaginative and inspirational little film called…..DEAD ALIVE (Aka Braindead).
Info:
Zerofriends & Cella Gallery Present:
MOVIE KNIGHTS LA!
"DEAD ALIVE" Screening
Weds, Nov 17, 8PM
Admission: FREE
At the Zerofriends LA Retail Store:
11135 Weddington St. Suite #112
North Hollywood, CA 91601
213-291-7908
Open Daily from 12-7PM
HAVE A DISGUSTING BLAST! And "KICK ASS FOR THE LORD!"
Trailer for DEAD ALIVE: