HAPPY THANKSGIVING!
In true Thanksgiving spirit, behold the legend of my 3rd favorite (not so famous) mythical beast, the UNIRKEY: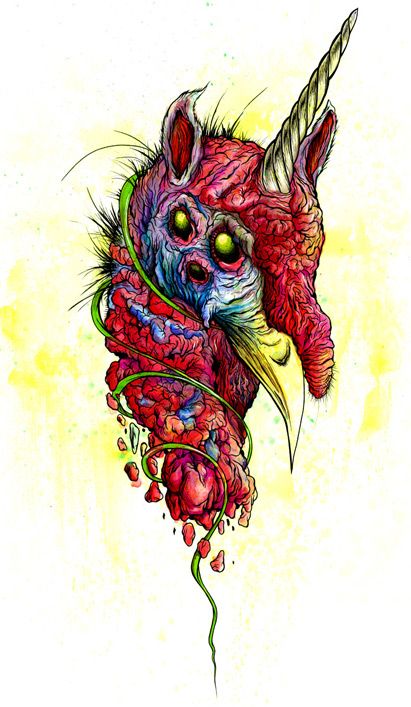 If the X-men were real, my Grandfather's Great-Great Uncle Randy would certainly be a part of the team. Instead of being a cool super mutant though, he's just kind of a...well...mutant. He suffers from a disease that allows him to age, but doesn't allow him to die. At all. He looks kinda like how the guy at the end of Indiana Jones looks when he chooses poorly, except for like, he's alive. And awesome. I don't see Uncle Randy much anymore as he seems to like going to Egypt a lot since he says he fits in there better and gets to play funny pranks on tourists where he lays down in sarcophaguses and then jumps up and scares people. He's hilarious. 
One of my favorite stories that Uncle Randy used to recite to me when I was little was about his third favorite mystical creature, the Unirkey. He said that in 1621, the Pilgrims begged the Heavens for a turkey big enough for the 53 of them to feast upon to celebrate their harvest. To their disbelief, a 240 pound wild turkey fell from the sky right onto the serving platter on the middle of the giant dinner table.
"GET IT!" yelled the head pilgrim. But the turkey was too quick. It clawed its way off of the table and soon had a band of hungry pilgrims chasing it into a small patch of forest. Little did anyone know, a once-in-a-lifetime event was happening in the forest at that very moment: A 6-eyed Unicorn who lived behind the rainbows was bathing in a waterfall in plain sight. The unicorn sensed the fear in the giant turkey from the sky, and acted accordingly. The unicorn exploded out of the waterfall, ducked his neck down, swooped up the turkey, flung him onto his own back, and galloped straight through the band of Pilgrims, piercing almost all of them with it's majestic horn. After the Unicorn bolted into the sunset, no one heard from, saw, or mentioned that incident again. Until years later, in the middle of the same patch of forest, on Thanksgiving, behind the waterfall, someone saw something. It was giant. It resembled a turkey...but with six eyes...and a breathtaking horn. And it seemed to be....glowing. When the man approached the magical beast it had vanished. More sightings were reported behind waterfalls all over the world over the years, all occurring on Thanksgiving. Rumor has it that the giant turkey and the unicorn were quite smitten with each other, and that this mystical Unirkey is their love-child. But what does it want? And where will it strike (a pose) next? No one knows, but if I were you, I would pay close attention to any form of flowing water on Thanksgiving, as you might be in for a surprise.