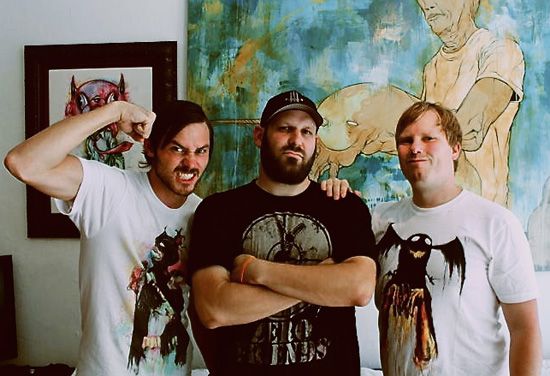 Annnnddd, the circus has traveled again!
Man, it seems like only yesterday that we were closing up the San Francisco Zerofriends store. Wait, what? It WAS yesterday? Really? hmm, ok well, either way, ONWARD WE ROLL! Next stop, Lost Angela!
Like a dwarf dipped in honey, I'm gonna keep this short and sweet. My clothing & art company,
ZEROFRIENDS
, is continuing its gypsy-like trek around the country, setting up temporary retail stores to integrate and introduce our brand and art to different cities for a couple months at a time. First was NY, then SF where we teamed up with Upper Playground, and now, for the next 3 months, we will be teaming up with CELLA GALLERY and chillin in Los Angeles!
OPENING THIS SATURDAY, NOV 13 (and every day after that) around noon, we will be set up in a cool little shop in the North Hollywood Art District for the next 3 months, so please come say hi, check out the products, see some art, and hang like that the cat in that
old 70's poster
. Here is the official info & hours for the store, starting this saturday and below there's some info about the opening event and what is to come in the next few months at the store:)
NOV 13, 2010 - JAN 31 1, 2011
Cella Gallery presents:
ZEROFRIENDS x LA
RETAIL POP UP STORE!
11135 Weddington St. Suite #112
North Hollywood, CA 91601
213-291-7908
Open Daily from 12-7PM
THIS SATURDAY, Nov 13, is our first OFFICIAL day open! Though we are not having a large grand opening event, there WILL be some amazing special guests in town hanging out at the store signing prints and chatting. Zerofriends' own DAVE CORREIA & ROBERT BOWEN, along with maybe some surprise visits from friends (hint, hint, friends!) will be there all day Saturday. I unfortunately, will not be able to make the opening due to scheduling conflicts but I will be down there soon:) So take a break from sitting in the LA sun in mid November, and go check out the new spot! Also, the transition was VERY quick from SF to LA, and this amazing opportunity came a little faster than we had planned, so we jumped on it. Because of this, we are still working on some fun events, new product releases, MOVIE KNIGHTS (maybe hosted by some fun LA friends:) so stay tuned to what madness we can bring ya in the next 3 months. Thanks in advance for your support. Love,
Zerofriends