Not since Rocky Dennis hopped on the back of a motorcycle have I been this excited about a MASK!
Ever since I constructed a "decapitated head on a table" costume when I was in 3rd grade (which proved annoying since I had little use of my arms to ring the doorbells so I ended up kicking doors), I have dreamt of making a legitimate, spooky, cool Halloween mask. I've tried things in the past, like make-shift ski-masks, screen printing on t-shirts and wearing them like executioner hoods, and even re-painting existing Halloween masks to trick myself into imagining that I made them.
However, it wasn't until I psychically linked up with monster-mask maker Pat Gierhart from Atomic Vomit that any of my selfish, gross and monstrous fantasies would ever come close to being true. And in true horror-movie Genie fashion (see: Wishmaster) Pat Gierhart granted my wish!
Inspired by my "AROMA" Painting (seen here), Pat created an AMAZING sculpt that we worked on a lot in order to get the eye-holes proper, the drips drippy enough, and the "aroma" sweet enough to devour.
And then, after hand-molding, hand painting, and adding real sprinkles, plus a little time incubating inside the wombs of both of us, one of my favorite things I've ever been involved with was BIRTHED!
And guess what??? It turned out that it was TRIPLETS, as my bosom buddies SKINNER and L'AMOUR SUPREME also birthed mask-babies at the same time!!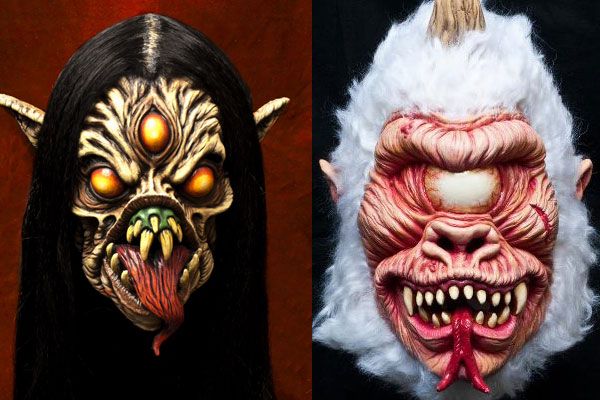 So now, the ultimate question (other than are the flammable as well as edible): WHERE CAN YOU GET ONE OF THESE FACE-HIDERS!??
The answer: you can ONLY get my "Aroma" mask directly from Pat himself, as he is making the ultra-limited masks to order directly. So here is all of the information about our 3 wearable (and collectible) fine art masks that Pat Gierhart made in collaboration with myself, Skinner & L'amour Supreme. And as an extra co-sign, the quality of the masks are insanely incredible. The materials are top of the line, the latex is thick so there's no "floppiness", each mask is coated and durable, and the hand-painted aspect of the masks is amazing (and it's got REAL SPRINKLES!)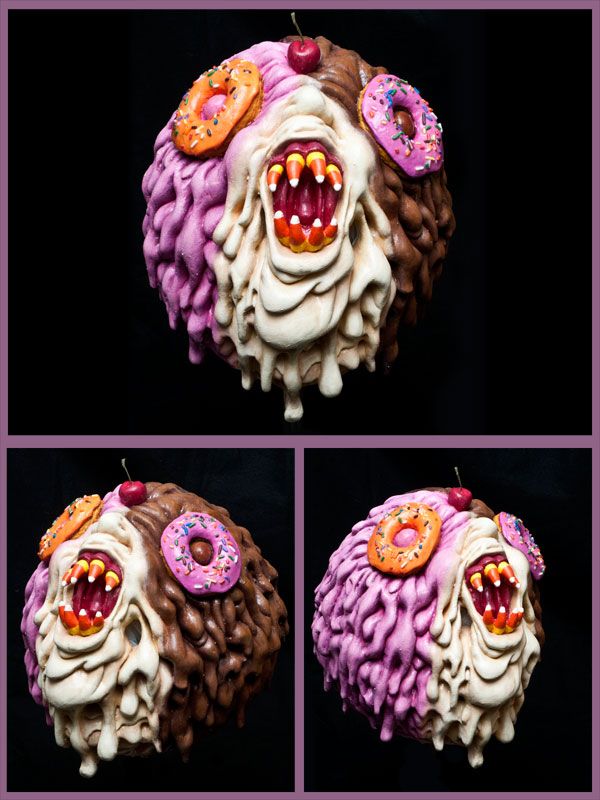 By Alex Pardee x Pat Gierhart
Limited Edition Hand-made Collectible Wearable Halloween
Each mask is a limited run, latex mask based off of Alex Pardee's designs. There will only be an extremely limited edition of 10 made with this color scheme. They are wearable, OR can be used as an art display piece. Delivery time is 4-6 weeks from the time of order.
The price is $500.00 each.
To place an order, please email PAT GIERHART DIRECTLY AT THIS EMAIL ADDRESS:
NOTE: Both SKINNER'S and L'AMOUR'S Masks are available directly through Pat Gierhart as well at the same price.
Please email Pat Gierhart at atomicvomitkills@gmail.com for ANY inquiries, questions, or concerns about the masks. Thanks!! Happy Halloween!!!