"American Where'sWolf in Portland"
Two American students, Waldo and Davids, were on a walking tour of Portland just a few nights before Halloween and, after straying from Burnside, were attacked by a Werewolf.
Davids was killed instantly, and Waldo was bitten, transforming him into a monster upon the first sight of a full moon. Waldo spent years wandering around the world on all fours, carrying his dead friend Davids along in a cardboard refrigerator box, visiting overcrowded metropolises in hopes of meeting someone who knew the kind of Black Magic that could help Waldo resurrect his best friend.
Dead Davids' corpse in tow, Waldo wandered through Egypt. He ran with the bulls in Spain. He attended Australia's largest carnival, and he even lived underwater, all the while trying unsuccessfully to avoid the full moon whenever possible because ever since that Werewolf attacked the duo, Waldo's had an extra....appetite during a full moon.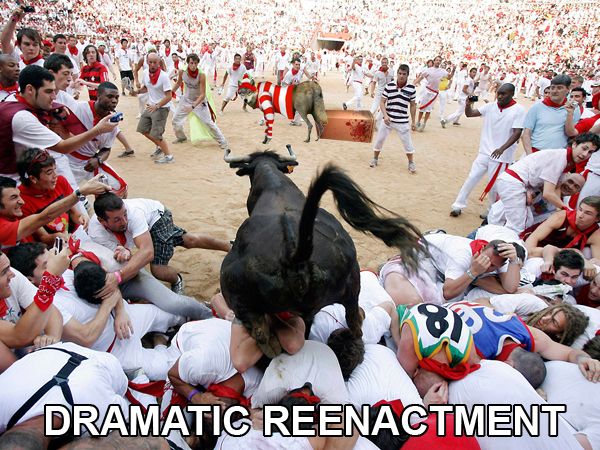 Yet, even after all of these travels, Waldo still couldn't find anyone who could help resurrect Davids...until he found himself wandering through Haiti, where he met a scab-riddled but sweet man named Tomato, self-proclaimed King of Voodoo. Waldo pleaded with Tomato to not only resurrect Davids, but to also make him a superhero since that was one of Davids' pre-death fantasies.
Tomato casually obliged, but with a stipulation: In addition to being a superhero, Davids would no longer be the handsome, well mannered, easy going, pasta loving stamp collector he once was. Now Davids would literally be deformed, and "Bat-Shit Crazy"
Together, the reformed duo of (Waldo) the Where'swolf and Bat-Shit Crazy now traveled the globe together, one fighting crime, and the other just kinda wandering and dopily sneering and occasionally irresponsibly dropping his belongings. Years later, a book company published a series of books based around Waldo's travels, but due to clearance, the books did not include any mention of Davids the Bat-Shit Crazy superhero. Nor did they mention Waldo's transformation into a Where'sWolf. But we all know the truth.
If you would like to COME MEET the nomadic Where'swolf and Bat-Shit in person in a very rare appearance, and (not required) buy signed limited mini portraits of them, come to UPPER PLAYGROUND PDX this Sunday, October 28, from 3-5PM.
Super Limited Mini 5"x7" Prints available for $10.00 each (sold separately).
Limited edition of 30 each
Individual prints Signed By Alex Pardee and Dave Correia
Here's a look at the prints that they will be offering exclusively at the UP store ONLY from 3-5PM. These prints are limited to 30 and will never be available again
Where'swolf? by Alex Pardee