In case you missed it, amongst the madness of Comic Con last week, 99CentBrains & I timed it PERFECTLY so that on the first day of Comic Con, our new free iPhone / iPad creative art app launched on the iTunes store and surprisingly got a WayCooler response than when GAP changed their logo.
But what excites me more than the great response, and even more than seeing people share their #WayCooler photos, is actually seeing what people are DOING with the app creatively.
When we were building and designing the app, we wanted to make sure that it was easy to grasp on the surface, but had a little extra something to encourage people to explore the possibilities of what they could create from scratch if they just looked at the assets as shapes rather than as "ears" or "eyes". And some of you have gone above and beyond any of our expectations, and so Zerofriends, myself, & 99CentBrains want to reward you all for continuing to push the creative boundaries with the app and continuing to discover new ways to use the assets by GIVING OUT PRIZES FOR CREATIVITY! (see below). So get used to playing around with it now, because in the very near future, we are going to be updating the app with more free assets, and a few new extra bells and whistles that will open up the creativity level even more.
Also, yes, we ARE currently working on getting the WayCooler App on Android, but it's going to take us a while. It's a completely different build. Thanks for being patient.
We are also paying close attention to any of your comments or suggestions for improvements. Things like sorting the assets better, copying the edited assets, etc. So please keep your comments coming. We are not abandoning this app any time soon as we have a lot of plans and exciting things to implement. Because after all, EVERYTHING can always be #WayCooler.
NOW ONTO THE CONT
EST AND THE PRIZESSSSSSS! (so said the snake).
Wait, first of all, YOU HAVE THE WAYCOOLER APP, RIGHT?! NOOO??!!! Fine, then do every photo that you have a favor and DOWNLOAD IT HERE NOW FOR FREE!
OK, good. Now, to ease into some of the amazing things that other people are doing with the app, check out some of these insanely awesome examples of using the app for things other than just giving yourself a creepy mouth and bugged out eyes (even though that's also #WayCooler).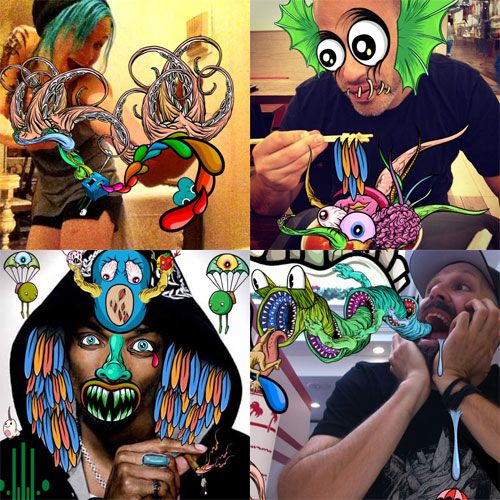 Everything in these photos is WayCooler than it's ever been before (Snoop Dogg's fingers and Chloe's hair excluded of course).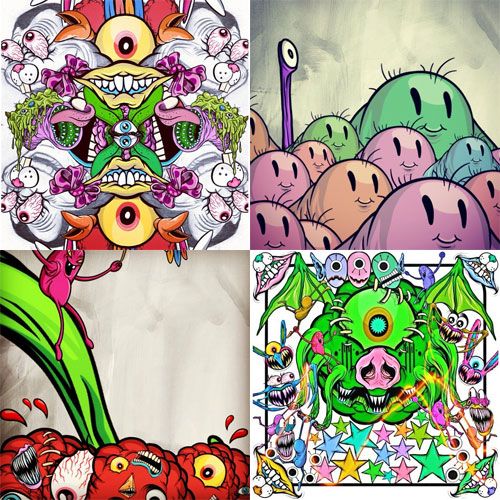 Oh hey, let's make the craziest wallpapers and silly scenarios of Monsters in peril!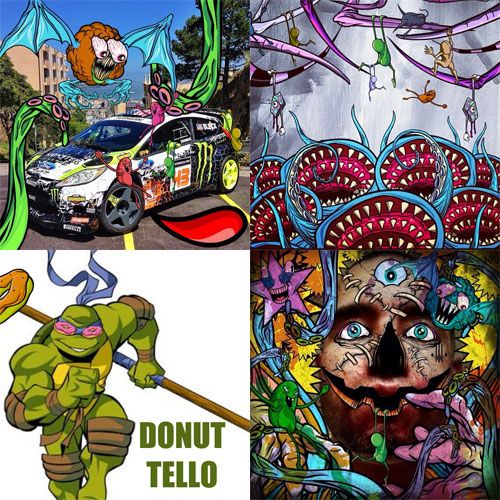 Or instead, you can make silly puns, or chaotic car ads, or even combine it with other apps to get even more oddball looks.
And keep pushing the boundaries until you go Toe-tally out of Ken-trol.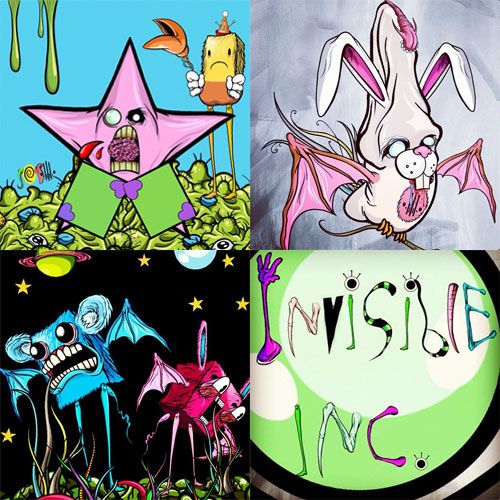 That still not impressive enough? ok cool, well, then how about using the assets for writing, or re-creating actual cartoon characters using only the assets supplied. Yah, that's what I thought too. WayWAYCooler.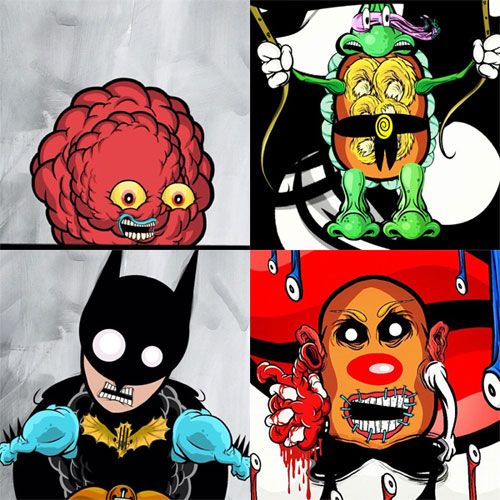 But this GIZMO pic below, made by HOEKS of GROUNDSICK is my absolute favorite so far. Its EXACTLY how Franky and I intended the app to be used. Simply put, as a new way to look at the world around us.
So, you want to see what you can WIN first, courtesy of myself and ZEROFRIENDS?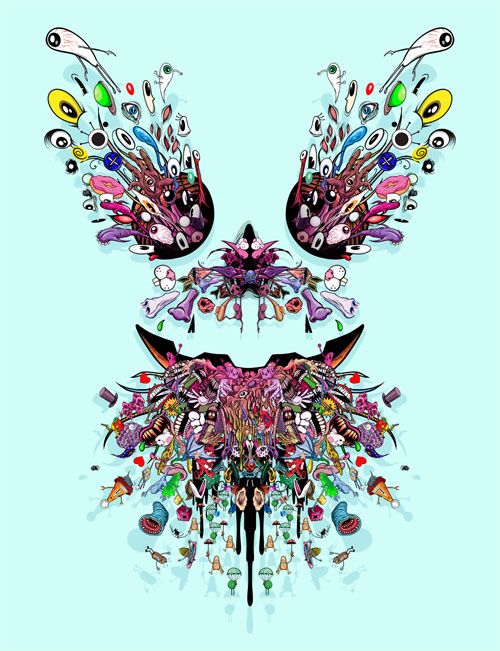 "The Assets Of Cool" Limited Giclee Print
Designed by me, using all of the initial assets of the WayCooler app.
Note, this print is NOT available for purchase and never will be sold online from Zerofriends.
Here's a little detail of the vomit on the print:
Ok, now, here's how you can WIN one of these 60 prints. Each week for the next 6 weeks, we will have 6 different contests, and once a week we will be giving out ONLY 10 of these prints to 10 winners of each contest.
Make sense? Over the next six weeks, one contest a week, 10 winners per contest.
The contests will each consist of submitting a photo or photos via email, created on with the WayCooler iPhone or iPad app.
Here's the basic rules:
1. Use the WayCooler App to manipulate a photo or create a photo from scratch that fits the guidelines of the current week's specific contest.
2. Have FUN.
3. Save the image to your photo library so you have it.
3.5. Make sure you are STILL HAVING FUN.
4. Upload it ANYWHERE (Facebook, Twitter, Tumblr, Instagram) and tag it #WayCooler
5. Email the image, along with your name, phone number (if possible), correct email address as well as WHAT SPECIFIC CONTEST YOU ARE ENTERING to waycoolerest@zerofriends.com
6. Each Monday following the deadline of the contest, 10 winners will be chosen by all of us at ZEROFRIENDS and 99CentBrains, and we will contact the winners directly and announce them shortly after.
7. Go have FUN! Make another one! There will be no limit to the number of different entries you can submit, but you can only win ONE print per contest.
So, its almost midnight, so we might as well get going with the FIRST #WayCooler Contest!
This one is called "Low-RezURRECTION"
The deadline for submitting your photos is 11:59 PM on Saturday, July 28th.
A lot of things in our real world seem a little lifeless. Rocks just sit there, garbage cans just cry a lot on the inside but never move or scream. Buildings just kinda stand there, looming quietly. Windows don't do much, and are just a PANE, etc. However, with a couple of swipes of your finger and couple of dives into the Cooler, you can bring ANYTHING to life, much like what these people did in their photos:
For this first week's contest, with the deadline for submission being 11:59PM on SATURDAY, JULY 28th, the goal is to give any inanimate object some LIFE using the WayCooler assets. Remember, you can throw eyes on anything and it helps it to see, but take that extra step and make it DANCE!
We can't wait to see what some of you come up with.
And just so you can start really practicing and preparing for future contests, here are the loose directions for all 6 of the contests, as well as their deadlines.
Be creative, and remember, you can make EVERYTHING #WayCooler!
Contest #1: Deadline July 28
"Low-RezUrrection" - Bring an inanimate object to life.
Contest #2: Deadline August 4
"DraCooler" - Make a famous horror icon from scratch.
Contest #3: Deadline August 11
"Car Tuning" - Customize a car
Contest #4: Deadline August 18
"3 Amigos" - Create a 3 panel comic strip, using WayCooler combined with the "I'd Cap That" (or another similar) free app.
Contest #5: Deadline August 25
"IllustrHATEr" - Make a grotesque, outlandish, or even offensive caricature of yourself or someone else.
Contest #6: Deadline September 1
"The GIF That Keeps On GIF'ing" - Make a "WayCooler"-based Animated GIF.