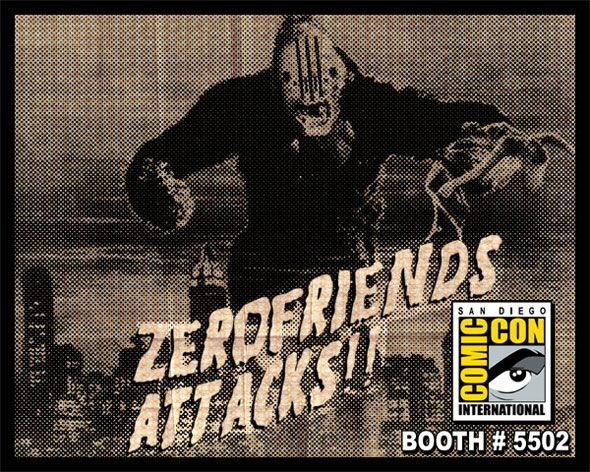 Everyone knows what the
San Diego Comic Con
is. If you don't, you probably don't know that
Chris Brown's still a dick
, 16 year olds are getting famous for being pregnant and irresponsible,
computers can skateboard
, and E.T. went home years ago.

If you AREN'T going to Comic Con, none of this really matters right now anyway because it's been sold out since like, a year before the Space Shuttle fell asleep on the Intrepid and whole world suddenly cared about Instagram, Bigfoot hunting and Bane.
But if you ARE going, and you aren't too exhausted from making dubstep remixes on your ipad or arguing over who should play Johanna in the Hunger Games sequel, please come by my ZEROFRIENDS BOOTH (#5502) and witness all of the BRAND NEW & EXCLUSIVE artifacts of awesome that we are shoveling onto your faces (pending the correct exchange of moneys of course:). 
Which reminds me, by the way we will be ACCEPTING ALL MAJOR CREDIT CARDS AT THE CONVENTION BOOTH! So no need to stand behind the sweaty female Green Lantern at the ATM for an hour this time! Congrats, US! Now lets get on with the showcasing!! Start making your checklist now!
BEFORE YOU GET STARTED, PLEASE NOTE: Our booth number is 5502/5503, which, logically, would be in the 5500 aisle. HOWEVER, there IS NO 5500 aisle. Instead, the 5500 aisle is the FRONT ROW OF BOOTHS. See above, we are actually located in the FRONT RIGHT CORNER of the convention center, in row 500/400!! If you get lost, refer to that awesomely clear (with cool font) map above.

First, before the products, here is my personal schedule so you can make sure to come say hi and get a free sketch card or have me scribble an illegible tribal marking on your books and stuff and pretty much we can just high five nervously if that's cool.
EVERY DAY, Thursday - Sunday, I will be signing at the ZEROFRIENDS BOOTH #5502 from 1:30 - 3 PM, and on SATURDAY I will be doing an additional signing at DKE TOYS's Booth # 4728 at 10AM. Here is what it would look like on a piece of paper:
Additionally, please follow MY INSTAGRAM ( @alexpardee) & MY TWITTER (@alexpardee ) for any unscheduled signings, giveaways, and secrets, as I guarantee there's at least ONE cool announcement and at least 3 pictures of
CHLOE
and I getting into mischief.


Word.

Now that we have that out of the way, here is all of the madness that we are releasing upon your gorgeous face-headlights. Pay close attention, I'm only going to say it once, and then probably a thousand more times on Instagram.
RELEASE THE KRAKENNNNNNN!!!!!

Up first, COMIC CON EXCLUSIVES! (These are limited editions, are being released at Comic Con and IF we have any leftover after the convention we will put them for sale on our store but they will never be reprinted in these specific styles once the first edition is sold out):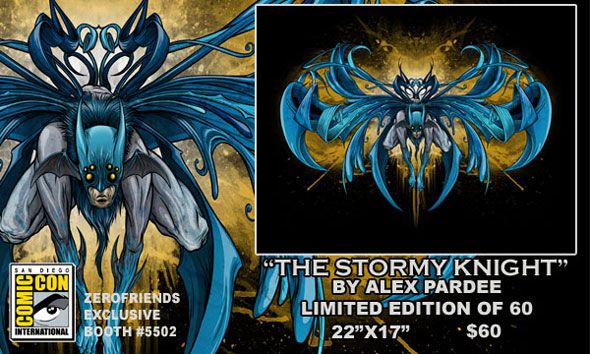 I love Batman. There's no denying it. So any excuse to draw Batman, even a made-up retro version of him from the future, especially when no one tells me to do it, is a good enough excuse for me. So here ya go.
"The Stormy Knight"
By Alex Pardee
22" x 17"
Limited Edition of 60, signed and numbered.
$60.00
Believe it or not, I never had a high-rez enough scan of this original painting to do any type of print larger than 8 x 10 so we have never offered this image up as a FULL-SIZED print, so if you HAVE one, it's a bootleg and I hate you. However, because of the technology of Adobe Illustrator, I completely redrew and re-colored this image for a t-shirt last year and now we are finally releasing it as a full sized, 18 x 24 5-color hand-printed screenprint!
"Goodnight Lava"
By Alex Pardee
Limited Edition of 100, signed and numbered
5 Color Screenprint Printed By BLOOM PRESS
18" x 24"
$50.00
One of our more popular shirt just joined the NAVY! Navy Blue, that is. A brand new, Limited Edition version of the "Handful" Shirt.
"Handful: The Baby Grimace Edition"
By Alex Pardee
Limited Edition T-shirt, Edition of 150
$35.00
For the first time ever, we are releasing Limited Exclusive prints from 2 other artists this year, and we couldn't be more honored at the two artists we worked with. This first print is from a long-time Zerofriends Collaborator and one of our favorite people,
Greg CRAOLA Simkins!
This is one of the only new products that Greg is releasing this year so be sure not to miss out!
"MONGRELS"
By Greg "Craola" Simkins
20" x 16"
Limited Edition of 100. Signed & Numbered.
$80.00
The other artist who we are more than proud to announce an exclusive print from is
JASON EDMISTON
, one of the most amazingly talented acrylic painters that I have ever seen. We met him 2 years ago at Comic Con and since then we have been dying to team up with him. And in usual fashion, he gave us a beautiful Pin-Up Girl! (And Jason may be joining me for one of my signings at the booth, so stay tuned)
"Rocket Queen"
By Jason Edmiston
16" x 20"
Limited Edition of 50, signed and numbered.
$50.00
A VERY LIMITED Number of my Special Edition versions of my new art book "Awful / Resilient" will be available at Comic Con. This version of the book is EXACTLY the same on the inside, but each cover is numbered, signed, & HAND EMBELLISHED/PAINTED by me, and also each book comes with an exclusive signed print with purchase. When I say limited, i mean limited. The whole edition is only 250. We will only be releasing about 6 of them at the convention FYI.
For the last of the EXCLUSIVES, we have a slight change in pace, and kind of a fun experiment. This brand new Comic Con-esque variant print of mine is the most accurate use of the word EXCLUSIVE. As the ONLY way to get this print ever will be to ORDER one IN PERSON at the booth ANY TIME throughout the convention. We are releasing it as a timed-release, and it will be available to order IN PERSON ANY TIME for the entire length of the convention, from preview night until we walk out the door. Once the convention ends, we tally up how many people bought one and THAT becomes the edition size number. And anyone who orders/buys one IN PERSON at the booth will have it shipped for FREE after the convention. We will have one in person to show you what it looks like. We unfortunately can NOT take phone orders or email orders for this print, you HAVE to order it and PAY for it in person at the booth.
"The Day I KILLED PETER PARKER" (Father Killer Variant)
By Alex Pardee
17" x 22"
Timed Release Limited Edition Print
$50.00
All "Peter Parker" prints that are ordered and pre-paid for at the convention will get the print shipped FREE after we return home from Comic Con. This specific print will never be available from us online or in our retail stores.
And now, for some more new items that will be available! AHHHHHHHHH!
FINALLY! I know, it's about time. But better late then never!
YEP! Some new ones! (These AREN'T Limited Editions, but we will only have a limited amount available at the convention)
New Head-sweaters! Soft Helmets! We also will have Navy Blue hats.
RAD!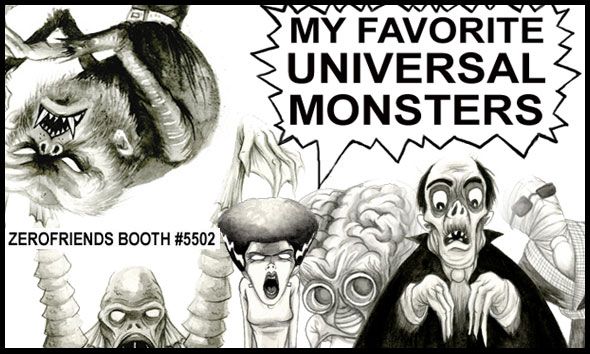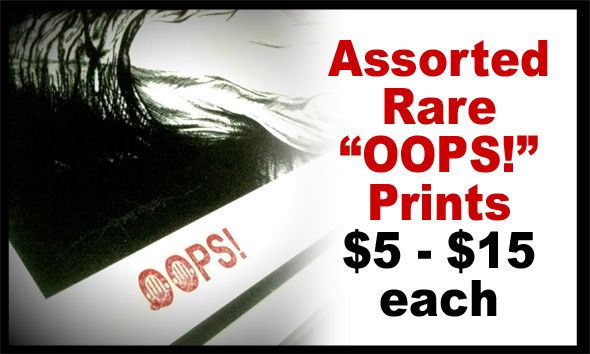 It went so well the last 2 years that we are doing it again! We are selling a HUGE PILE of "OOPS" Giclee prints! These prints did not meet up to our general quality standards in one way or another, whether it was slight color differences, or a bent corner, or something. They are all stamped with a nice "OOPS" stamp to assure that they are not a part of the general limited run, but aside from that, once framed, they should be just as awesome, if you like mistakes that is!
"OOPS!" Prints range from $5.00 to $15.00. We will be putting out at random about 20-30 oops prints each morning to give everyone a fair chance, as there are certainly some gems in there.
IN ADDITION TO ALL OF THESE NEW PRODUCTS, WE WILL OF COURSE HAVE TONS OF OTHER SHIRTS, ART PRINTS & BOOKS (from artists like Dave Correia, Skinner, Robert Bowen and MORE) AT THE BOOTH!
Now, one more thing that I have been waiting 10 years to make is getting released at Comic Con exclusively at the DKE TOYS booth # 4728 (NOT at the Zerofriends booth but we will be happy to point you in the right direction if you ask). What is it, you ask? Well, about 12 years ago I created a bunny with no arms and a goofy grin that loves being "WITH" things. I made a comic book. I made some plush toys. But what I had always intended them to be were little mini vinyl collectable toys, much like the M.U.S.C.L.E. men I grew up with and even like some of the POKEMON toys that are out now. And now, thanks to my amazing friends at
OCTOBER TOYS
&
DKE TOYS
I am finally releasing the FIRST set of these little armless dudes! And not only that, but this first set is ALREADY an exclusive limited GLOW IN THE DARK colorway. When we finally release them in stores, they will be non-limited, various colors, but these are SPECIAL, and limited to only 300 Pieces of EACH style. DKE TOYS (Booth #4728) is releasing ONE style per day, and each one is $5.00 each. I'll be signing at the DKE Toys booth on Saturday morning at 10 AM. LOOK!
Here is a good size comparison photo, but keep in mind these are NOT the Glow In The Dark versions that will be available at the convention.
TOY BREAK did a great preview of some Comic Con exclusive toys in their new episode and they give you a good look at the actual toys. You can watch it here:

Alright, my keyboard is yelling at me to stop punching it in its teeth, but before I go, we have a few additional promotions that our WONDERFUL sales staff will be happy to remind you of if you forget, but keep these in mind:

1. Every day, the first 25 customers to $25.00 at the booth will receive a special "extra" bonus item. The item will be different each morning and will be announced each previous night.
2. Through all 5 days, if you spend $50, you can get a FREE 5" x 7" "MY FAVORITE MONSTER" print of your choice.
3. Through all 5 days, if you spend $100, you will receive a free 8" x 10" giclee print of your choice in addition to your free 5" x 7" monster print.
4. Throughout all 5 days, if you spend $200, in addition to the 2 free prints above, you will also receive a FREE Regular Edition of my "AWFUL / RESILIENT" art book!
I think that's about it……maybe? Well, if you have any questions that's just more reason to go by the ZEROFRIENDS BOOTH #5502 and bug the dudes about anything and everything Zerofriends-Related.

Now I need to go finish MAKING THIS STUFF SO I'M NOT A LIAR!!! See you in a few days. And make sure you follow me on my TWITTER and INSTAGRAM (Both @alexpardee or @zerofriendsart) so you can stay up to date on anything fun going on at Comic Con and
ADD MY FACEBOOK PAGE
to stay updated on some other stuffs.

Word, nerds!!