Hamburgers, Hills, Giants, Robots, Best Friends and Zero Friends.
I'm making another little visit to the Zerofriends store tomorrow, Saturday, Sept 18, at about 1 pm, but this time I'm just there to tag alongside the headliner, the one and only N8 VAN DYKE (who's taller than Spawn, and drinks more too!)
Yes, you wonderful clouds of awesome, N8 Van Dyke, famous for his work in Heavy Metal, Upper Playground, and more recently, his amazing comic book adaptation of Jurassic Park. He's a phenomenal painter/illustrator and will be gracing the ZF store with his presence tomorrow to do some live painting, singing, and sketching for a few hours from 1PM to probably 3 or 4. And i'll be there painting a little as well:)
ZEROFRIENDS SF RETAIL STORE:
Located at:
248 Fillmore (corner of height and fillmore)
San Francisco
Also, to coincide with Nate's appearance tomorrow at the store, Zerofriends is proud to announce our first limited print release by N8 Van Dyke! It's stunning, check it: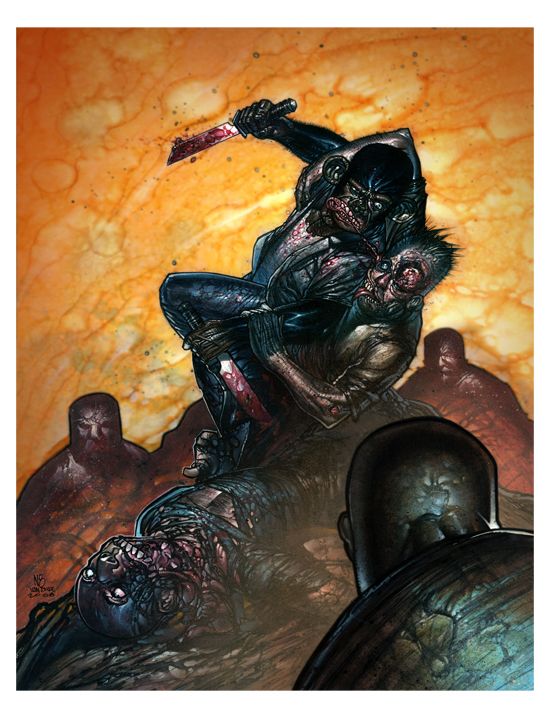 Info:
"Hamburger Hill" Limited Edition Giclee Print
By N8 Van Dyke
Extremely Limited Edition Of 50
17" x 22" Printed with Archival Inks on Acid Free Velvet Cotton Rag.
Each print is hand signed, numbered and loved by N8 Van Dyke.
Click on the photo or
CLICK HERE
to puchase the print, which will also be available in the SF store tomorrow at Nate's appearance.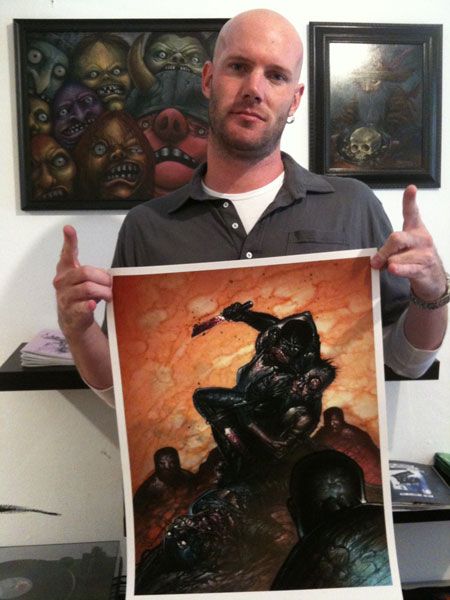 Also, if you are in Los Angeles this weekend, my homie Tony Thaxton from Motion City Soundtrack is holding a really dope charity auction in conjunction with his company, Analog Playset, at the ATTICUS CLOTHING store! A handful of awesome artists and musicians have all donated their time to customize the iconic Analog Playset Robot toy and all proceeds will be donated to charity. Check out the flyer and info below and take a look at what I donated:
"BUNNYWITH Mission to Kill John Connor"
It also comes included with an original watercolor painting of him!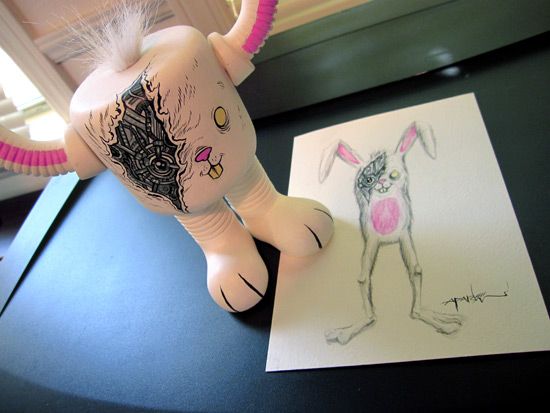 Here is the flyer for the show, and the info is below! Wish I could be there! Have fun if you go, and tell Tony hello!!!!
New art toy brand Analog Playset has put together a custom show + auction for their new resin robot figure at the new Atticus store on Melrose in West Hollywood on Saturday September 18th (7 PM to whenever).  The appropriately retro robot was designed by Analog Playset founder Tony Thaxton (of Motion City Soundtrack) and Beth Raebel. Sculpting and casting were done by Julie B. of Pretty in Plastic.
The artist roster for this one includes Joe Ledbetter, Alex Pardee, Dan Goodsell, Beth Raebel and several musicians including Mike Gentile (Hey Monday).   The customs will be auctioned off to benefit the Dear Jack Foundation which focuses on helping young adults facing cancer.  Hit the jump for a few preview images.

Atticus Clothing
7664 Melrose Ave.
Los Angeles, CA 90046