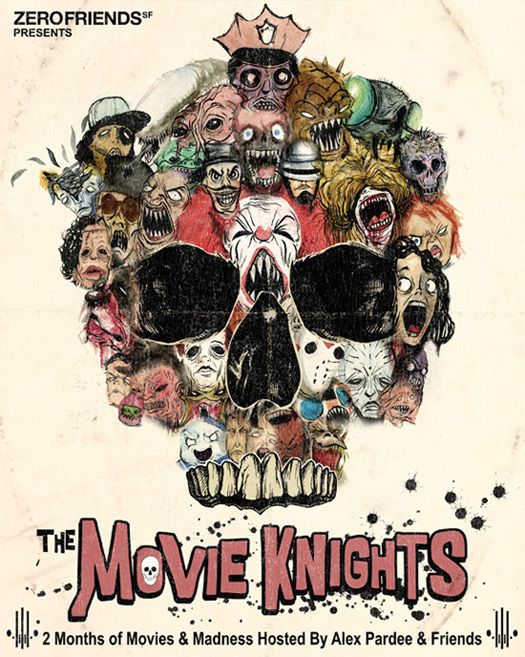 WANNA WATCH RAD AWESOME HORROR MOVIES WITH ME AND EAT GARBAGE AND MAKE BAD PUNS?? Read on, reader….
Since we opened up the latest Zerofriends Pop-Up Retail store in San Francisco, I keep getting the same 2 questions:
1. Alex, you're getting fat again, what bra size are you?
2. Why did you open a retail store?? Retail is dead!
Answer to #1: I know, and 38 B.
Answer to #2: SO I CAN WATCH HORROR MOVIES WITH AWESOME STRANGERS!!!
Yes, that's right, the hop-along gang and I have unsheathed our cinematic swords, donned our lightly buttered armor, turned off the lights, silenced our phones and our babies and are banding together as THE MOVIE KNIGHTS!
Once a week, at the Zerofriends Retail store in San Francisco, the Movie Knights will unite and present to you a plethora of fun and amateur moving picture projecting, and maybe even vomit-projecting!
Some of the movies you may have seen, some you may have not. Most are probably horrible, but more fun to watch than 7 drunk Snookis fighting over a herpes-remissioned dick!
So I hope that over the next 7 weeks a few of you will join me in doing what I am SUPER good at, which is watching horror movies and making terrible jokes and being a dick while they are on! There will be a few special guest-hosts and fun giveaways and stuff along the way if everything goes smoothly, which, since i bought the REVOLUTIONARY new Gilette Fusion Pro Glide with a 100% Guarantee of something i have no idea about, is a sure thing! However, since our store is VERY small, seating is going to be EXTREMELY LIMITED, so pay close attention below to how you can join us in the technicolor fun!
Here is all of the info for our MOVIE KNIGHT!
The Movie Knights will be held weekly on WEDS nights from 8-11 (unless otherwise noted)
First things first: The ONLY way to get into a MOVIE KNIGHT is to get your hands on ONE of 150 Limited Edition, signed & numbered MOVIE KNIGHTS mini-prints. (featuring the image above, designed by me, water, no sleep, paintbrushes and photoshop). This print is both THE ONLY WAY TO GET IN, as well as a prestigious collectible fun certificate that basically says you love having fun at night with nerds.
So HOW do you get your geeky hands on one, you ask me quietly in your mind-face? Simple: Every Monday at NOON, 20 of these prints will go on sale ONLY AT THE ZEROFRIENDS SAN FRAN RETAIL STORE (Located at 248 Fillmore St in the Lower Haight District) for $10 each. That's it. Simple. For ten bucks, you get a signed limited print and a guestlist spot for that week's Wednesday night movie shindig.
A couple of notes to keep in mind:
1. PRINTS will ONLY be sold at the SF retail store IN PERSON. No online sales, no phone reservations.
2. 20 (Twenty) Prints/Invitations will be released each MONDAY at NOON for THAT WEEK'S MOVIE ONLY. They will be sold on a first come first serve basis. They might sell out on Monday, or we might still have them 5 minutes before the show. Who knows.
3. After our first movie knight event, I will post the full schedule/dates/hosts/etc so you can have time to plan if you want to come to one of them:)
4. 18 and over ONLY. You will be carded upon purchase of the print and additionally at the door of the event. NO EXCEPTIONS.
5. You CAN purchase multiple prints for multiple people, but EACH print only gets ONE person in, just like any other ticket/invite. NO EXCEPTIONS.
6. Seriously, the store is tiny, we only have a small number of chairs, and we CAN'T fit extra people in there once it fills up.
7. If you buy a print, and then CAN'T make it, it's ok to pass along your admission to someone else.
8. There WILL be some kind of small fun snacks there, but not a lot. Our friends at San Francisco's
SQUAT N GOBBLE
are gonna prepare some delicious morsels:)
8. Also each week, we will be releasing a print, or a small set of prints that coincide with the movie we are showing at The Movie Knights! These prints WILL be available online and/or in the store.
We are a day late getting this one started so
BEAR WITH ME
this week, and next week will be all fun and feathers and boa constrictors.
On that note, as of today, Tuesday, Sept 14, the FIRST 20 prints are NOW ON SALE AT THE SAN FRAN ZEROFEIENDS STORE! This print will guarantee you a spot to hang with us as we eat, imagine dancing, and watch……
the very first horror movie I laid my eyes upon, and my all time favorite movie to date….
CREEPSHOW!!!!
Yep, that shit's my favorite! As you can see I often even dress up like Jordy Verrill when I'm feeling social:
Here is the trailer, straight from 1982!!!
And, to coincide with our CREEPSHOW party, I JUST RELEASED all 5 Creepshow prints from my "My Favorite Monsters" Mini-print series! These too will be available today in the store as well as RIGHT NOW ONLINE!
CLICK HERE TO VIEW/PURCHASE ONLINE NOW
and check them out below:) Hope to see you there on Wednesday!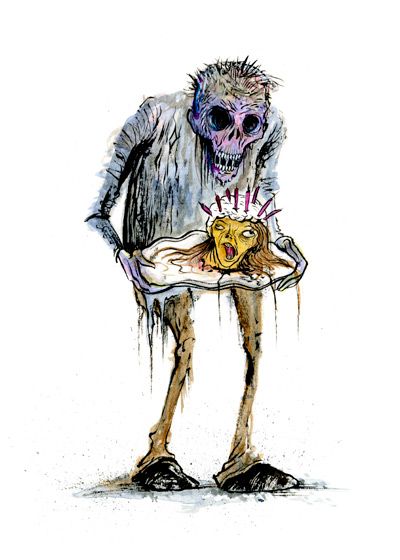 Nathan Grantham (Father's Day)
Jordy Verrill (The Lonesome Death)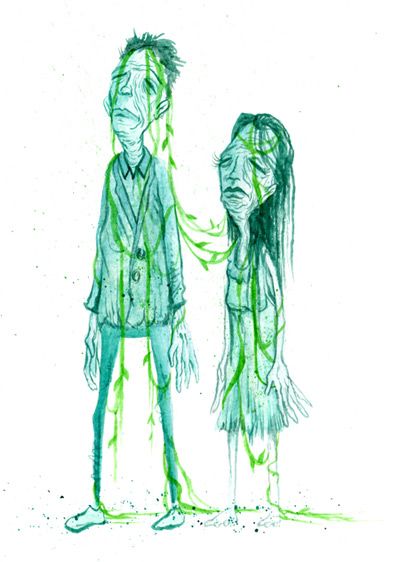 Harry & Becky (Something To Tide You Over)
Fluffy (The Crate)
Upson Pratt
WORD!