Hey! Remember that time, just over a year ago, that I teamed up with 5 of my best friends, slept 2 hours and in turn created "VERTIGO", one of the most expansive art collections that I have ever personally done but the only people that could see it in person were in LA? Well, I have some kinda cool news if you happen to be living in the California Bay Area this weekend! (Sorry rest of the world, still working with The Fly on how to do this whole teleportation thing)
This Saturday, April 14 from 12-6 PM at our Zerofriends gallery in Downtown Oakland, I will be re-displaying a selection of pieces and props from my huge nightmare-based "VERTIGO" show that was on display last year at Corey Helford Gallery. Included in this showcase is 6 of my favorite paintings from the show as well as the gigantic 9-ft unfrozen "Molar Bear" (a monstrous beast made entirely out of extracted teeth) and a nightmare-extracting music box.
But as usual, we aren't just doing a showcase. We are also releasing a brand new never-before-available Limited Colorway Giclee print of "The Breathing Architecture" (
online release
will happen that same day as well)
AND we are giving away a FREE signed 8" x 10" "AROMA" signed print to the first 50 people that come to the opening and ask for it on that Saturday.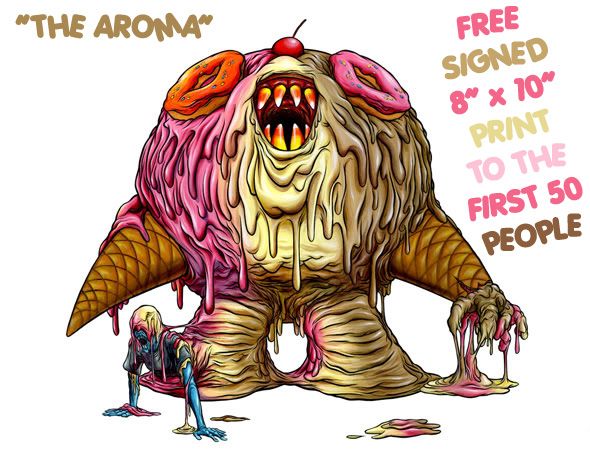 This is a great chance to check out my newly opened Zerofriends store & gallery in Oakland if you haven't had the chance to yet. And I will be hanging around there for a few hours, ready to chat about the paintings or about the actual Vertigo story as it is something that is very close to my heart, so come on by, get free prints and help welcome us to the neighborhood this Saturday, April 14!
Where: Zerofriends Oakland
489A 25th St
Oakland, CA
(@ Telegraph)
When: Saturday, April 14, from 12 - 6 PM
Free admission, and FREE prints to the first 50 people to ask for one.
If you missed the collection last year, there is an entire story surrounding the artwork which you can
read about it HERE
if you are interested.
See you there!