Due to the high quantity of BIG THINGS (see above for photo representation) that Zerofriends & I are involved with this week, I'll subtract the usual boring banter and just cut to the chase.
1. ALEX PARDEE x ZEROFRIENDS x VANNEN Super Limited Wristwatch & Print release & signing will be taking place THIS Saturday, March 27, at the Zerofriends NYC Retail Store in Manhattan from 1-4 PM.
Official info below the photo: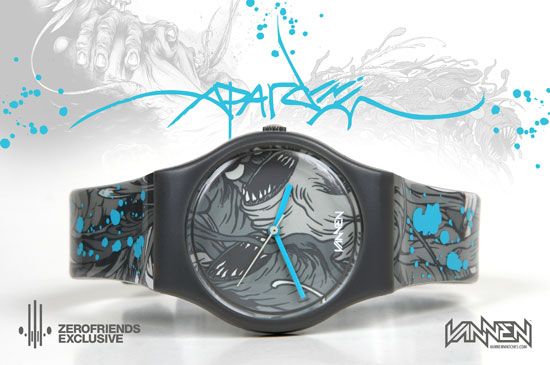 Saturday, March 27th at 11am ZeroFriends and Vannen Watches bring you a new limited edition Alex Pardee wristwatch available only at the ZeroFriends boutique in NYC. Only 40 of these watches exist in the entire world and come in never before seen packaging that's signed, numbered and customized with splatters and magic by Alex. No two pieces of packaging are the same! Plus as an extra bonus - each watch also comes with a limited edition, 11" x 17" signed and numbered secret (see below for secret revealed) print. And for those of you not in the NYC area - and if the watch doesn't sell out - you can find it online Monday, March 29th only at http://www.zerofriends.com. The cost of the watch will be $125.00
ZeroFriends NYC
437 E. 9th St.
New York, NY 10009
Now here are 2 pics that were not released until now: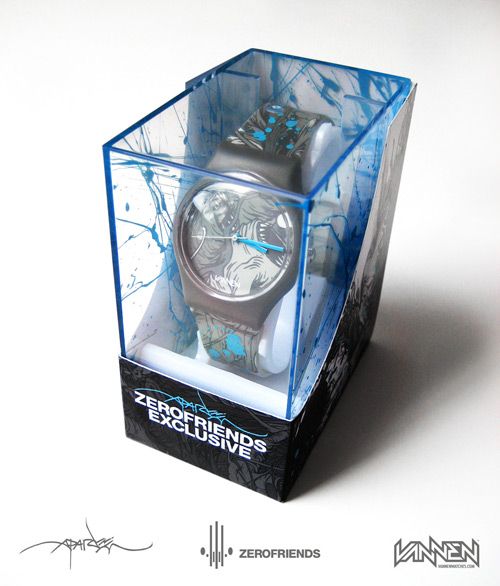 The packaging, individually hand-splattered by my…well…hand, i guess.
And…
The secret print that will be included when you purchase the watch. It's a blue variant of my "Escaped Conviction" piece, only it's limited to only 40 prints, and is a little smaller than the previous editions (it measures 17" x 11"). The only way you can get this is to buy the limited watch.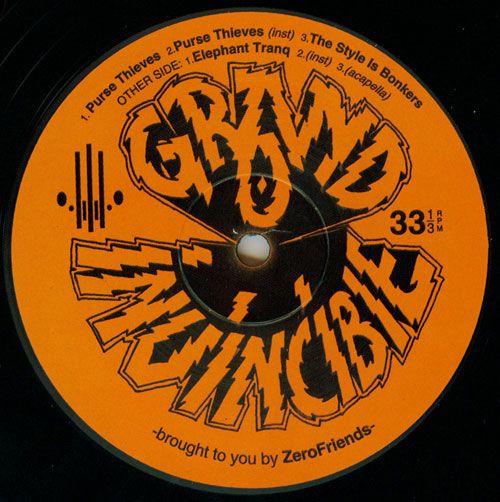 2. Zerofriends has also just released something that we are very proud of. As you may or may not know, and may or may not care, I was raised in the late 80's and early 90's in the Bay Area, and I grew up on classic Hip Hop like Gangstarr, Kool G Rap, Too Short, NWA, The Click, Public Enemy, Souls of Mischief, Geto Boys, Tribe, Wu-Tang, etc. In addition, I have consistently followed the Bay Area hip hop scene since I was in high school, from the birth of mob music to the insanity of the hyphy scene. Amongst the madness, there were also more sample-oriented and funk-inspired groups like the Hieroglyphics, Living Legends, & Gurp City. One of my favorite groups to come out of the bay in recent years is "GRAND INVINCIBLE", consisting of Luke Sick (from Sacred Hoop/Gurp City) & DJ Eons (from Bay Area Grindcore legendary band SPAZZ). They have always just had such a well-constructed, old school-inspired way of producing genuine music that I have loved them for years.
With that being said, it was really cool about a year ago when we all linked up and talked about working together. And now, after a long time coming, Zerofriends has just released our first album, Grand Invincible's new album "COLD HAND IN THE DICE GAME" (with cover art by the amazing Eric Kneeland)!
Grand Invincible "Cold Hand In The Dice Game"
Second full length album of grimey hip hop from the duo of Luke Sick (Sacred Hoop) and DJ Eons One (Spazz). 13 tracks to furthering the GI movement, based on the philosophy that hip-hop as an art form was best served under the technological limitations of the late-80s and early-90s and that the best hip hop records were made using records. Featuring all original artwork by Eric Kneeland inspired by 60's horror comic books.
CLICK HERE TO LISTEN TO SNIPPETS AND PURCHASE:)
Direct link to check it out:
http://zerofriends.com/store/index.php?main_page=product_music_info&cPath=30&products_id=268
We also have the CD available in a really rad limited art package that has hand a screenprinted poster, a 12" record, stickers, and more: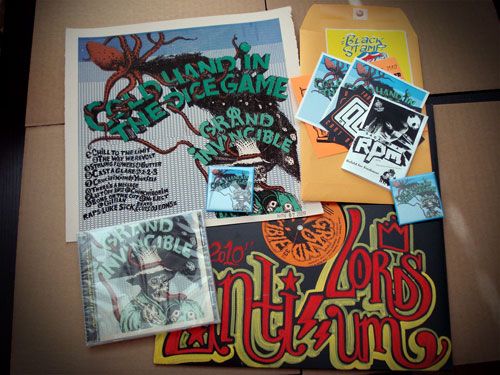 Here is their newest video, directed by F/22, for the song "The Way We Revolt", harking back to the MASS APPEAL days for sure. Love it.
3. (Lastly) THIS GUY!!!!
SEE YOU SATURDAY!