"Dude, watch this!"
"Watch what?"
"THIS!"
"Huh?"
"Just…..WATCH!!"
Terrible intros aside, I do have something for you to "watch".
Designer watch company VANNEN WATCHES & ZEROFRIENDS teamed up with me and my irritable, bloated stomach (might be the illegal whale meat I just got force fed) to release an Ultra-Limited edition wristwatch designed and splattered by me:)
The watch, inspired by my "Escaped Conviction" piece, will be available on a first come first serve basis only at the Zerofriends retail store in New York next saturday. And I will be there in person for the release and a signing next Saturday, March 27th, from 1-4 PM. Hope you like it:)
Check the official press release below from the good dudes at
VANNEN
: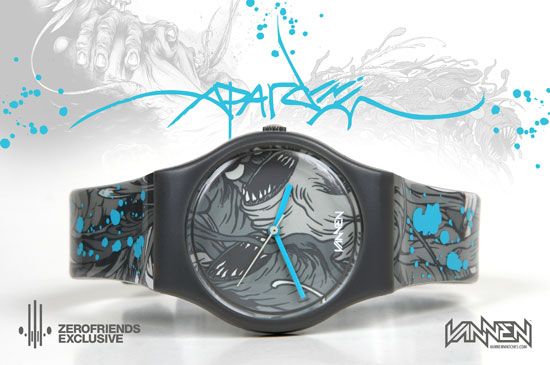 Next Saturday, March 27th at 11am ZeroFriends and Vannen Watches bring you a new limited edition Alex Pardee wristwatch available only at the ZeroFriends boutique in NYC. Only 40 of these watches exist in the entire world and come in never before seen packaging that's signed, numbered and customized with splatters and magic by Alex. No two pieces of packaging are the same! Plus as an extra bonus - each watch also comes with a limited edition, signed and numbered secret print. And for those of you not in the NYC area - and if the watch doesn't sell out - you can find it online Monday, March 29th only at http://www.zerofriends.com.
ZeroFriends NYC
437 E. 9th St.
New York, NY 10009