As promised, here are the correct answers to all of the contest questions according to the panel of ME:
1. "HOW MANY TIMES DOES "THE WINTER STALKER" SAY KATIE'S NAME?"
This one is easy. The answer is 7.
2. "HOW MANY TIMES DOES MY SIGNATURE "FACE" LOGO APPEAR IN THE ENTIRE VIDEO?"
This one was SEMI easy, depending on if you watched it on your phone or on a computer. The answer is 2. First, on the SNOWMAN's face in front of the cabin. Then blatantly at the end, burning up.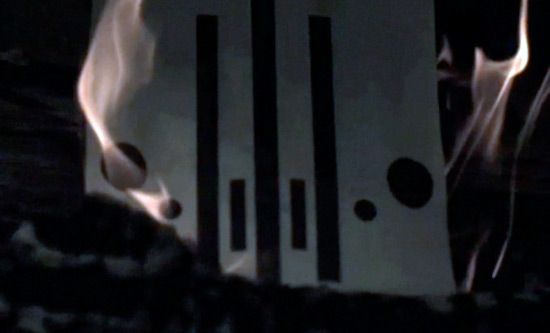 3. HOW MANY TIMES DOES THE WORD "KATIE" APPEAR ON SCREEN IN THE ENTIRE VIDEO?
This one was easy, all you had to do was watch it a couple times. Nothing hiding too much. The answer is 5. There was ONE additional time where it showed PART of Katie, as it said KAT. But KAT isn't KATIE, is it?:) BOOM!
4. "HOW MANY LOCKS DOES KATIE'S FRONT DOOR HAVE?"
This answer required you to notice 2 parts, and put them together in a little Memento-style way. The answer is THREE locks total. Here is how it is determined:
At 1:15 into the video, we see Santa's Blueprint of "Katie's Place". On his blueprint, it says "3 Locks. 1 Deadbolt". Now, that COULD mean 4 locks total. Or 3 Locks total and ONE is a deadbolt. But lets go backward for a minute...
At 0:09 into the video, Katie opens her front door and turns the light on for a split second, where we can see that YES, its 3 locks total, with one of them being a deadbolt.
5. "WHAT IS THE EXACT SECOND OF THE FILM THAT "BUNNYWITH" FIRST APPEARS ON SCREEN IN HIS CAMEO?"
This was the toughest one, apparently, as only a handful of people got it correct. Granted, you needed to pay CLOSE attention AND know that Bunnywith comes in various sizes. The answer is AT 0:44 into the video, Bunnywith Tentacles can be seen in the arms of Katie on her bed. I highlighted it here so you can see for yourself:)
Anyway, congrats to the ten winners. I had a lot of fun putting this together and Stephen Reedy and the whole crew did such an amazing job on this video I am stoked to be a part of it, and I think this whole video contest thing is something we would like to do a lot more. So be on the lookout for more videos and more fun:) Happy Holidays, everyone!