So, I've got good news for myself, and bad news for you! The good news is that I am leaving for Seattle tomorrow along with the Zerofriends crew to do something awesome. The BAD news, for YOU, is that i'm gonna probably twitter the fuck out of the trip so you guys will most likely get annoyed like you did last week in Denver;) However, I promise this time i will post less, but be twice as offensive and juvenile. Is that a fair compromise?
Good.
Anyway, yes, I am heading to Seattle.
What am I doing aside from trying to find the haunted basketball court they used in the Smells like Teen Spirit video? Well, I am setting up a little intimate art show, print release & signing on Friday evening at 6:00 pm at The Upper Playground up there.
In addition to that, ZEROFRIENDS will be taking over a section of the U.P. store and selling a bunch of shirts and prints throughout the next month! We have been hesitant to jump into the retail game given the economy and all, but this will be a good test so please please go check out the clothing if you are in Seattle and help support so we can take over stores throughout the country;)
The art show, itself, is going to be a fun little collection of stuff. Because I just got back from my Denver solo show, and this was a little spontaneous opportunity, I will be displaying and selling a number of random pieces of art and prints. I know most of my shows have themes and stuff, think of this one as my favorite Jeopardy category, Potpourri!
We will have both framed and un-framed prints for sale, books, shirts, some never before seen original black and white drawings from some of my clothing and poster designs, as well as a few little paintings for good measure.
And as a special surprise, we are releasing a Seattle-exclusive limited Giclee print of 'THE HANDFUL", like this: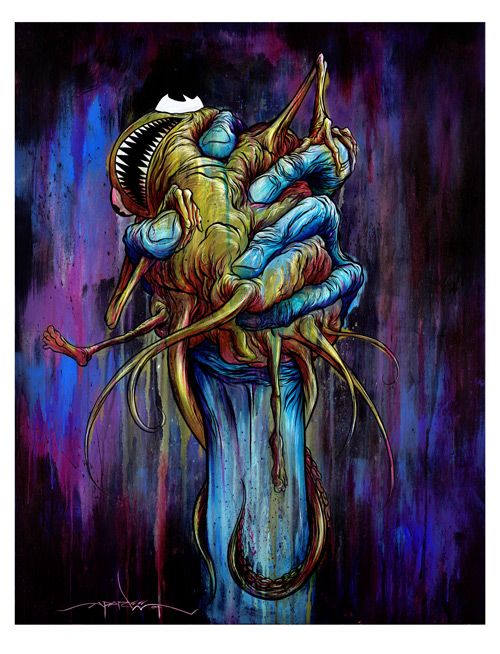 Also, we are gonna party with you Seattle-ites. And Satellites.
So come on by, i think there will be drinks and music. No charge, all ages, all that good stuff. And if you cant make it to the opening, come by the shop to support Zerofriends all through September!
See ya there.
Word.
Here's the info:
ZEROFRIENDS POTPOURRI!
@ Upper Playground in Seattle
4730 University Way NE
Seattle, WA 98105
(206) 985-1000
Friday, August 21 @ 6:00 PM
be there.