7 days. Maybe 11 hours of sleep total. 2560 miles. California, Nevada, Utah, Wyoming, Colorado. Tornado warnings. Bum-fireworks. Boner tattoos. An angelic Jackelope. Old friends. New friends. Good friends. And an ILL-ASS SUPPORTIVE ART SCENE IN THE MOUNTAINS OF DENVER, COLORADO!
Maybe, if you cross paths with me, some individual stories from the trip will sputter out of my excited mouth, but until then, it's all a blur, so I will do my best to narrate the trip via photos, compiled from iphones and a couple of ancient digital cameras. Enjoy;)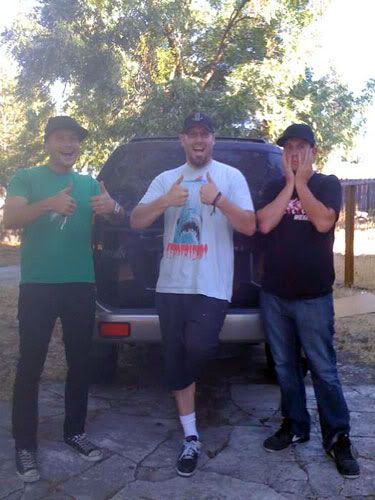 Sean The Pierce, Myself, & Ricky Watts departed my house in high spirits. Well, Sean & I were in high spirits. Ricky was all Home Aloned-out. I don't think he was as naive as Sean and I.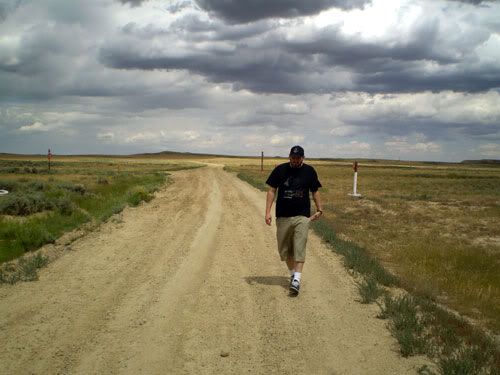 It only took a few hours before we were in the middle of Funs-ville, Nowhere.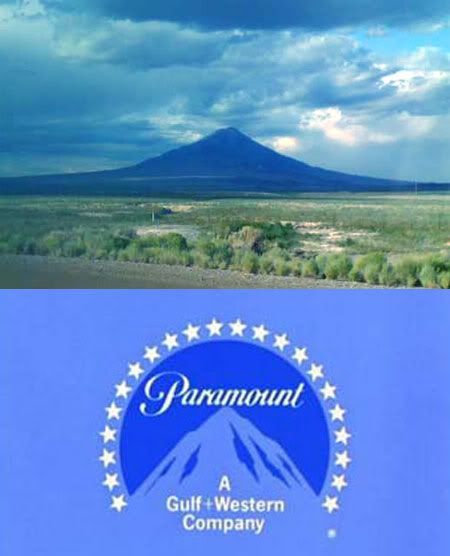 We drove by the Paramount Logo, which is awesome since i love their movies, especially Footloose, which i think was probably shot around here.
We picked up our trusty guardian angel, Jackie Lopez, at a truck stop, and he assured us of our safety. Jackie Lopez rules.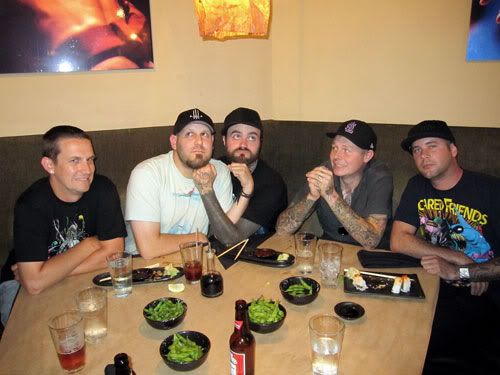 We stopped in Salt Lake City, UT, to hang with Vic Back, one of the country's best tattoo artists, which makes perfect sense that I would be lucky enough to be friends with him, considering how my entire body is covered in non-tattoos. We ate sushi stuff. and took prom pictures, and then....
Sean decided to make my millenium and get his favorite Ghost Boner, Taco, tattooed on him by Vic, who probably deserves better, but since I'm a bully, we won! BTW Vic works at GOOD TIMES TATTOO in SLC, UT, which is one of the best shops in the west by far. Go there.
Sean and Vic, all saddled up, ready for an ink-boner.
Some of Vic's many trophies, but sadly, none of them said "Best Boner." I still had hope that he would do a decent job.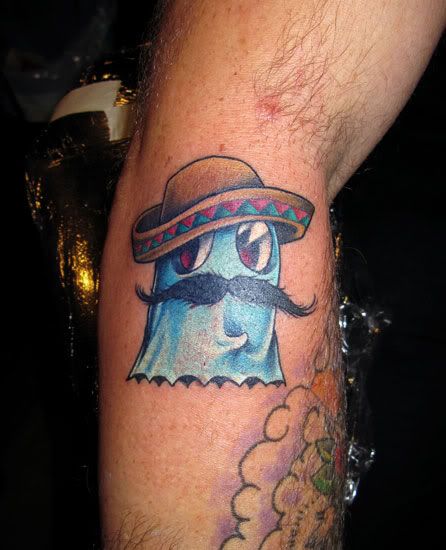 YES! He DID do a good job!!!!! Sean, are you happy??
"YES, I AM ANGRILY HAPPY WITH MY TACO!"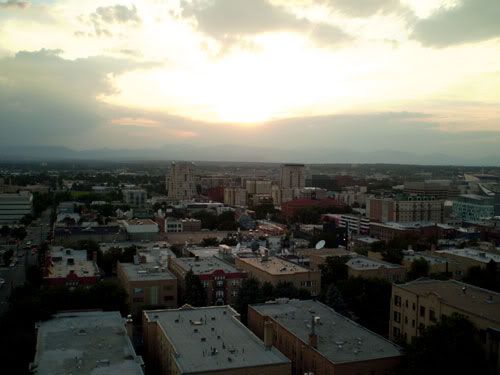 We got to the hotel in Denver, which was "high enough to safely throw fireworks at people without hurting them", according to Sean.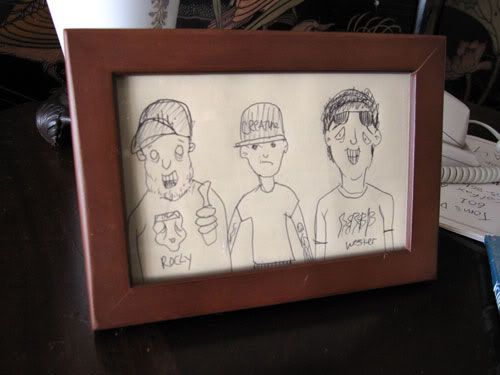 I decided a family portrait was immediately necessary. Maybe my best work in months.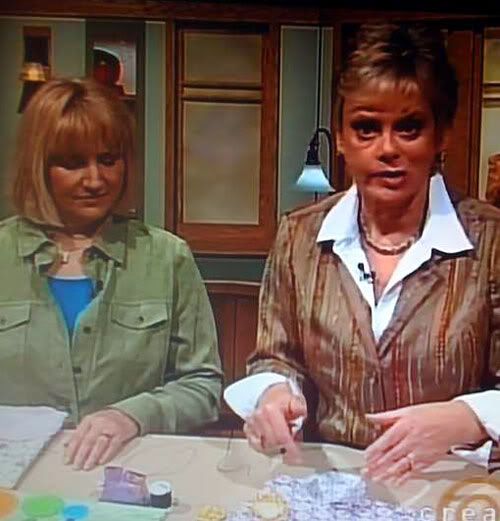 This lady on the right, doing her horrible Tina Fey impression, haunted me every night on TV and i dont want to talk about it.
This hat "bearly" fit, but i bought it anyway because of how angry it made Sean.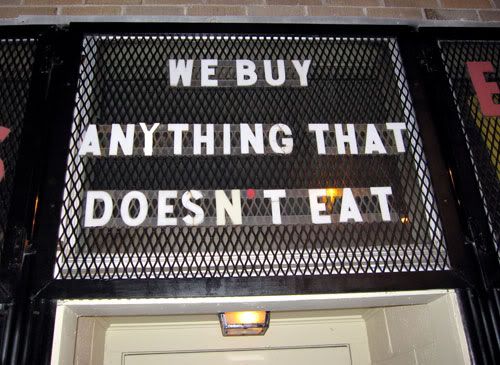 In Denver, there are multiple places that "buy anything that doesn't eat." That's what it says, in case you're blind. NOTE: please no one comment to say "If anyone was blind they couldnt read ANY of this, silly" because i am well aware of that. I am also aware that i now have to point out my sarcasm. That means I'm getting worse at it. I'll work on it.
Weird Denver fact #4: Half of the population had been shrunk during a scientific revolution in the 80's. Tons of the residents and neighborhoods were tiny! It was weird at first but i soon grew to find it really cool....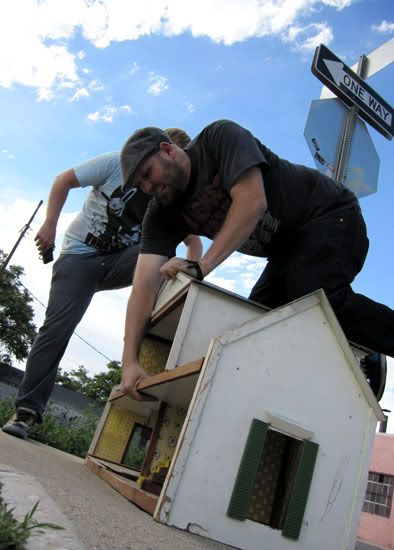 JUST KIDDING I HATED THOSE TINY PEOPLE AND I TRIED TO SMASH THEM AND DESTROY THEM EVERY CHANCE I GOT!
I was SO PISSED that the world's smallest stripper was having a show the same night as me, because that meant she wasn't going to be at my show like she promised. So i destroyed that tiny bitch's house (see above.)
Riding 2-Dimensional dogs is not only fun, it's educational!
Decided it was time to stop fucking around in 2 of the 3 dimensions i live in and get to work on the installation for my art show.
Ricky Watts and I filling in the mostrously gay mural.
Line-dancing.
A really dope sketch Ricky did while patiently waiting for me to gently ink the huge violent orgy.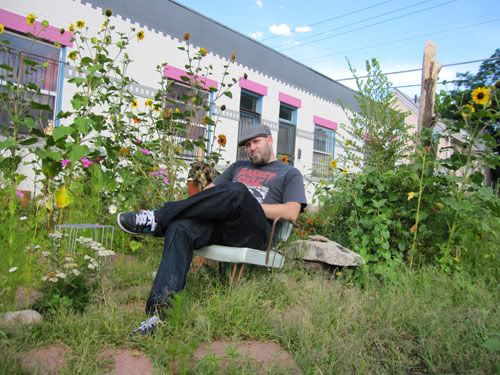 Every morning I sat in this chair and absorbed inspiration from the sunflowers and the litter.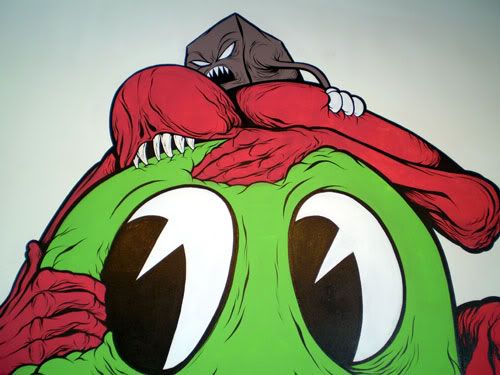 Finished, and overcome with awkward sexiness.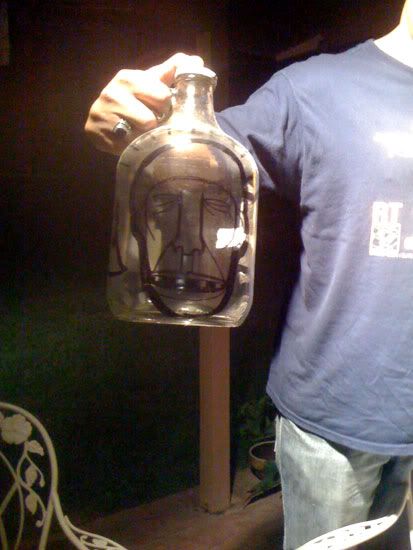 The night before the show, Tom (the gallery director of ANDENKEN) supplied me and my crew with some genuine, hairspray-tasting moonshine, complete in a bottle decorated by The Date Farmers.
The show is officially starting, which IM TOTALLY PRETENDING TO BE SEXILY AROUSED BY! YES!!
Eating the famous "Iron Maiden" Pizza at The Walnut Room right before the show.
Me with Tom, ANDENKEN's Gallery Director and all-around cool hombre.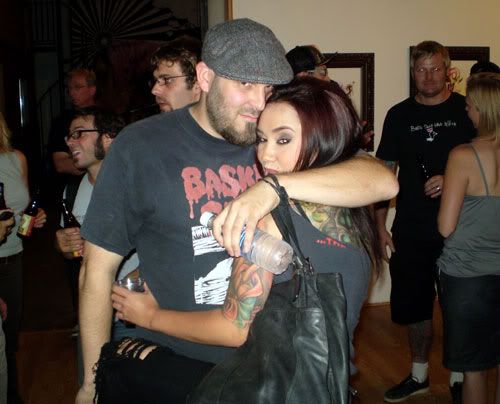 My Semi-Date for the night, the beautiful Ronnie WK, who's Photoblog, RADMOBILE ( http://radmobile.tumblr.com/) rules the school. The girl knows her CHUD & Supermarket Sweep trivia, which is probably the only 2 requirements for my friendship-approval.
The first person to show up was an amazing artist named Dalton who not only made this shirt he is wearing, but showed me a ton of his colored pencil portraits and paintings, and he is only like 16! He's gonna be a beast!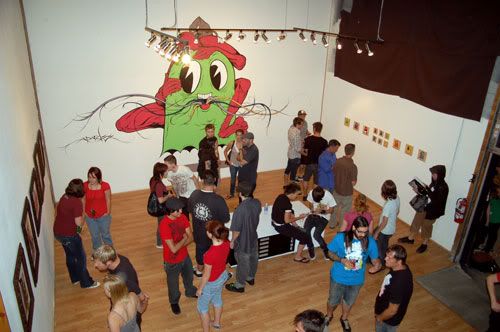 Zack, from OMERICA, a company that makes custom high end all wood products, came through and surprised me with 2 ZEROFRIENDS custom belt buckles for me, and they look so rad in person. 2 different types of wood inlays. Zack also gave me a painting, which was really fucking nice of him. I will put up a pic of the painting when I scan it.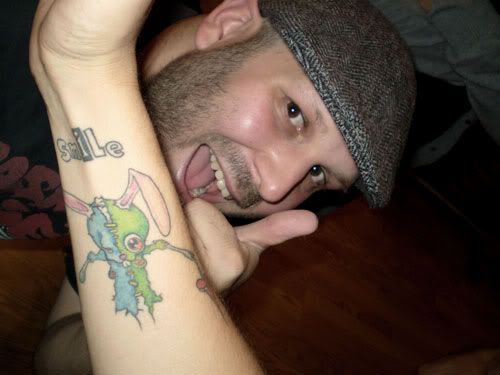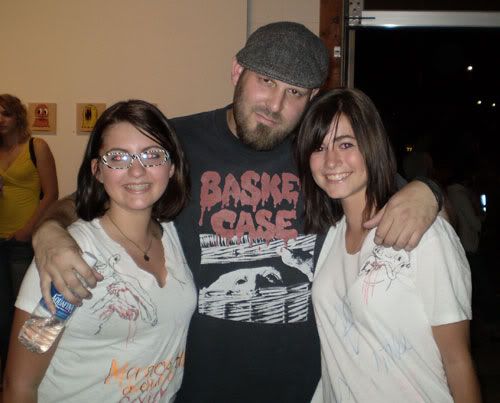 These girls were adorable. Dani (on the right) drew recreations of my art on both of their shirts and they looked awesome.
Dani (on the right) is the artist who drew both of the shirts.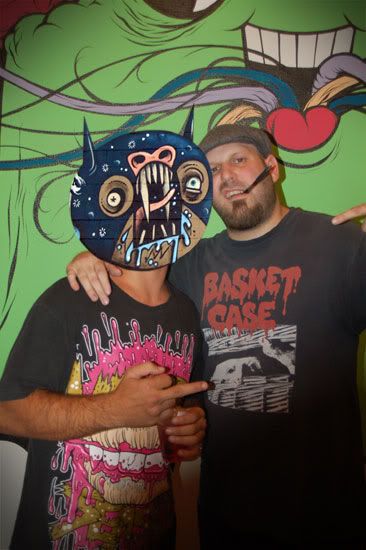 My elusive, demented, and prolific homie TASTES LIKE GOLD was haunting the streets of Denver and popped in to support. BLARRRGGGHHH.
This dude's neck is love.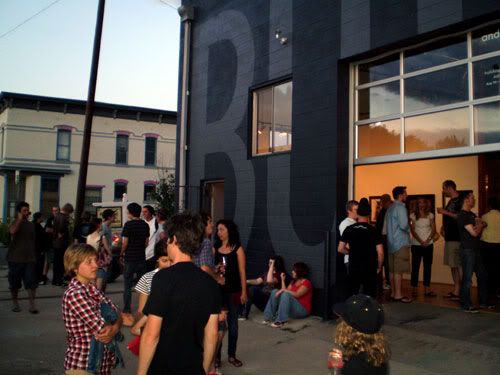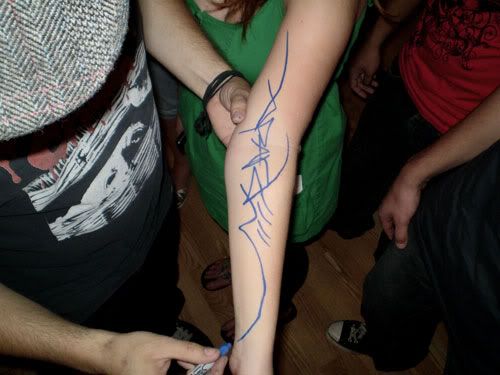 Artist Skot Lefavor hung out and helped man the fireworks with Sean The Pierce and the Homeless Firework Brigade. Skot has a show at Andenken next month!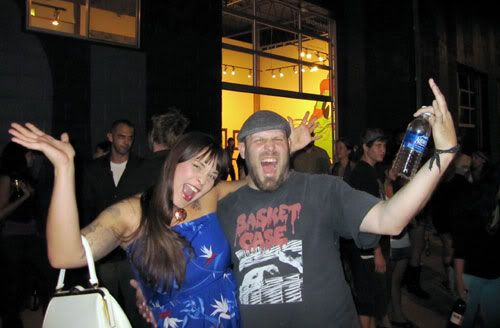 Artist and old friend, Alicia "Karma" Leigh completely surprised me since I thought she still lived in Arizona. We are still both fresh as fuck and tipsy off of electrolytes.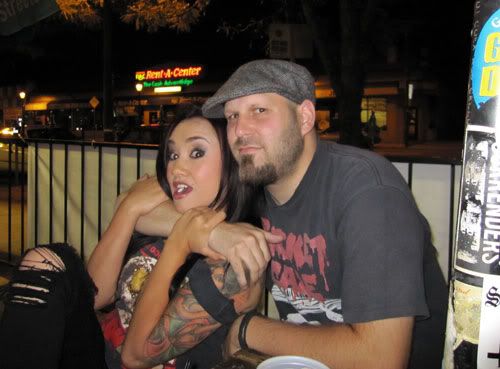 Continuing the night after the show with my semi-date, Ronnie.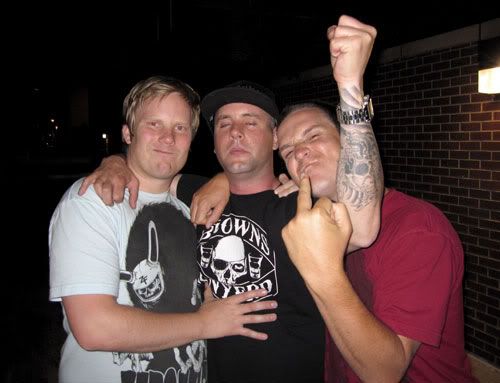 And my boys continuing the night with their date, whiskey.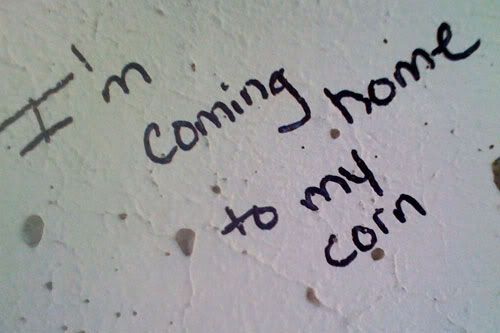 We slept a total of 40 minutes before taking Darren to the airport and starting our drive back, 1260 miles to San Francisco. I am pretty sure they were still drunk. And angry, as seen in this "as we leave" photo"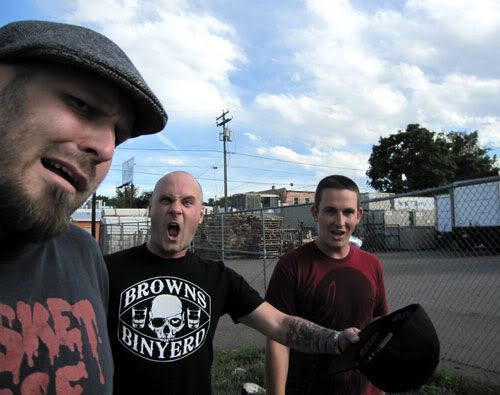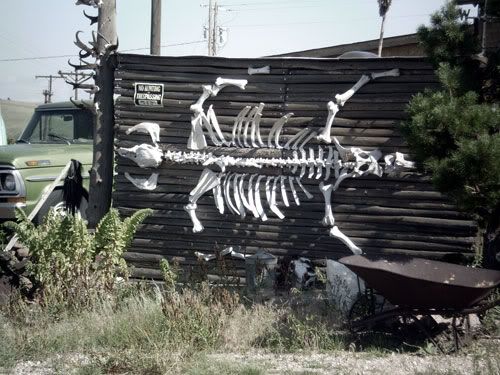 In Wyoming, we stopped off of the freeway to ask the guy who lived here A) what website he bought all 600 of his bones, scalps, and skulls that he had surrounding his porperty, and B) if we could use his bathroom. He grunted angrily, awkwardly danced, and waved a chainsaw in the air as he spun around, so we left, and peed down the street. He was a total dick.
I don't have any pictures of our safe return, but the trip was so much fun I'll just use this one again, as we all felt this way when we got back home. Thank you, Denver. You have Bronco'd my world. See you soon.