It's no secret that I am fascinated by monsters, folklore, mythology, etc.
I will only die happy if i die AFTER we discover the that the Cloverfield monster really HAS been sleeping in the ocean, or that the Chupacabra isn't just a bunch of goth mexicans that steal goat blood because Hot Topic doesn't sell it, or that the Chicago fires were, indeed, caused by an angry Dragon.
So yes, in short, though i have never been hunting, and i don't really believe in killing animals unless it's for food or if they are talking shit, I DO fantasize about slaying giant beasts and wheeling the head-trophy into my village to reap my rewards of 50 pounds of gold and the 4 finest whores the townspeople will no doubt throw on my dick.
So what better way to convey my fantasies than to draw them just in time for my good friend, Luke Chueh's group art show
THE VIVISECT PLAYSET FIVE
that I am a part of.
Here are the 3 pieces i did for the show, which opens this FRIDAY, Dec 5 at GALLERY 1988:SF. More info below.
"The Hunt For The Giant Kitten Is Over"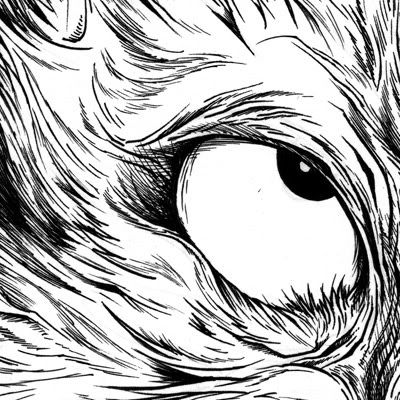 (Detail of the Giant Kitten)
"I Took Care Of The Great Chicken Problem"
(Detail of the Great Chicken)
"Squid-Kid Is Dead, and I Have The Proof"
(Detail of Squid-Kid)
Here is the official press release:
LUKE CHUEH & GALLERY 1988 SAN FRANCISCO PRESENT: "THE VIVISECT PLAYSET FIVE"
For five years now, Luke Chueh and Gallery 1988 curated and hosted The Vivisect Playset, an art show that featured artists who regularly employed animal characters in their work to illustrate the human condition. The show has illuminated the talents of several artists, helped set the foundation and direction for Gallery 1988, and even conceived a series of toys, produced by StrangeCo.
This years show features works of Angry Woebots, Anthony Ausgang, Charlie Immer, Paul Barnes, Jonathan Bergeron, Lindsay Campbell, Luke Chueh, Matt Dangler, Dia, Daniel Elson, Brendon Flynn, Mayuko Fujino, Ghost Patrol, Peter Gronquist, Walt Hall, Moira Hahn, Thomas Han, Melissa Haslam, Mari Inukai, Kamala Dolphin Kingsley, Joe Ledbetter, Lauren Moyer, Alex Pardee, Peek-a-boo, Isaac Pierro, Scott Radke, Amy Sol, Ben Strawn, Roland Tamayo, and Amanda Visell

OPENING RECEPTION: Friday, December 5th, 2008 (7-10 PM)
December 5th - December 23rd, 2008
1173 Sutter Street. San Francisco, CA  94109. USA
Phone: 415-409-1376

http://www.nineteeneightyeight.com/