Some of you might not have been introduced to "Bunnywith" yet, so allow me to introduce him.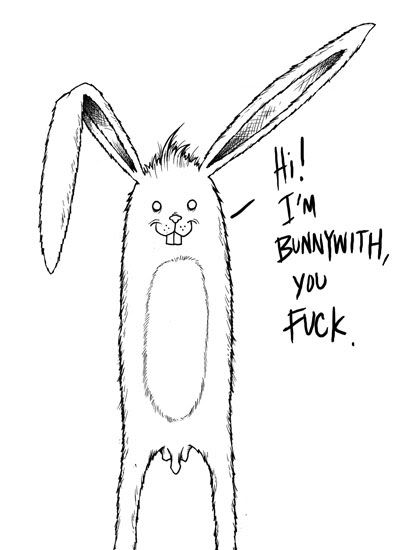 "Bunnywith" has been my favorite creation for years, and it will probably continue to be my favorite, for the sheer simplicity and freedom it has given me. "Bunnywith", and his adorable smile, allows me to be the asshole i wish I was 98% of my life. Someday I will tell you how it all started amongst the terror of a Jamaican math teacher and a nutcracker.
Over the years, Bunnywith has taken many forms.
Comics,
plush toys,
and even
trendy collectible vinyl toys.
And now, I would like to announce Bunnywith's brand new form,
an almost-DAILY WEB COMIC!!!
Now you can get a daily dose of "Bunnywith" courtesy of
Snafu-Comics
, one of the most popular web comic sites on the internet (check that shit on Alexa, it's as legit as MC Hammer USED to be.) The comic has been live for a few weeks now, and is already causing a little uproar thanks to a couple of my favorite Bunnywiths, like the ones below. So, go check out the comic, cycle through all of the previous Bunnywith comics, bookmark the page and check out a new comic almost every day, and let
SNAFU DAVE
know how much you love all the cute references to Kurt Cobains death, abortion, decapitations, blow jobs, and bunnies. And while you are there, check out the other comics that Snafu has to offer, and if you are as nerdy as me, you will dig them.
AND MAKE SURE TO CLICK HERE TO GET ALL OF YOUR "BUNNYWITH" BOOKS AND TOYS ONLY ON AT ZEROFRIENDS.COM.
here are a couple examples of the Web Comic Relaunch of BUNNYWITH!
click any of the pics to go to SNAFU.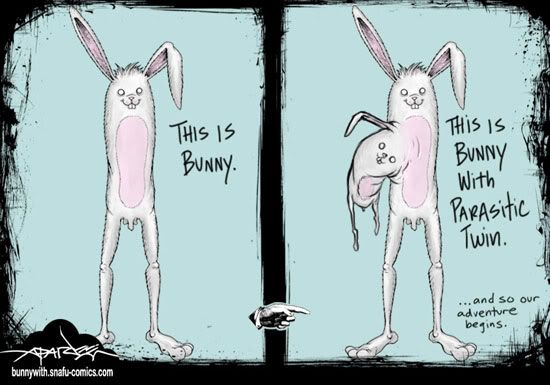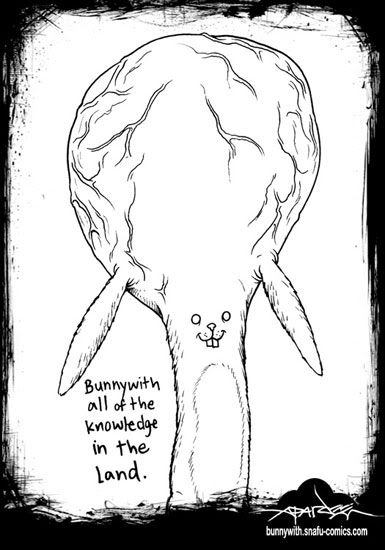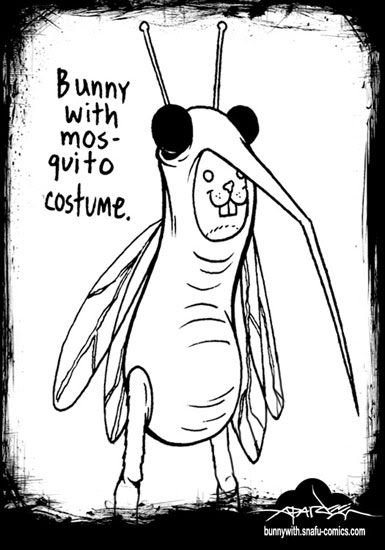 and maybe one of my favorites....