I am a movie fan. End of story.
I love everything, from Goodfellas with Robert DeNiro to Pythons 2 with Billy Zabka.
And that is why i am extremely proud to be a part of this show: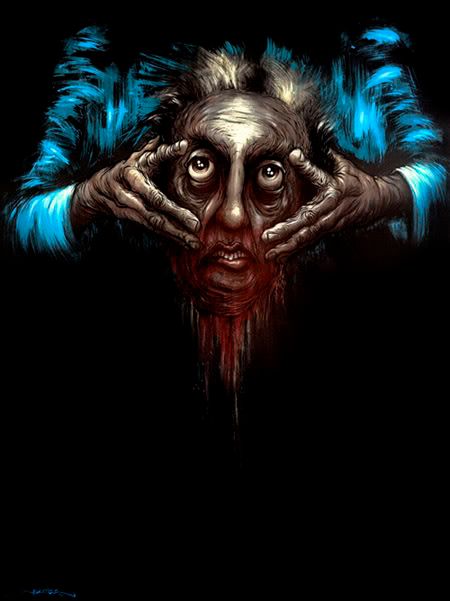 "Crazy 4 Cult 2:
This Time It's Personal"
opening reception:
Friday, August 22nd from 7-11PM
Image above: "Bring Me The Head of Dr. Hill", acrylic, latex and ink on canvas, by Alex Pardee
Gallery 1988 Los Angeles is proud to present Crazy 4 Cult 2: This Time It's Personal, the follow-up to last year's cult movie themed and wildly successful Crazy 4 Cult. The art show will run from Friday, August 22nd, 2008 until September 12th, 2008. The opening reception will take place on Friday, August 22nd, 2008 from 7-11 PM, and many of the artists involved will be in attendance, as well as the presence of our yearly hosts Kevin Smith and Scott Mosier (the team behind cult classics "Clerks" and "Mallrats").
Last year's show welcomed in over 3,000 art and movie lovers, including Edgar Wright (Shaun of the Dead), Michael Rappaport (True Romance), Richard Kelly (Donnie Darko), Jason Mewes (Clerks) and James Duval (Donnie Darko). The show received press from G4, KROQ, 97.1 Free FM, Reelz Channel, and many others.
This year's show will feature new cult movie inspired artwork from well over one hundred artists, including Alex Pardee (Who's Re-animator painting is seen above) Sas and Colin Christian, Gris Grimly, Angry Woebots, Jim Mahfood, Brandt Peters, Travis Louie, Jeff McMillan, Mark Brown, Matt Dangler, Naoto Hattori, Krista Huot and Luke Chueh, among tons of others. An entire list of the participating artists can be seen at
Crazy4Cult's Website
Crazy 4 Cult 2 gives artists the chance to pay homage to their favorite classic cult films by putting their own unique twist on well-known characters and scenes. The Big Lebowski, Point Break, Mommie Dearest, Ed Wood, and A Clockwork Orange are just a few of the many cult classics that the artists will chose to immortalize in their works.
This year's opening reception on August 22nd is sure to be another amazing, not-to-be-missed event! Posters from Andrew Wilson, Scott Campbell, 2cents, Reuben Rude and Dan McCarthy will be available at affordable prices starting opening night. For more information about these posters, expecially those shopping out of state, please be sure to check out crazy4cult. com for the latest news and updates.
Save the date for August 22nd for the Crazy 4 Cult 2 opening reception to be the biggest event in 1988 history!
Oh yah, and in addition to the Dr. Hill piece above, here's some bonus pieces i did for it: