We here at
ZEROFRIENDS
are proud to announce our Third Annual BROWN THURSDAY PRINT GIVEAWAY EXTRAVAGANZA! AKA "FREE PRINCE DAY!"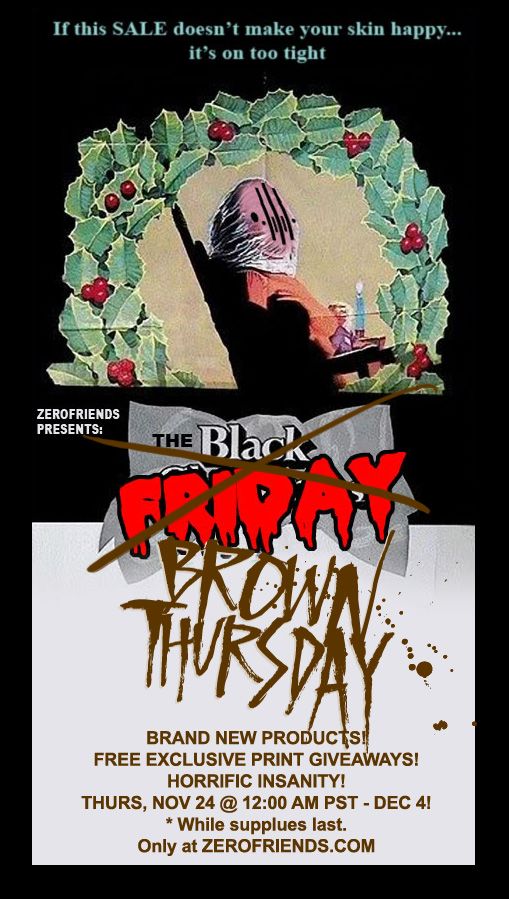 What's the best thing about running an online business during an economy like this? I mean, aside from the overwhelming number of PHP Groupies and Hypertext chicks that flock to us because of our integrated shopping cart coding? Well, the best thing about this type of business is that we can have a huge Black Friday Sale ON A BROWN THURSDAY and get this SHIT goin' EARLY!!
Details below:

That's right, an entire day before some of you hoarders line up at Wal-Mart to get a free pair of the wrong sized shoes when you buy a 30 dollar flat screen, you can ON-LINE UP at Zerofriends.com and check out, alongside BRAND NEW PRODUCTS, the new (temporary) slashed prices on a few Different Signed Limited Giclee Prints, all of our 8" x 10" prints and 5" x 7" prints are on sale, as well all of our t-shirts!
Sale officially starts MIDNIGHT PACIFIC TIME on Weds night / Thursday morn (Nov 24)!

Step by step instructions without illustrations:

1. Go to
ZEROFRIENDS.COM
, where, at the time of the sale, we will be putting up tons of new prints, a few new hoodies, new original art, and more! (you can see previews below!)

2. Look around at some of the BRAND NEW PRODUCTS and take a look at some of the sale items.
3. Take notes. Smile
4. Starting On Brown Thursday, Nov 25, (Officially starts midnight Wednesday night at midnight Pacific Standard Time) Purchase ANY combination of items equalling $25 or more (it doesn't have to be one of the sale items) and recieve, along with your order, ONE free 8" x 10" signed & numbered print of Alex Pardee's "DEER JOHN" Painting (limited edition of 400)!*
4.5. Purchase ANY combination of items equalling $150 or more (it doesn't have to be one of the sale items) and receive, in addition to the free 8" x 10", a FREE 11" x 14" signed and numbered print of Alex Pardee's "Holiday Hug" Painting.

5. EAT MORE FOOD!


*Limit of ONE free print per HOUSEHOLD. While supplies last.



Just saying:)
Happy Thanksgiving, and thank you from all of us here at Zerofriends.
(below are just previews, I know the new hoodies say available now but trust me….they're not. sorry if my future banners confuse your present brains!)
NOTE: WE WILL ONLY HAVE TEN OF THESE SPECIAL EDITION BOOKS AVAILABLE ON THURSDAY!


SEE YOU INVISIBLY THERE!