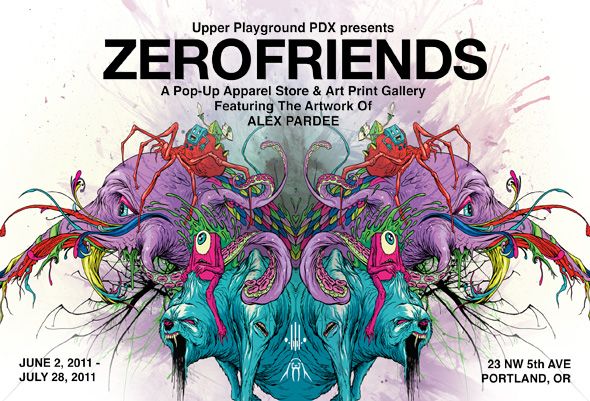 Continuing our Gypsy-like tradition, but substituting snake oil, hair tonic and curses for art prints, shirts, and hugs, the Zerofriends crew is setting up shop in one of my favorite places on earth (aside from
THIS ALIEN'S closet
), PORTLAND, OREGON!
Yes, starting TODAY, June 2nd, and running through July 28th, an entire ZEROFRIENDS retail pop-up shop will be taking up residency INSIDE the Upper Playground PDX store downtown on 5th & couch (in between 2 of my other favorite places, Ground Kontrol & Floating World comics, and down the street from ANOTHER favorite spot, Kamp Grizzly…Portland has a lot of favorite spots. Oh, Voodoo Donuts, that's the best. Man, I should move there.)
Anyway, meandering thoughts aside, if you are in the Portland area in the next 2 months, please stop in and check out our gypsy-wares and help support our continued travels to other cities!
And on July 7th, I will be appearing at the Portland Zerofriends store to sell & sign my new book, "Awful / Resilient" as part of my book tour, so mark the date and come say hi to me)
Also, this Portland pop-up shop will have some HARD-TO-FIND previously sold out prints that will ONLY be available there, and if you are interested, theta will take phone orders as well, so check it out. Here is all of the details and info. Thanks again for your support.
UPPER PLAYGROUND x ZEROFRIENDS
23 Northwest 5th Avenue
Portland, OR 97209
(503) 548-4835
Open Mon-Sat 11am-8pm; Sun 12pm-6pm
Some in-progress shots of us setting up the store tonight: