ROBERT BOWEN SOLO ART SHOW TONIGHT!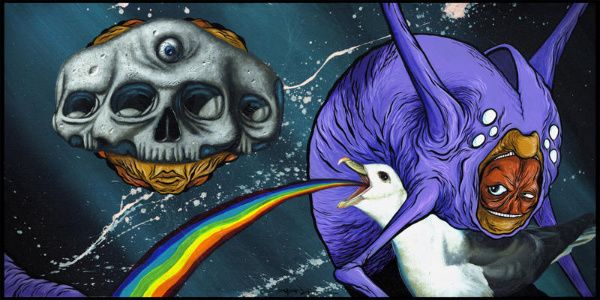 Tonight, in Oakland, CA, I am spending my night off before the
FINAL SKETCH 4 SKETCH EVENT TOMORROW
to see one of my best friend's first solo show in 2 years! And its insane. Over 25 new pieces, including a collaborative one that he and I did together (seen above).
A lot of you may not know this, but Robert had a HUGE impact on my art and creativity for years. I met Robert in 1994, and at the time, I was struggling with wanting to be more "free" and weird with my subject matter, but was always hesitant that people wouldn't get it, or would write me off as more of a weirdo than I already was. So my public (and feeble attempts at commercial) art was a little more tame, but behind the scenes, my personal art was leaning toward the bizarre. And when I met him, ALL of Robert's art was distorted, twisted, dark, and kind of just odd. And he always stuck behind it, unapologetically. And that pushed me to be ok with being weird, and for the next 15 years, Robert & I have fed off of each other and it's amazing to watch his art skyrocket to the amazing technical level that it has.
So yah, I'm goin to gather some inspiration, the Zerofriends crew will be there, so I suggest you come out and check out his new show. Here is the info:
"MAGNANIMOUS"
New Work By Robert Bowen
MAY 7th, 8-11PM
@ Old Crow Tattoo & Gallery
362 Grand Ave
Oakland, CA 95650
oldcrowtattoo.com
robertbowenart.com