"HEY YOU GUUUUYYYSSS"
Yah, i used to watch The Electric Company. But when I was younger i thought that catch phrase would be a lot better if it was actually saying "Hey EWE-GUYS" and was being directed at some half sheep-half human things. Like this:
So anyway, quickly, i just MOVED again for the 2nd time in 3 months. Not that bad, actually better, but that means i have no internet for a minute and my life is frazzled. So i have to be quick, but I wanted to keep you in the loop on all things awesome. Heres a few things to look out for NOWWWWW:
1. HAPPY BELATED HALLOWEEN, and a happy belated halloween birthday to my favorite German-Cuban-Pinhead-Fearing-Hilarious Nicole. Since I couldn't be there in person, I made you this heart out of pumpkin shit, and then ate it in your honor. It was delicious.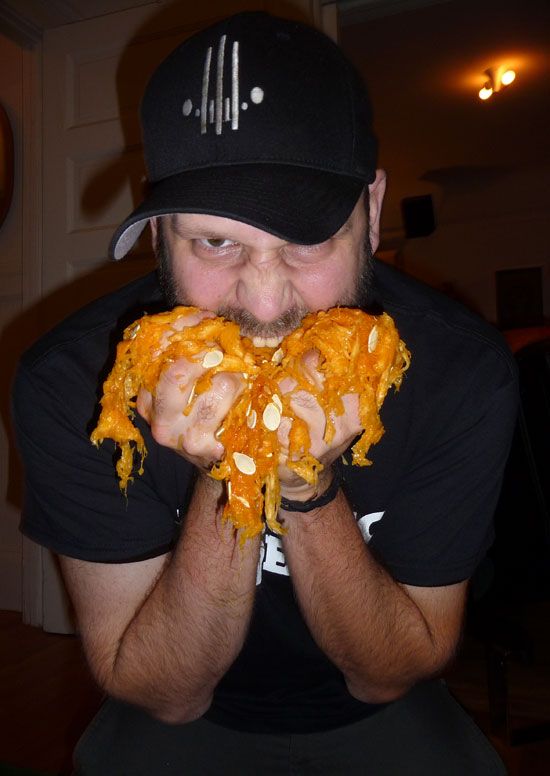 1.B) My mind is crazy, but i also think it might have been Gris Grimly's birthday too. damn i missed that if it was. horrible friend = me.
2. TOMORROW IS GREG "CRAOLA" SIMKINS' NEW ART SHOW OPENING AT GALLERY 1988 in LA!!!! The concept is great and the new work is INSANELY BEAUTIFUL. I would shed a tear if i had a heart. Go see his show tomorrow, NOV 3. Your eyes will bleed inspiration.
Here is the flyer: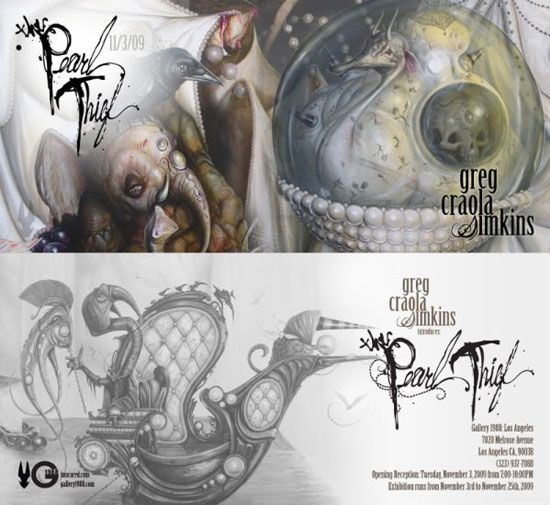 3. And after the Craola show, why not go hang out down in Laguna Beach with LC and shit and go be equally amazed at my good friend Jeremy Fish's very first MUSEUM installation show!! Damn, Jeremy has grown so much and it's so refreshing to see him consistently moving forward and staying fresh in the art world when a lot of people become stagnant. I had a chance to go to Jeremy's studio in San Francisco last week before he left for the show, where I checked out the work and was blown away (that's us competing in grizzled-ness above). His composition and use of colors have doubled in coolness. I'm pretty stoked being able to first observe Jeremy's growth as a fan for years, and then more recently, as a friend. So yah, go check out Jeremy's show at the Laguna Museum of Art on November 8.
One of my favorite pieces from the show. How many dimensions do you think that painting is!? i'll give you a hint. its only TWO!
4. We, as in Zerofriends, finally got a dope plain logo tee available for sale on the Zerofriends Store, which you can buy and view
HERE NOW!

It's available in white, black and silver. And it makes a good Rorshach mask (with ears)!
5. Lastly, back in mid 2008, i got asked to do a couple of drawings/screenshots for an online episode of the Creepshow spinoff, called Creepshow Raw, which was directed by Wilmer Valderama (yes, THAT Wilmer). The dude is rad and way into horror, and coupling that with the words "Creepshow" and getting a chance to draw Michael Madsen, I obliged. Well, the episode just got released over on IGN.com, but i embedded it here if you wanna check it out. And as a nod to the original, i drew the same exact house from the opening of the original Creepshow movie. Enjoy:)
Alright thank you all, i have to go finish moving. Or stop moving, one or the other.
Word.