Just returned from our first official Zerofriends commercial shoot, which was written and directed by Stephen Reedy and, in short, turned out awesome. Heres a little glimpse into the tiny and girlie room where our crew of 8 people were smashed together for 2 days. 2 slimy, messy, powdery days.
Good times.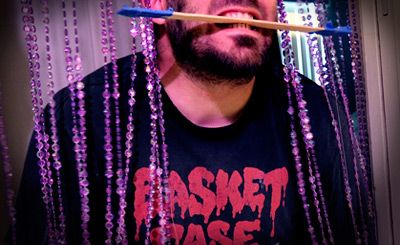 And now we are back, just in time for the weekend, and to blast Debbie Deb's "Look Out Weekend, Cuz Here We Come" while we stroll into San Fran. But instead of "Slick deejays, fog machines and laser rays," we are going to be surrounded by slick homemade comic books, sewn together toys, and screenprints of laser guns. That's right, its time for A.P.E, the Alternative Press Expo in San Fran, where a small collection of some of the best indy comic folks around gather, sell their wares and tell stories of stealing stuff from Kinko's, getting poisoned from toxic printing chemicals, and fighting with staple guns. So if you are around, come by the booth, as we will have our usual collection of independently produced goods that will hopefully BLOW YOUR MIND!
And speaking of "mindblowing", UPPER PLAYGROUND just released this new shirt that i did, and we will have a handful of them available at APE!
FYI: THOUGH WE (ZEROFRIENDS) WILL HAVE A BOOTH AT APE, I WILL NOT BE THERE IN ATTENDANCE. I HAD AN EMERGENCY THAT UNFORTUNATELY FORCED ME TO CANCEL. I APOLOGIZE IN ADVANCE, BUT PLEASE GO BY THE BOOTH AND SUPPORT THE BRAND, WE NEED YOUR LOVE:)