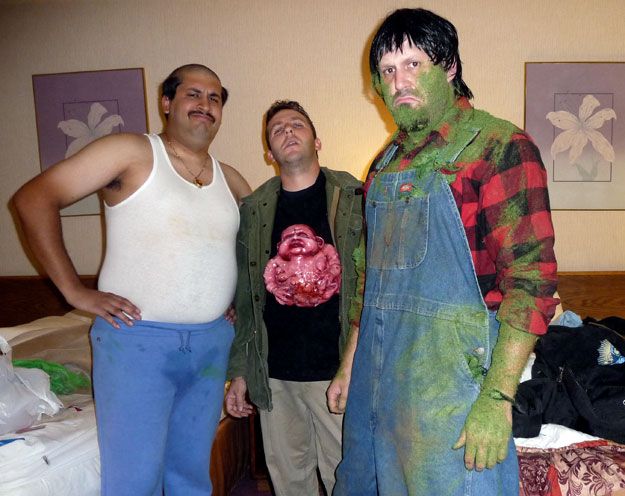 Wow. I hate using the word 'literally'. A LOT. My hatred for that word might be the ONLY thing that Dane Cook and I have in common ever since i threw away the one Affliction shirt with like 50 wolves on it i had a few years ago. However, the last month has LITERALLY been a blur to me. Not because I was high. Not because I wasn't paying attention. But because I had my art show scheduled at Gallery 1988 for over 6 months prior, yet 35 days ago, i didn't even have an idea for what I wanted to do. No paintings, no direction, no sketches. Just panic.
I know i DO work better under pressure, but because I am still lacking a little confidence in my painting skills, when this little time-line fact hit me i was so overwhelmed I could feel my blood cells wanting to take a lemmings-dive out of my ears and nose.
Once I calmed down and shut the rest of the world off, I figured out what to do, and, because it's better to keep your enemies closer than your friends, I enlisted amazing-man-nemesis
DAVE CORREIA
to help me organize and to help build all of the installation stuff, while I set up a one-man assembly line in order to get 20 paintings done in 20 days, as the assembly line process was the only way I was going to get anything finished in time for the show, especially since I wanted to also release a new t-shirt and a book to go along with the show.
So, with Dave's help (and additional backup from Paul Bustamante on Bass, we worked non-stop on the show, and I couldn't be more relieved/excited that we got it done in time for the opening.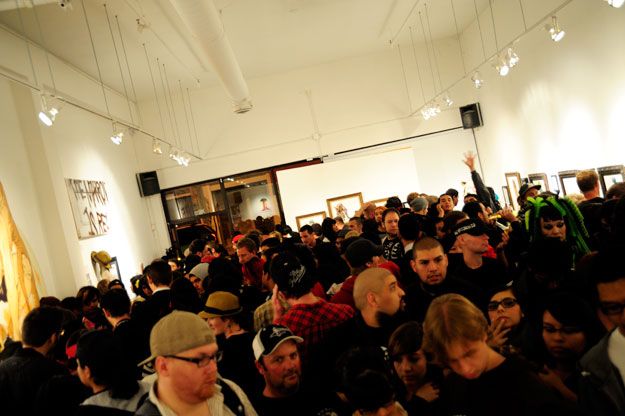 Inserting 2 added bonuses to the mix of prep time, I wanted to take full advantage that this was October, which meant HALLOWEEN, which meant, yes, I get to embrace my nerdy love for dressing up like something that only 4 people will appreciate, like JORDY VERRIL from CREEPSHOW.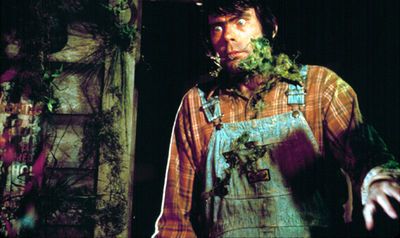 WIth that being said, i encouraged people to dress up and hired good friend and renown photographer
JON DRAGONETTE
to set up a little photo booth and take portraits of penguins, chest-babies, batmen, and hot dogs.
And the second added bonus was that, coinciding with my show, next store the insanely awesome comic book store Golden Apple Comics was hosting the DVD release party for one of my favorite new films, "Trick R Treat"
BUY MOVIE HERE:)
, which was written and directed by Mike Dougherty. So Mike and I met up and decided to join forces and release an exclusive Trick R Treat shirt at the show, which was rad to work on with him.
And, in addition to HATING the word "literally", I also never believed that people got "exhausted" to the point of being sick. I always thought that was kind of bullshit, like they just were too pussy to tell everyone to go away, so they would use the word "exhaustion" so that they could play videogames instead of do shit they are supposed to do. However, i seriously think i am "exhasuted". Good thing Uncharted 2 and Brutal Legend came out the day I got back. Wait...what? I am behind on deadlines already? And the A.P.E convention is this weekend??? Oh well, back to the grind. Brutal Legend, i will conquer you someday. Or not.
I put up 4 galleries on Flickr with over 200 photos from the last 3 weeks, including the behind-the-scenes photos of making the show, Jon's portraits, the entire art experience of the show, and the opening night photos. All of the photos are compiled from myself, Dave, Jon Dragonette, and DailyDujor.com, so thank you everyone for helping out with the photos And THANK YOU TO EVERYONE WHO CAME OUT TO SUPPORT AND MAKE IT THE BEST SHOW OF MY CAREER.
Here's a random selection of the photos, but to see all 200 photos,
CHECK OUT THE PHOTO GALLERIES HERE!
Direct link to all 200 photos:
http://www.flickr.com/photos/29961249@N08/collections/72157622458397273/
and some of the original art (and the book and print) is still on sale online here:
http://themarrowisreal.blogspot.com/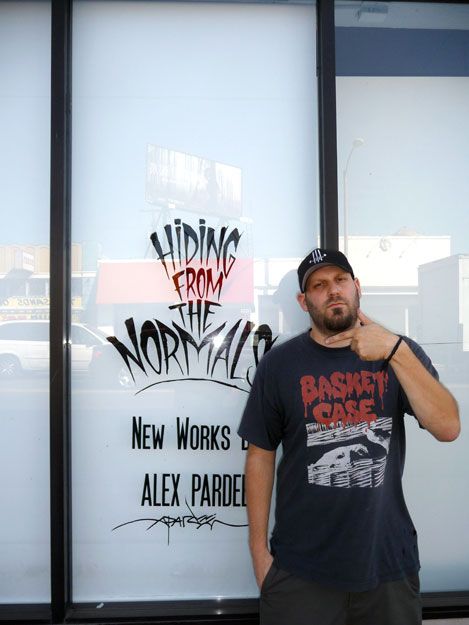 We finished the set up mere hours before the opening.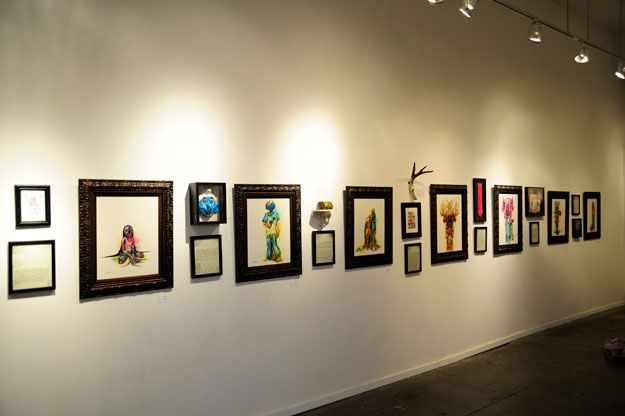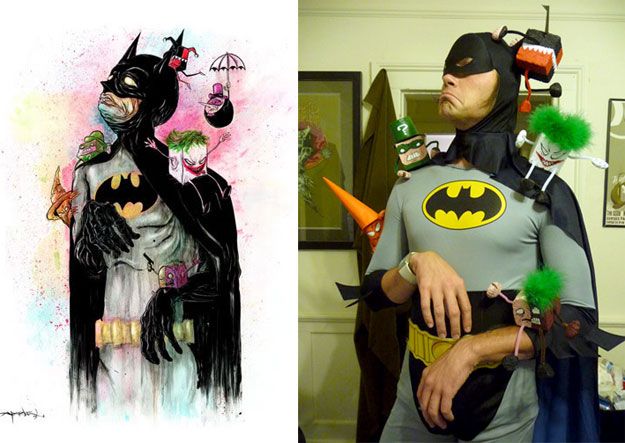 In the ultimately awesomest form of flattery ever, Sean Leopard from Zerofriends arrived in a pitch-perfect homage outfit to my "Tonight To Knight" painting. WOW. Wow.
Lady Blueberries painting.
Lady Blueberries in the flesh (or fur)
Myself and Photographer Jon Dragonette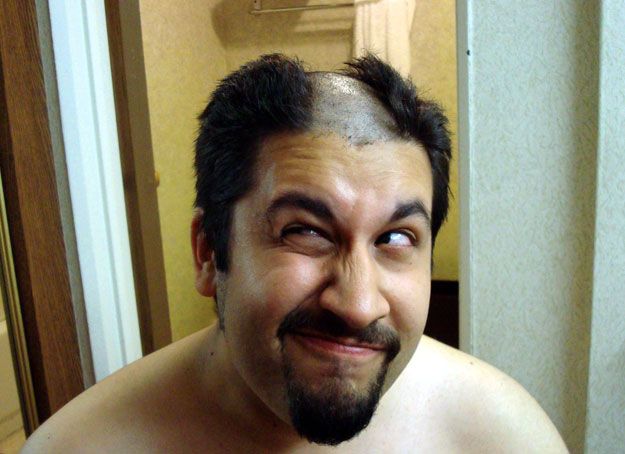 The humble and accurate beginnings of Paul's "CARL" costume.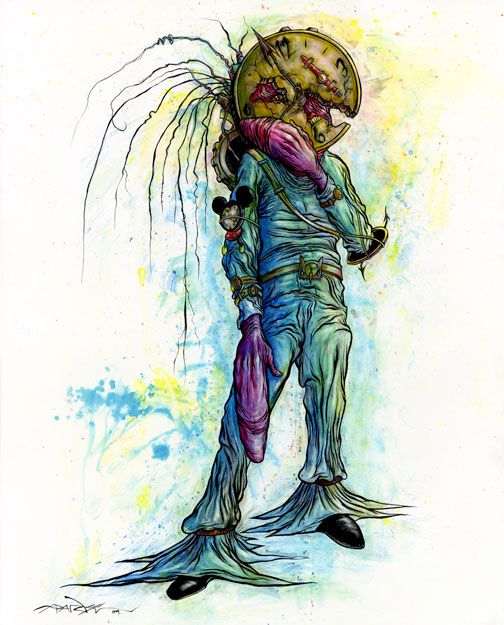 GRANDFATHER
Spidey, before and after his make-up.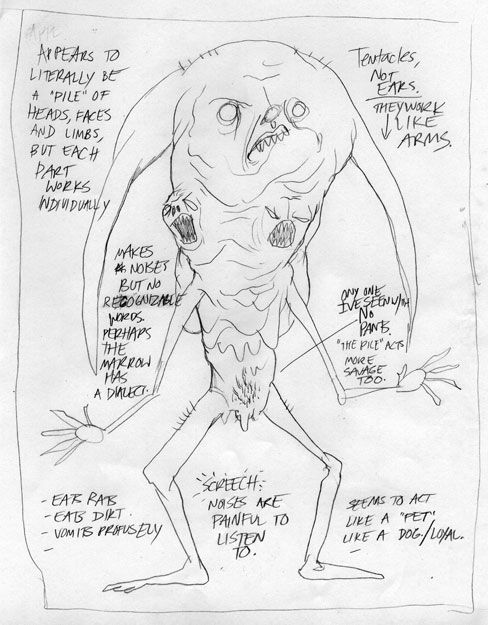 SOMEONE CAME DRESSED AS ARTIST JIM MAHFOOD! WAIT, THAT'S REALLY JIM IN THE HOUSE!
Hotel paint-a-thon = confused housekeepers.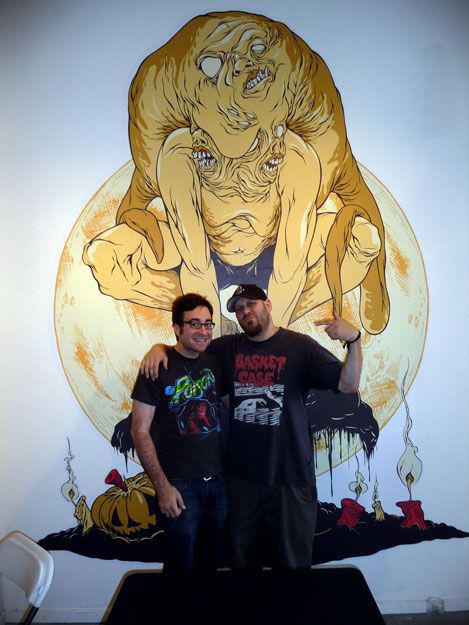 Me with Gallery 1988 director Jensen, who is, obviously, Poisonous.
50% of THE USED, with a side of good friends Mark Yamamoto, CW, & Sean Leopard.
Director of Trick R Treat, Mike Dougherty & I chilling with the lurking Lady Blueberries.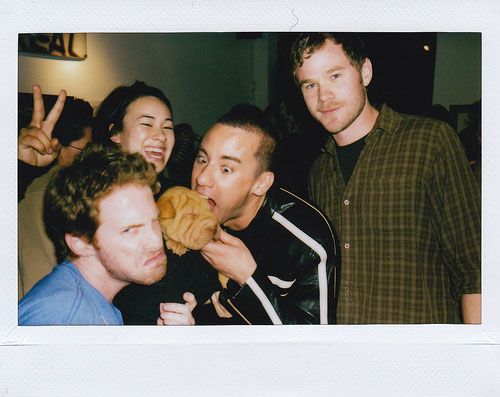 It was such an insanely awesome opening that I didn't even get to say hi to any of my friends that came by, let alone these dudes who i had NO IDEA were there. would have loved to say hi! Seth Green & Shawn Ashmore with Mike Dougherty. (Polaroid photo by RESERVE RESULT: http://www.flickr.com/photos/reserveresult/ )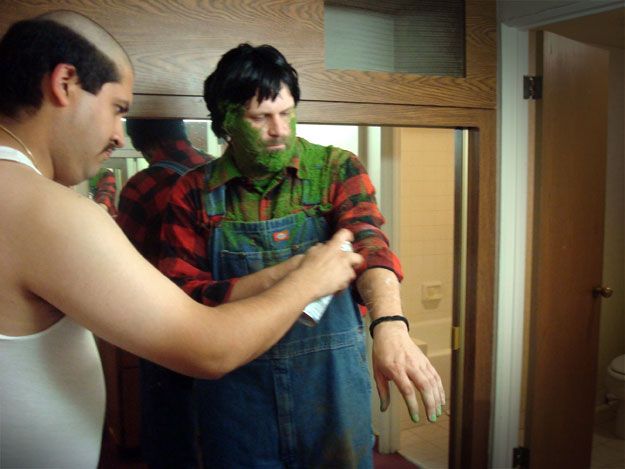 Carl helping Jordy get dressed.
The MYSTERIOUS BuffMonster and the (Probably drunk by now) Batman-Leopard.
The Masks Of The Marrow
IIIIII...saw Jordy kissing....Kuatttoooo Claus.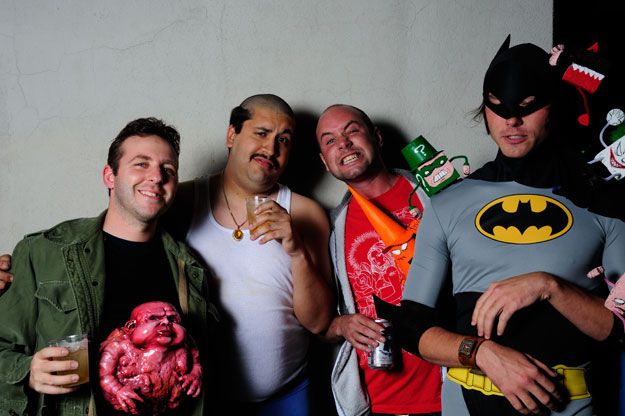 Kuato, Carl, Rapist #3, Autistic Batman.
Getting bear-head is better than regular head. The end.