So, as promised, here is a full look at the art that I created for director Zack Snyder's upcoming movie "Sucker Punch".
This is the first image that has been released anywhere regarding the film, which I am completely honored to be a part of. Below is a brief synopsis of the film, which comes out in 2011. Pass it around, its gonna be ill!
Set in the 1950s, SuckerPunch follows Babydoll (Emily Browning) who is confined to a mental institution by her stepfather, who intends to have her lobotomized in five days. While there, she imagines an alternative reality to hide her from the pain, and in that world, she begins planning her escape, needing to steal five objects to help get her out before she is deflowered by a vile man.
Emily Browning, Vanessa Hudgens, Abbie Cornish, Jamie Chung and Jena Malone co-star in the film, targeted for a March 25, 2011 release.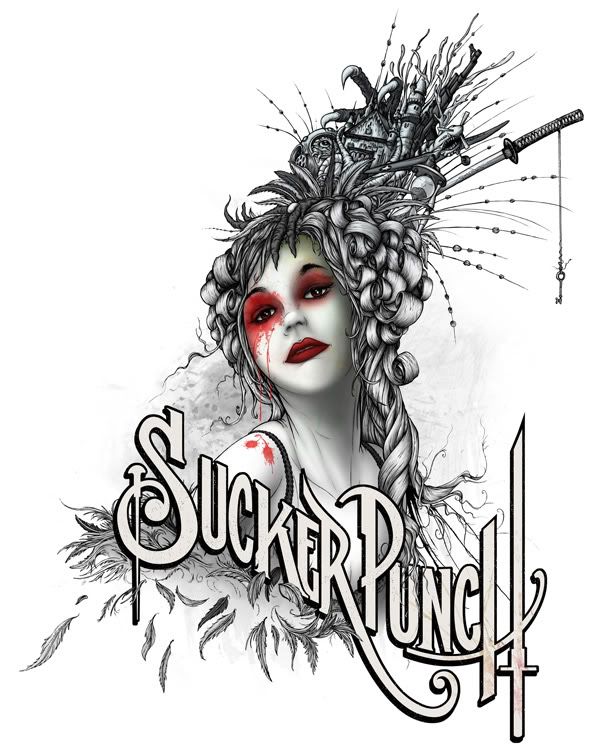 As far as the shirts that they gave away at the Watchmen panel at Comic Con, I have not heard if these are going to be sold anywhere officially, nor do i own the image so Zerofriends will NOT be producing any of this stuff, but judging from the amount of merch thats floating around there from Zack's other movies, I'm pretty sure you will see some of this stuff on shelves sometime;)
word.