4 years ago, Upper Playground and Gingko Press published my very first art book, called "Awful / Homesick", which was a 96-page mishmash of 3 years worth of art, photos and other silly things. Within a year it sold out completely and has been out of print for 3 years.....UNTIL NOW! Due to popular demand and ridiculous prices on Ebay for the first printing, Zerofriends, Upper Playground & Gingko Press teamed up again to re-release it to you wonderful souls.
I'm sorry to inform you though, that it's NOT in 3-D, unlike everything else that gets rereleased.
But...it DOES have an all new cover and a new surprise twist ending!
(However, if you have the original first printing of "Awful/Homesick", please note that the interior pages are the same.)
The book goes on sale TODAY at 12 NOON (Pacific time) on the ZEROFRIENDS web store for only $20, and each book comes hand signed on the inside cover by my right hand of Awfulness.
But that's not all! To compensate for the lack of 3-D in the new printing, we are making up for it. The first 500 orders of "Awful / Homesick" will come shipped with a FREE signed, limited edition 6" x 9" giclee print of my "Gatling" painting!
CLICK HERE OR ON ANY OF THE PICTURES TO PURCHASE THE BOOK AND FREE PRINT STARTING TODAY, SEPT 18, AT NOON (PACIFIC)
The Free Print, "The Gatling"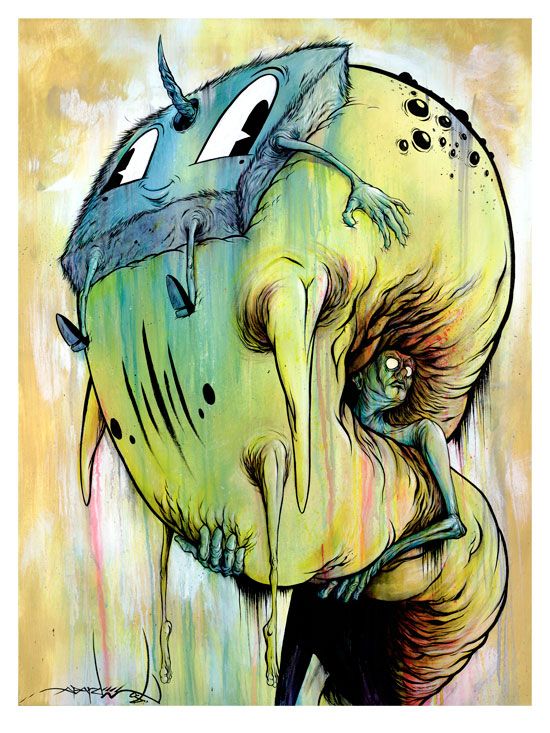 Some pages from the inside of the book: