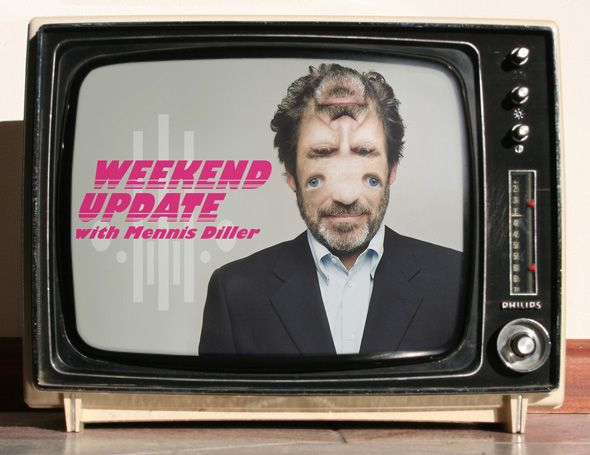 WEEKEND UPDATE…With Mennis Diller!
Heeeerrrreeee'sssss….
MENNIS DILLER!
(*Please note, the following transcript is loosely translated into semi-proper english from Mennis Diller's seemingly incoherent speech after eating about 875 ketchup packets from Wendy's and washing it down with an entire bottle of that Crystal Skull-Vodka.
Bear With Me.)
Bi-Coastal madness is happening this weekend, as I have a couple new fun pieces in 2 different shows on both the west coast and the east coast. And what fun would it be to show you guys some random fun new "My Favorite Monsters" paintings without having them already available for you to buy as of RIGHT NOW?? It would be NO FUN, i tell you. No fun at all. And I LOVE
FUN!
So yah, please read on for info on both fo the cool events that I (along with a ton of other rad folk) will be a part of this weekend. Oh, and I'll be at the Sacramento one! So come say hi!
FIRST UP, On the West Coast, in Sacramento, and courtesy of the deliriously awesome ringleader, JAY 222 and the best toy store in Sacramento, Dragatomi, I will be taking the Porkchop Express to be a part of a tribute show to one of the best magical movies ever, "Big Trouble In Little China" alongside heavyweights like Dave Correia, Robert Bowen, Wayshak, Skinner, and more! Here is the flyer as well as my little contributions. The framed originals will be for sale, and I will have prints of all 4 of these available at the show on Saturday as well! But if you can't wait, the prints are now for sale online at ZEROFRIENDS. Click on any of the pics to take you to the online store.
The "BIG TROUBLE IN LITTLE CHINA" Art Show will be held
On Saturday, April 9th at 6PM.
Location: DRAGATOMI
2317 J STREET
SACRAMENTO, CA
FREE ADMISSION
Lo-Pan, 8" x 10".
JACK BURTON. 5" x 7"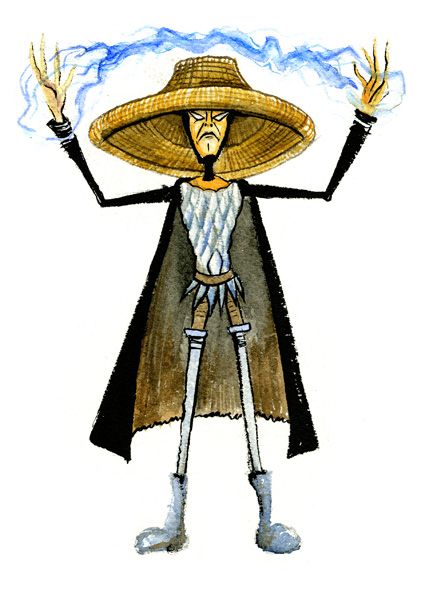 LIGHT-NING (3 Storms). 5" x 7"
THUN-DER (3 Storms). 5" x 7"
And you can get all 4 prints for one cheaper price:)
In case you live inside an old persons pants and have been raised to be afraid of awesome, here is the Big Trouble in Little China trailer!
And separately, on the other side of the country, I am playing a
"tiny"
roll in a very huge event that my friends and amazing artist TARA MCPHERSON & SEAN LEOPARD have put together. They are opening their brand new boutique in NY called "COTTON CANDY MACHINE" and for the opening, they asked 100 dang rad artists to contribute a tiny painting that would sell for $100.00 each! All art will be sold on a first come first serve basis the day of the event. All remaining available artwork will be put up for sale here on the Cotton Candy Machine website on Monday April 10th. Sorry but there will be no pre-sale for this event. Here is the info for the show, and you can see my contribution, plus a BONUS (!) below the flyers.
Here is my framed original piece that will be for sale at the Tiny Trifecta show at the Cotton Candy Machine. Continuing in the "My Favorite Monsters" series, this one is inspired by my favorite mixture of the Ewok Chief and Hannibal Lector: THE CHIEF FROM CANNIBAL HOLOCAUST
And once again, what fun would it be to NOT have these available as prints already? Zero Fun, that's what. So yep, click on any of the pics and go right to the ol' Zerofriends Store to purchase them online.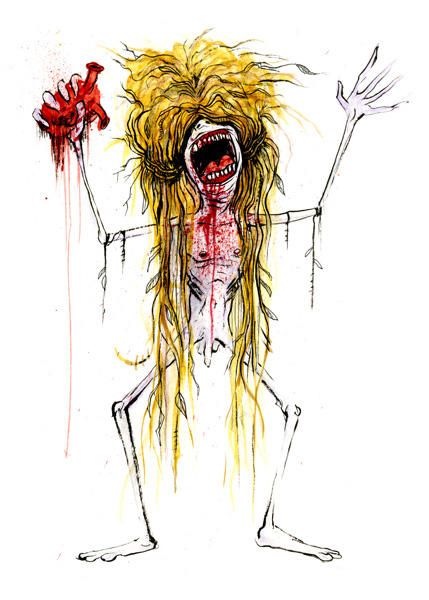 Cannibal Chief. 5" x 7".
Detail:
Go check out this piece along with 99 other pieces this Saturday in NY!
Opening Reception Saturday April 9th, 2011
7pm to Midnight
235 South 1st Street (between Roebling and Havemeyer)
Brooklyn, NYC 11211
718.387.3844
And while I was at it, I just couldn't stop myself from painting one of the most iconic image from that same movie, so here ya go a bonus "My Favorite (Giant) Monster" Print now available online: THE CANNIBAL GIRL (click the pics to go purchase)
And a detail…of head.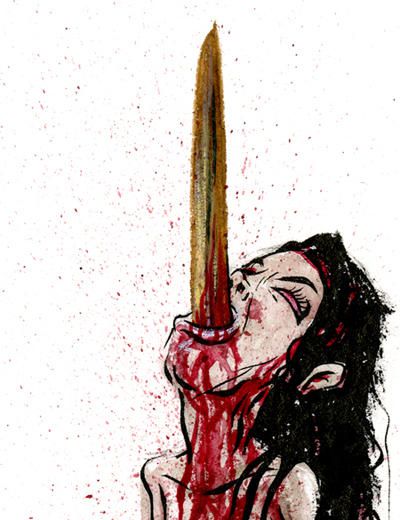 And I don't blame you if you haven't seen it, but let this trailer for CANNIBAL HOLOCAUST open your minnnnnnnnnnndddddddddd.
And lastly part 6, in case ya missed it…..THESE are now available too!!!
Thank you for your continued support.
Love, Alex & Mennis Diller!