My "VERTIGO" show was CRAZY. PERIOD.
The amount of support and appreciation from everyone around me, including all of you, during the entire creation and multiple openings of my "VERTIGO" Art show at Corey Helford Gallery has made me feel like Justin Bieber so THANK YOU ALL! I even got that little focker's haircut!
Anyway, over the next couple of days, I am going to showcase some really dope collections of photos from the whole event, including the opening, the art itself, the preparation, some portraits, and some randomness, with the first collection being included here below:)
If you missed the show, hopefully these photos will give you a little glimpse into the experience that we all got to share and the insanity that ensued.
But before I unleash the Kraken of photos, here are some noteworthy links about the "Vertigo" show itself:
TO VIEW OR PURCHASE ALL OF THE AVAILABLE ORIGINAL ART FROM THE GALLERY, CLICK HERE.
TO READ EVERYTHING YOU NEED TO KNOW ABOUT THE SHOW IF YOU ARE NOT FAMILIAR WITH THE WHOLE CONCEPT, CLICK HERE
And some amazing press articles and interviews covered the event as well, which is VERY surreal, as I am still doing press as of even yesterday! So thanks for all of the coverage it's much appreciated.
WALL STREET JOURNAL COVERAGE HERE
IN DEPTH EXCLUSIVE JUXTAPOZ INTERVIEW HERE
WIRED MAGAZINE ARTICLE HERE
AWESOME SCI-FI CULTURE BLOG io9 COVERAGE HERE
A PROFILE OF MY WORK LEADING UP TO VERTIGO ON HORROR SITE BLOODY DISGUSTING.
A STUDIO VISIT FROM HI-FRUCTOSE MAGAZINE DURING THE MAKING OF VERTIGO
LASTLY, A STEP BY STEP PROCESS ARTICLE OF ONE OF MY "VERTIGO" PAINTINGS AT DAILY DUJOUR
And now, i present to you the madness of the opening, and just a handful of some of the amazing 3F's (friends, family & fans) that came out to support. It was pretty exhilarating. Stay tuned for part 2 tomorrow!:) Beware, when I get excited, I put my arm around people. which means most of these pictures look the same. But fuckit, side hugs WIN!
NOTE: I collected a lot of photos from a few different friends and online sources so thanks everyone for taking photos. They are kinda mashed up, but photos are all by Sam Graham, Clay Enos, Maggie West, Paul Bustamante, Bobby Hundreds, and myself.
Almost the whole Zerofriends Crew shortly before the opening. These dudes are the reason the show looked the way it did. These dudes are geniuses. And so is the girl!
From Left to right, Sean Cruise, Paul Bustamante, Dave Correia, Marrissa D, and Alejandro Pardeejandro
My beautifully magical friend & date Leah & I. (Secret note: Leah is ridiculously clever and she is the one who came up with the name "Molar Bear". Everything else about that monster, like unfreezing it from Finland and it being extracted from from the child is all true, but the name we embellished a little, thanks to Miss Leah:)
"300" & "WATCHMEN" Director ZACK SNYDER, who I recently collaborated with on some art for his upcoming "SUCKER PUNCH" Movie, brought his whole family out to support, as did a LOT of the creative team behind Sucker Punch, which was awesome.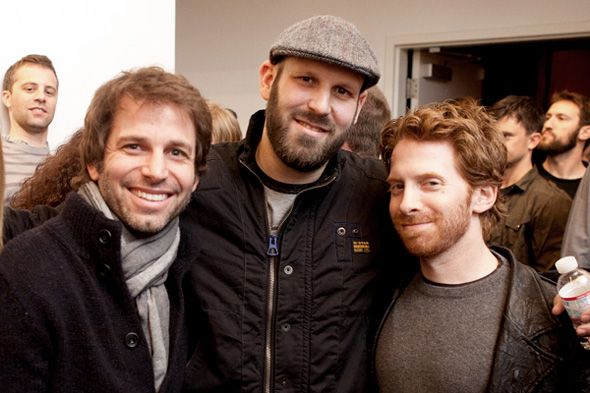 And then I thought that ONE side-hug is NEVER enough, so I made sure that friend, art-guy and all around funnyman SETH GREEN got to feel the wrath of my side-hug. First time meeting Seth, and that dude is solid! Fun. Wait, is that DOUG-KLOPS PHOTOBOMBING!?
SUCKER PUNCHIES DJ DesJardin (Visual effects), Producer Wesley Coller & Production Queen Celeste!
Greg "Craola" Simkins & his beautiful family. The molar bear actually shook up one of the smallest humans in this photo. I felt a little guilty, but then I thought, hey, Greg's an adult, he shouldn't be scared!;)
Director James Gunn (Slither, SUPER), Mia Matsumiya, & Shannon & Matt from CELLA GALLERY, complete with a nice rape-faced-Joe Lynch (Wrong Turn 2 / Knights Of Badassdom Director) photo bomb!
Pop-culture Pt Barnum & 1988 Owner Jensen Karp & I, huggin sides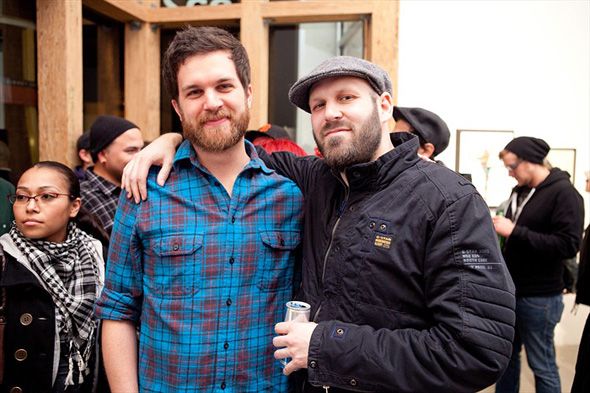 Artist and all around wizard Mike Mitchell and his beautiful beard!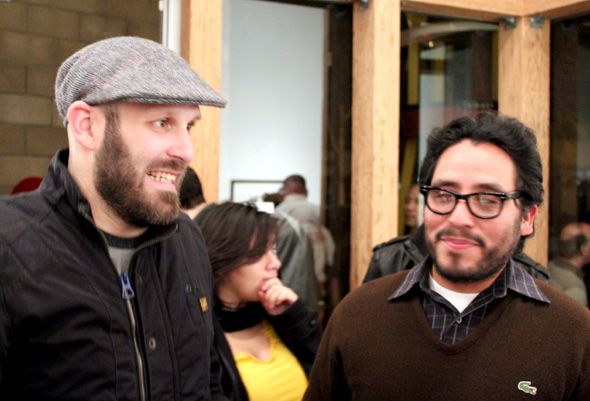 I challenged artist Ken Garduno to an "Awkward Stare-Off" I totally defeated that dude with a bloody Awkwardtality.
Oh, hai, DAVE CHOE, wanna share some spaghetti??
Sure, man, but I hope no one is watching us Lady & the Tramp this shit.
Omar Doom (Nazi Killing Inglourious Basterd) wants noodles too, and I am obviously disappointing him.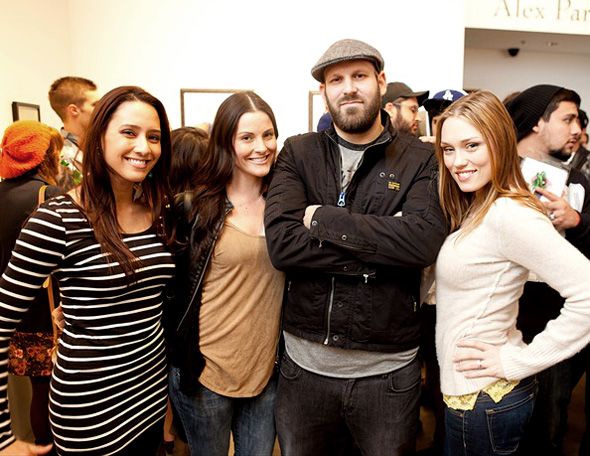 The galactically mystical exquisite Team Unicorn (Geek n Gamer Girls) Milynn Sarley, Rileah Vanderbilt, and Clare Grant.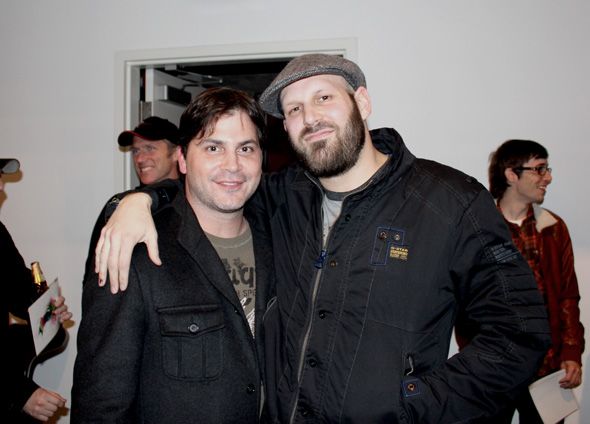 SO MANY genre directors and creative geniuses showed up to support, including HATCHET & FROZEN Director ADAM GREEN (shown here). and also Michael Dougherty (Trick R Treat) was there too! So nuts. Annnddddddd…..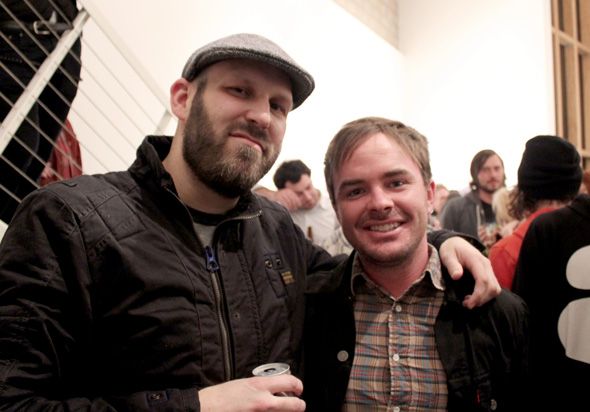 Fuckin MICHAEL PAUL STEPHENSON, director of my favorite documentary of 2010, BEST WORST MOVIE, which (spoiler alert: Michael & I are showing it THIS SATURDAY AT THE ZEROFRIENDS LA STORE! But shhh, more info soon:)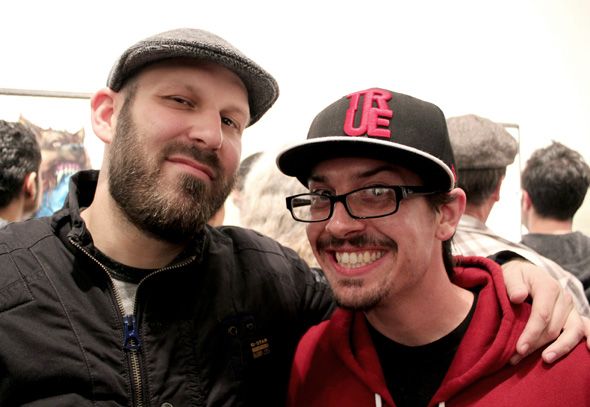 JAY 222, an amazing sculptor who worked with me on creating the look of the Molar Bear! He sculpted the snout and hands and spearheaded the painting of it.
The insane homie Ekundayo was on-hand, hopefully telling everyone that Zerofriends is gonna release a new series of limited prints of his art VERY SOON!
Linkin Park's Joe Hahn was actually the ONLY person who was REALLY EXCITED that my arm was around him.
I wish painter Jeff McMillan wasn't so awesome looking.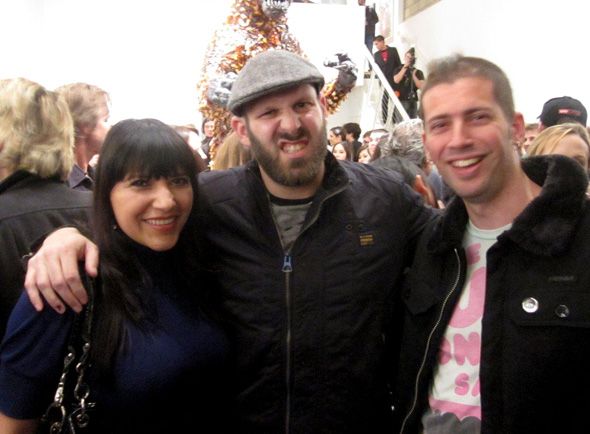 Buff Monster and I ALWAYS look blurry together, which is unfortunate for the gorgeous Stephanie Escobar.
After I spent a night forcing photographer Maggie West to take 8th grade laser pics of me, she was nice enough to come back the next day:)
Wade Beckett from G4 & Journalist Trina Calderon let me be one of the pieces of bread in the human sandwich.
Portrait photographer Clay Enos (Watchmen Portraits) continues to be the greatest human ever in the galaxy.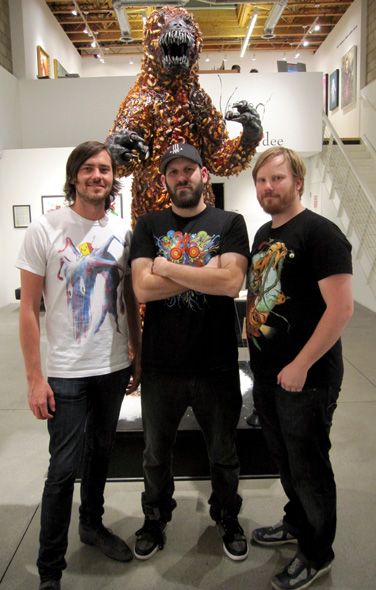 ZEROFRIENDS!!!!!!!
Stay tuned for more pics tomorrow!