BEHOLD! MADNESS! DARKNESS! BRIGHTNESS! DEATHNESS! PRINTNESS!
In what is sure to be one of the most insanely incredible print releases this side of Hell, we here at the outer realm of Zerofriends are more than epically proud to announce the release of a very amazing bloody limited Giclee print from one of my favorite artists in the 6th quadrant of the netherland, SKINNER!!!!
And oh what a print this is.
"Language of the Abyss" Limited Edition Giclee Print
By SKINNER
Extremely Limited Edition Of 100
17" x 22" Printed with Archival Inks on Acid Free Velvet Cotton Rag.
Each print is hand signed, numbered and loved by SKINNER.
$50.00 each
A word from Skinner about the original painting:
"And through those staggering peaks loomed a cathedral of sacrifice.
A catalyst of cosmic mayhem etched invariably along the necks and
grooves of those archaic and malevolent instruments.
Played horrifically and with unknowing cadence, those hideous and
mindless beings of the pits have mastered the forbidden rhythms of cold, callous space.
The power to bring forth a whirling, unstoppable maelstrom of sound no one person may survive.
These lords of your undoing and enemies of all natural law wield unyielding.....Blackened Knowledge, the language of the abyss!"
taken from the ancient tome, Necronomicon Jr.
To see more of Skinner's amazing artwork, visit
SKINNERS WEBSITE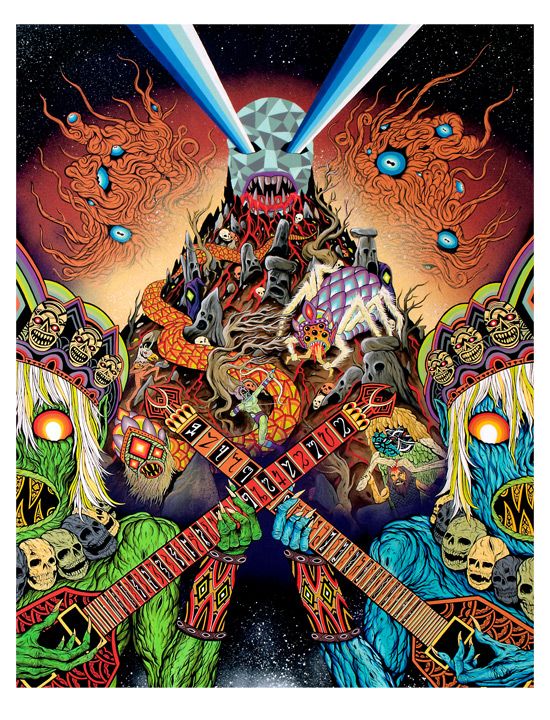 CLICK THE IMAGE OR HERE TO PURCHASE!
Direct link to purchase "Language of the Abyss":
http://zerofriends.com/store/index.php?main_page=product_info&cPath=28&products_id=301
Look for more Zerofriends x Skinner Collabs in the future!! We love him. You should too!
Oh and if you missed it, here is SKINNER painting his ass off in NY!