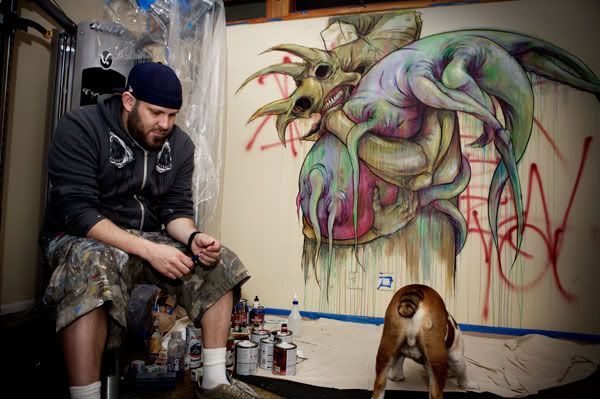 HEY!! Want to win a chance for myself and Dave Correia to come paint a mural in your room? Or maybe you would rather just collaborate on a canvas with us in your studio? Or, better yet, maybe you want me to prove to you in person that I eat horribly, have terrible taste in movies and get really nervous when I have to draw on demand Then keep reading, as that is going to happen to one of you, whether you like it or not…
…but hopefully you like it.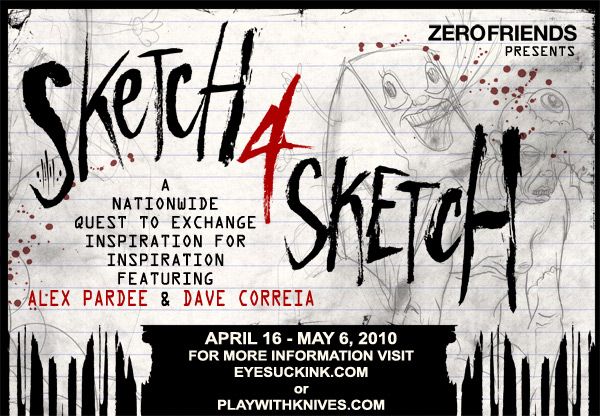 As announced moments ago on the
ZEROFRIENDS USTREAM Channel
, I have been busier than ever lately but, unfortunately, ran into some personal matters that seemed to have stopped me dead in my tracks creatively. And with so many cool creative projects that I have committed to in the near future, including one of the biggest solo art shows in my career, I NEED to jostle my imagination loose and find some inspiration! So, since there is no better way to stimulate my creativity, I, along with artist Dave Correia (playwithknives.com) & director Stephen Reedy, am going to jump in a car, drive all around the country, and attempt to reignite our imaginations by trying to meet and talk with some creative people who have inspired US over the years, while simultaneously meeting as many of you across the country who, in some cases, WE HAVE inspired. Here's a little press release and some info. And pay attention, as there are some BIG surprises and fun that are happening along the way. REALLY happening, not like that shitty M. Night empty-promise-happening. Word.
Zerofriends presents:
"SKETCH 4 SKETCH"
A Nationwide Quest To Exchange Inspiration For Inspiration
Starting on Friday, April 16 in Sacramento, Bay area artists Alex Pardee & Dave Correia, along with filmmaker Stephen Reedy, are venturing across the United States on a quest for some well-needed inspiration. Utilizing social networking software such as Twitter and uStream, and armed with only a camera, a sketch pad, and raffle tickets (with a HUGE prize – see below) to sell along the way for gas money, the crew of artists will be stopping in over 30 cities in random locations around the country, hoping to not only meet fans and friends, but to trade quick sketches (or ANY kind of art) for quick sketches in order to jostle their imagination and drench them in inspiration, and in hopes of mutually offering some inspiration of their own.
Along their journey, some big surprises are going to occur, and we are sure some spontaneous fun will show up, too.
Please follow Alex and Dave on Twitter or Facebook to keep informed on their journey and find out where they will pop up next, and make sure you exchange A SKETCH 4 A SKETCH! More detailed info about the tour and the raffle is below, but first here is a list of the cities we will be stopping in, but you need to follow us on Twitter or Facebook, or watch our uStream channel to find out where we will be specifically. Sometimes it might be at a store, sometimes a gallery, or sometimes just at a dumpster behind the Chick Fil-A! (Due to the nature of the tour, the schedule is subject to slightly change with no notice)
Direct link to Follow Alex on Twitter:
http://twitter.com/alexpardee
Direct link to Follow DAVE on Twitter:
http://twitter.com/davecorreia
PROPOSED SCHEDULE (subject to change)
FRIDAY, April 16: SACRAMENTO, CA
SATURDAY, APRIL 17: SALT LAKE CITY, UT
SUNDAY, APRIL 18: RAWLINS, WY
MONDAY, APRIL 19: DENVER, CO
TUESDAY, APRIL 20: OMAHA, NB & DES MOINES, IA
WEDS, APRIL 21: MINNEAPOLIS, MN & MILWAUKEE, WI
THURSDAY, APRIL 22: CHICAGO, IL & TOLEDO, OH
FRIDAY, APRIL 23: BUFFALO, NY & SCRANTON, PA
SATURDAY, APRIL 24: NYC, NY
SUNDAY, APRIL 25: NYC, NY & WASHINGTON DC
MONDAY, APRIL 26: KNOXVILLE, TN & ATLANTA, GA
TUESDAY, APRIL 27: NEW ORLEANS, LA
WEDNESDAY, APRIL 28: NEW ORLEANS, LA
THURSDAY, APRIL 29: HOUSTON, TX & AUSTIN, TX
FRIDAY, APRIL 30: DALLAS, TX
SATURDAY, MAY 1: ALBUQUERQUE, NM
SUNDAY, MAY 2: PHOENIX, AZ & LAS VEGAS, NV
MONDAY, MAY 3: LAS VEGAS, NV & LOS ANGELES, CA
TUESDAY, MAY 4: LOS ANGELES, CA & SANTA BARBARA, CA
WEDNESDAY, MAY 5: SANTA CRUZ, CA & SAN FRANCISCO, CA
And Trust us, the route doesn't look like Rocky Dennis' dick on accident!
Now, on to all of the detailed details about the details, in the form of an F.A.Q., or rather, an A.F.A.Q. (anticipated frequently asked questions).
About the "SKETCH 4 SKETCH" Tour:
Q: Do we have to actually DRAW you something to get a sketch?
A: Yes. The point of this tour is to use inspiration and imagination as a form of currency. We want to encourage people to draw, regardless of how good or bad it is, and we want to use those drawings to inspire us along the way. Any attempt at a sketch is good enough for a trade
Q: What if I don't WANT to draw you something? Can I still get something signed?
A: Of course! Feel free to come by, say hi, get something signed, buy a raffle ticket or 2, and chat. But we will ONLY provide sketches for people who are trading us some kind of sketch or art.
Q: What if I physically CAN'T draw you something? Can I get a sketch?
A: Of course
Q: What are you going to do with all of the sketches you collect? You're not going to sell my art and steal my money, are you?
A: We hope to post as many of the drawings we get online in a designated area that we will share with everyone when we get back home. And during the trip, we will be uploading random sketches that we get along the way on our Twitter accounts and blogs. Your sketch may, additionally, be featured in a collected tour scrapbook that may follow the tour.
Q: Can I bring you something more elaborate than a sketch to exchange?
A: YES! We would LOVE anything you create, whether it's a sculpture, a drawing, a painting, an old VHS tape of a high school play that you wrote and directed, etc. Unfortunately, however, due to time restraints, we won't be able to provide more than a quick sketch in return. But that doesn't mean we don't appreciate your talent and effort.
An example of sketches: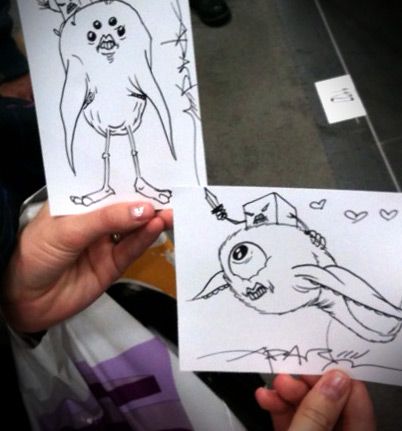 Q: How long are you staying in each place that you stop?
A: It really depends on a lot of various things, but on average, hopefully about 2 hours.
Q: Are you going to have any other merchandise or anything to sell along the way?
A: YES! But due to a severe lack of space, we will only have a LIMITED amount of available merchandise at each stop.
Q: How will we know where and when you will be stopping?
A: Both Dave Correia and I will be constantly informing you of our locations and plans via Twitter and the occasional uStream broadcast. In order to not miss any of the opportunities to come hang, you have to FOLLOW us on Twitter!
ABOUT THE "RAFFLE":
Q: What exactly is the purpose of selling raffle tickets?
A: I never really figured anyone would be interested in me making a big painting mess on a wall in their house, but ever since I posted the "HOME INVASION" video, where I broke into Shia LaBeouf's house and painted a mural on his wall, I have been getting asked DAILY what it would take to get me to paint a mural in someone's house. Well, both Dave and I would definitely love to go travel around and paint in everyone's house, but unfortunately, with so many commitments and our full time jobs, there isn't time. This raffle is a way to assure that both Dave and I will get to travel out to one of your houses and paint with you! Whether it's a full mural, or a few small canvases, or a collaboration with you if you are an artist yourself.
Q: Where can I buy the raffle tickets online?
A: Starting NOW, raffle tickets are available to purchase on Zerofriends either in singles or in bundles of 3. You can purchase the tickets NOW by going to the following links:
FOR SINGLE (1) TICKET,
CLICK HERE
FOR 3 (3) TICKETS Bundled at a discount,
CLICK HERE
Q: Why are the raffle tickets more expensive online?
A: Simply because we have to log them in, and package them to ship to you. Additionally, the tickets are very cheap IN PERSON because we want to encourage you to come find us on tour and buy them in person:)
Q: Wait, what exactly DOES the winning raffle ticket WIN? What are the rules/details?
A: Funny you should ask, because there's a LOT of them. Please read closely:
ELIGIBILITY

YOU MUST BE A U.S. CITIZEN AND CURRENTLY RESIDE IN THE CONTIGUOUS UNITED STATES TO BE ELIGIBLE TO WIN. ALASKA & HAWAII ARE NOT ELIGIBLE. Sorry, no international residents are eligible at this time. You do not need to be 18 years or older to purchase a ticket, but you DO NEED TO BE 18 YEARS OR OLDER TO CLAIM YOUR PRIZE. If you are NOT 18, your parent or guardian MUST claim your prize and work out mutually how to collect on your prize in conjunction with ZEROFRIENDS. All federal, state and local laws and regulations apply. Raffle tickets are non-transferable and non-refundable; all tickets sales are final. Entries without proper payment received will be deemed invalid and shall be immediately disqualified.
TICKET INFORMATION

As many entries as possible will be sold for this raffle. Specially-marked tickets will be sold both IN PERSON (on our "Sketch 4 Sketch" tour) and ONLINE at zerofriends.com. HOWEVER, TICKET PRICES ARE DIFFERENT FOR BOTH METHODS OF PURCHASE:
IN PERSON: Specially-marked ticket prices are one (1) ticket for $2.00 (U.S.), or three (3) tickets for $5.00 (U.S.). THERE IS NO LIMIT TO THE AMOUNT OF TICKETS THAT CAN BE PURCHASED AT ONCE.
ONLINE: Specially-marked ticket prices are one (1) for $5.00 (U.S.), or three (3) tickets for $12.00 (U.S.) THERE IS NO LIMIT TO THE AMOUNT OF TICKETS THAT CAN BE PURCHASED AT ONCE.
TICKETS WILL BE ON SALE ONLY FROM APRIL 16, 2010 through MAY 6, 2010.
Net worth of the actual specially-marked ticket is approximately $0.0001 and can not be exchanged for its monetary value.
ALL TICKET SALES ARE FINAL. NO REFUNDS OR EXCHANGES.
DRAWING AND NOTIFICATION OF WINNERS
The ONE (1) GRAND PRIZE WINNER, along with the TEN (10) RUNNERS UP, will be randomly drawn live via the ZEROFRIENDS USTREAM channel. ( http://www.ustream.tv/channel/zerofriends-tv ) We will hold the drawing on SATURDAY, MAY 15, 2010, at 1PM Pacific Time. We will then post the winner(s) on our blogs and website, and each winner will have 3 (THREE) WEEKS to contact Zerofriends at zerofriendscontests@gmail.com to claim their prize and work in conjunction with Zerofriends on the best way to verify the winning specially-marked ticket and receive the prize. You MUST send in a photo or scan of the winning ticket (both sides) IN ADDITION to mailing the ticket to the address instructed to you upon claiming your prize for verification of the authenticity of the winning specially-marked ticket. Regular postage rates apply. If your prize is NOT claimed within 3 weeks, a NEW winner will be announced. Additionally, you do NOT have to be 18 to PURCHASE a raffle ticket, but if you WIN, you need to be 18 Years or older to CLAIM your prize. If you are UNDER 18, your parent or guardian MUST claim your prize and arrange the reception of the prize with Zerofriends. Sorry, no international residents are eligible to win at this time.
GRAND PRIZE

1 (ONE) GRAND PRIZE WINNER will win ONE DAY (up to 12 hours) of mutually agreed upon artistic service from Alex Pardee & Dave Correia at the place/location of the winner's choice (WITHIN THE CONTIGUOUS UNITED STATES ONLY (no Hawaii or Alaska) at a FUTURE, mutually agreed upon DATE & TIME. All travel costs and material costs for Alex Pardee & Dave Correia will be paid for by Zerofriends, however, if you choose to meet in a location that is NOT at or around your house, Zerofriends will NOT be financially responsible to pay for YOUR travel and/or expenses. (Examples: Alex & Dave can paint a small mural on a wall in your house. Or they can collaborate on a big canvas for you. They can collaborate WITH you on a big painting. They can do a few quick paintings all over your house. They can just sit down and chat and sketch with you all day, etc. The important thing is that their services will be provided on a MUTUALLY agreed upon act. If they decide they DON'T want to paint on a dead cow with you, then you have to figure something else out. Additionally, subject matter CAN be discussed, but strict art direction is discouraged. If a mutual agreement cannot be reached within 2 days of discussion, your money will be refunded and a new winner will be picked.)
No Cash or equivalent will be awarded.
All federal, state and local laws and regulations apply.
RUNNERS UP
10 (TEN) RUNNERS UP will receive TWO limited exclusive edition giclee prints from Zerofriends (Print to be determined later. One designed by ALEX PARDEE & one designed by DAVE CORREIA).
No Cash or equivalent will be awarded.
All federal, state and local laws and regulations apply.
WAIVER/LIMITATIONS OF LIABILITY
Entrants, by participating (and winner accepting a prize) release ZEROFRIENDS, ALEX PARDEE, & DAVE CORREIA, from any and all liability with respect to participation in the promotion and possession or use of the prize(s) awarded. Entrants will not hold ZEROFRIENDS, ALEX PARDEE, OR DAVE CORREIA, responsible or liable for any or all accidents, theft or damages resulting by their participation in this event.
PROFIT INFORMATION
100% of the profit from all raffle ticket sales will be used to pay for the execution of the raffle, including travel, as well as the execution of the GRAND PRIZE and the RUNNERS UP prizes.
THANK YOU FOR PARTICIPATING AND WE WILL SEE YOU SOMEWHERE ALONG THE ROAD.
Where we might do THIS: