Matt Ritchie's work is something that, although incredibly clean, incredibly imaginative, incredibly skilled, and incredibly colorful, STILL should be viewed with your actual, in-person, 3-Dimensional human eyeballs. Because even his 2-Dimensional pieces somehow drip with dimension in person. It really is mind-blowing. That being said, if you are within 50 miles of Oakland this weekend, YOU NEED TO COME SEE MATT'S WORK IN PERSON OR YOU MAY DIE OF MYSTERIOUS INNER-SADNESS! And not to mention that you'll miss the FREE print giveaway to the first 40 attendees on opening night!
Opening April 6th at
ZEROFRIENDS OAKLAND
is Rat 136, a new exhibition from California based artist Matt Ritchie. As the title suggests, Ritchie will unleash 136 hand painted rats on the gallery, some in the form of small panel paintings, others as wood cuts, and even some super neat canvas paintings with wood cut frames forged by the crafty Mr. Ritchie himself.
An opening reception will be held April 6th from 5pm to 8pm and Ritchie will be in attendance. Unsold works will be available online to view and purchase the next day via the Zerofriends website for those of us who can only attend in spirit. For more sneaks from the show, check out Ritchie's Instagram! (Thanks to
SpankyStokes
for the write-up!)
Matt will also be debuting two brand new 5" x 7" prints that night as well, shown here: "Cat136" & "Type136" will be available at the opening as well as online.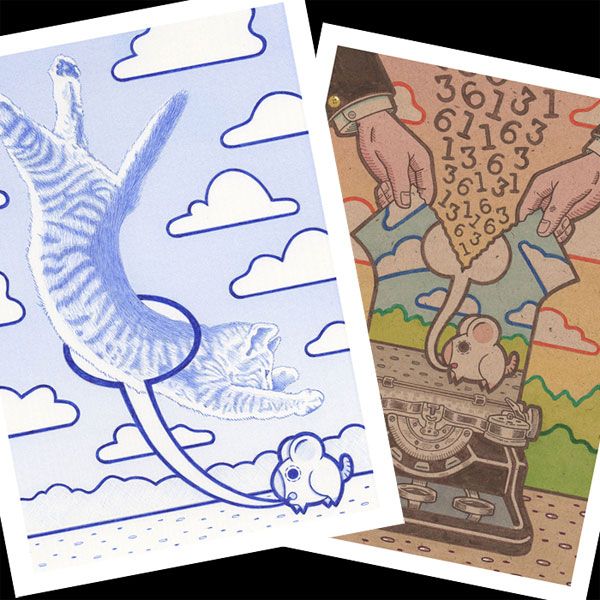 "Rat136"
A Solo Art Exhibition by Matt Ritchie
At ZEROFRIENDS OAKLAND
489-A 25th St
Oakland, CA
Opening Reception April 6th
5-8PM
Here's some more previews of Matt Ritchie's insanely abundant and in-depth collection that will be at the show: