FIRST 20 #WAYCOOLER WINNERS ANNOUNCED! ONLY ONE MORE DAY FOR WEEK 3'S "CAR-TOONING" CONTEST!
I know it's late, but it's never too late to announce WINNERS!!!
But first, like all of those dancing and singing reality competitions, I can't just announce the winners right off the bat and move on. No. I have to instead show you OTHER things first. You know, to prolong the tension and milk the sponsors that I don't have.
So first, if you don't know what's going on with these contest, but want to win an exclusive print, and have an iPhone, and love being creative, LET'S FILL YOU IN LIKE A SCANTRON!
OK, good. So, you want to see what you can WIN first, courtesy of myself and ZEROFRIENDS?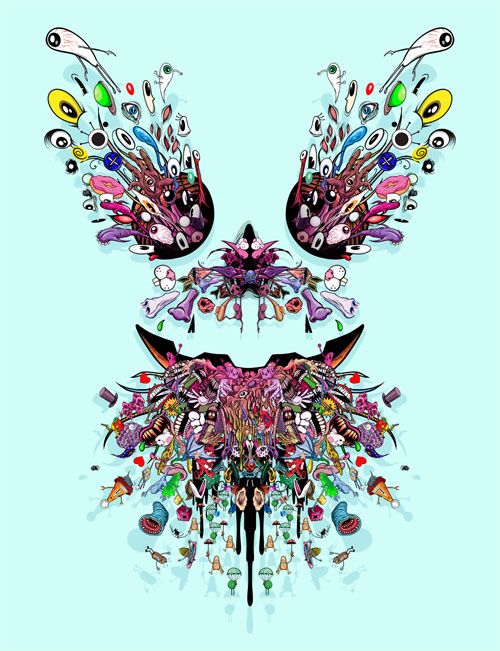 "The Assets Of Cool" Limited Giclee Print
Designed by me, using all of the initial assets of the WayCooler app.
Note, this print is NOT available for purchase and never will be sold online from Zerofriends.
Here's a little detail of the vomit on the print:
Ok, now, here's how you can WIN one of these 60 prints. Each week for the next 6 weeks, we will have 6 different contests, and once a week we will be giving out ONLY 10 of these prints to 10 winners of each contest.
Make sense? Over the course of six weeks (2 which have already passed), one contest a week, 10 winners per contest.
The contests each consist of submitting a photo or photos via email, created on with the WayCooler iPhone or iPad app.
1. Use the WayCooler App to manipulate a photo or create a photo from scratch that fits the guidelines of the current week's specific contest.
3. Save the image to your photo library so you have it.
3.5. Make sure you are STILL HAVING FUN.
4. Upload it ANYWHERE (Facebook, Twitter, Tumblr, Instagram) and tag it #WayCooler
5. Email the image, along with your name, phone number (if possible), correct email address as well as WHAT SPECIFIC CONTEST YOU ARE ENTERING to waycoolerest@zerofriends.com
6. Each Monday following the deadline of the contest, 10 winners will be chosen by all of us at ZEROFRIENDS and 99CentBrains, and we will contact the winners directly and announce them shortly after.
7. Go have FUN! Make another one! There will be no limit to the number of different entries you can submit, but you can only win ONE print per contest.
Contest #1: Deadline July 28 "Low-RezUrrection" - Bring an inanimate object to life.
Contest #2: Deadline August 4 "DraCooler" - Make a famous horror icon from scratch.
Contest #3 GOING ON NOW!!!!: Deadline August 11 "Car Tuning" - Customize a car and make it WayCooler.
Contest #4: Deadline August 18 "3 Amigos" - Create a 3 panel comic strip, using WayCooler combined with the "I'd Cap That" (or another similar) free app.
Contest #5: Deadline August 25 IllustrHATEr Make a grotesque, outlandish or even offensive charicature of yourself (or someone else)
Contest #6: Deadline September 1 The GIF That Keeps On GIF'ing. Create an animated GIF, as simple or as complicated, as silly or as cool, out of images created with WAYCOOLER.
Now, I present to you the winners of the first two weeks (in no specific order, names of artists below):
Contest #1 was "Low-Resurrection" where the object was to make an inanimate object come to life emotionally using the #waycooler assets.
Here are the winning entries:

Winners' names (clockwise from top left):
Rebecca Frost's "Dreamcatching Nightmares"
Craig Chittenden's "Why You Fightin' Me, Homes?"
Henry Lambert's "How Bout Them Apples?"
James Olivas' "Rock Party"
Clark Ruggeri's "WayPooler"
Josh Walker's "Cigarettack!"
Mark Acharon's "ToiLET'S PARTY!"
Casey Diekmann's "Worship Me"
& Miranda Roche's "Burnt to a Crisp".
Now, onto Contest #2, "DraCooler", where the object was to create a famous horror movie icon from scratch using only WayCooler assets. Now, there were a TON of entries that were amazing, and a lot of people sent in multiple entries, all of which were incredible. And some of the entries were so well done artistically that it was almost too hard to believe. But one of the things we were looking for was not just artistic talent, but also creative use of assets and overall, just fun. So take a look at the winners. They are insane.

Winners' names (Clockwise from top left):
Rich Alvarez's "Reagan" from The Exorcist
Henry Lambert's "Chucky" From Child's Play
Neil Cole's "Pennywise" From IT
Travis Shultz's "The THING"
Aaron Ruminski's "Toxic Avenger"
Albert Lee's "Karloff" From Frankenstein
Sean Eipert's "Jason Voorhees"
Stephanie Doody's "Jigsaw Puppet" From SAW
Denise An's "Pinhead" From Hellraiser
& Stephen Nguyen's "Bride of Frankenstein"
That's it for now, see you next week with more winners! DO IT!