As a special "Pre-Con" online release, we just unleashed a new kind of print, at least new for Zerofriends!
So….what would make an art print of an ironic, anti-establishment iconic sci-fi gangster rap parody even better?? Well, the same thing that makes ANYTHING better: BLOOD!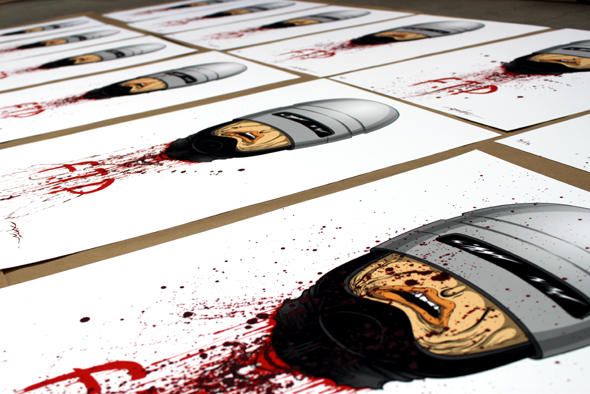 Yes, as a special release, I decided to hand embellish and sign each one of these prints in genuine Robocop blood! "Where did I get genuine Robocop blood?" you ask? Well, aside from having future-ties with OCP, i just kinda looked for it on Clarence Boddicker's Etsy page. You'd be amazed.
Anyway, I had a plasma-soaked day as I got to dance around and splatter these fun rectangles with various amounts of gore, and now you have a chance to buy one of 75 ultra-unique snowflakes of android-death on paper. See all of the details below and
CLICK HERE OR ON ANY OF THE IMAGES TO PURCHASE THE PRINT NOW!
"F.T.P." Limited Edition Hand-Embellished Giclee Print
By Alex Pardee
Limited Edition Of 75
17" x 22" Printed with Archival Inks on Acid Free Velvet Cotton Rag.
Each print is uniquely hand-splattered, embellished,
signed & numbered with the blood of Robocop by Alex Pardee
$75.00 Each
No two prints are exactly the same!
*Note: Due to the unique nature of hand-embellishing, amount of "blood"
may vary at random, and the print you are
ordering may look slightly different than these pictured here.
Below are a few various examples.
And for your listening pleasure….