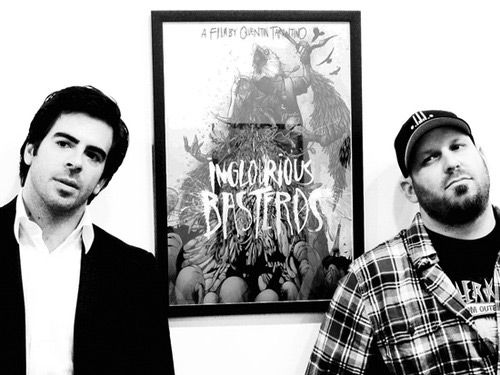 Just got back from the Inglourious Basterds Charity Opening at Upper Playground LA and had, what we astronauts call "a blast".
I got counseling, comfort, (and cupcakes) from Eli Roth in regards to my rocky relationship with Creepshow, shared horrendous bathroom experience stories with Dave Choe and Mickey Avalon, one-arm-hugged Danny "Machete" Trejo, formed a rap group with Omar Doom and Samm Levine, became jealous of James Jean's hair in addition to his skills, gave terrible advice to everyone I met, missed Nicole, got yelled at by a homeless Samuel L Jackson clone, met a bunch of fans and some artists I have been wanting to meet for a long time (Patrick Martinez, Munk One & Estevan Oriel) locked my car in a parking structure, and re-enacted the scene in True Lies with the horse.
I can't thank everyone enough for supporting the art, the film, and the cause.
I had a camera, but as usual I was too nervous to take it out of my pocket so I ended up stealing some pics from the internets to share with you. If you have any pics, let me know where to see them:)
See you soon, you Basterds.
And PS, a huge thank you to Quentin Tarantino, The Weinstein Co, Upper Playground and Red Cross for putting this event together. Let's do another one.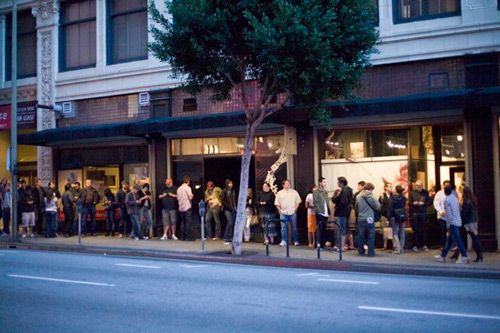 The line outside was huge all day.
Dave Choe and I. We used to watch Dawson's Creek together. Can you tell?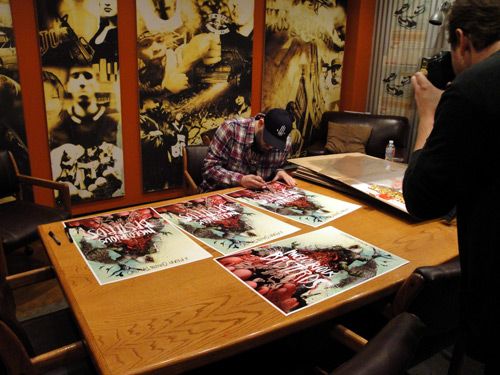 Signing my posters right before the event at SA Studios / Home of Mr. Cartoon & Estevan Oriel.
With Basterds Producer Lawrence Bender and The Bear Jew, himself, Eli Roth, who was actually just hilarious on Chelsea Lately last night, so watch that shiz
here:
(Personal note which makes this ultra-cool: Eli Roth directed one of my top 5 favorite horror movies of all time, Cabin Fever, which is perfect and I will argue until I lose my voice if you think otherwise. The end.
Artist Dave Correia, director Stephen Reedy, DANNY FUCKING TREJO, myself,.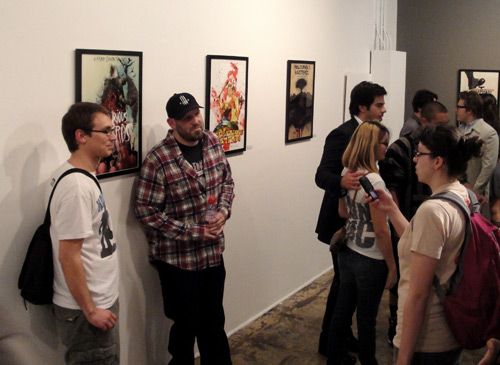 The guy on the left waited since 10 AM and was the first person to pick up my poster. THANK YOU!!!
Me, Estevan Oriel & Dave Choe, discussing the best way to kill a man.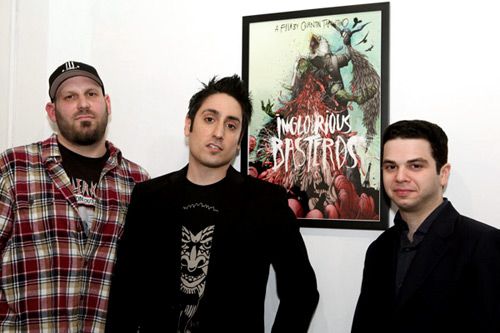 3 X Dope. The rap group re-united. Me, Omar Doom, & Samm Levine, both who were super rad to chill with.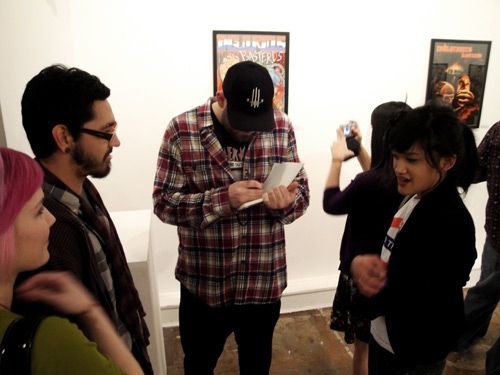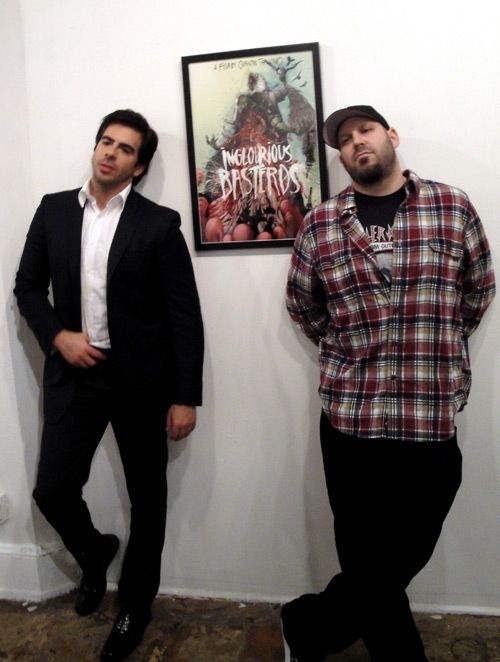 One more of Mr. Roth and I, as Mark Borchart instructed us, "being aloof."
Dave Correia got post-apocolyptic head while were there. Fun.