So, after hitting you with that new
WATCHMEN PAINTING
that i did for NYCC, I started feeling weird because I hadn't updated much lately, and I didn't want you to think that I haven't been working hard.
After all, I woke up coughing blood yesterday and I have been feeling dizzy a lot lately and if I was going through all of this just for one painting, you'd think I was slacking off.
So, on with the updatingness.
This saturday, Feb 7th, at the
Robert Berman Gallery
in Santa Monica I will be participating in a small, one-night-only group art show for Harley Davidson called "THE ART OF REBELLION", where myself and 10 other insanely talented and amazing artists are painting Harley-Davidson gas tanks along with some additional art for a charity called ART MATTERS.
It is pretty humbling being able to showcase my work alongside these artists, as some of them I have looked up to for years.
Anyway, here is the press release and info, and scroll down to check out my contributions and some in progress photos of the art.
word. maybe I will see ya there;)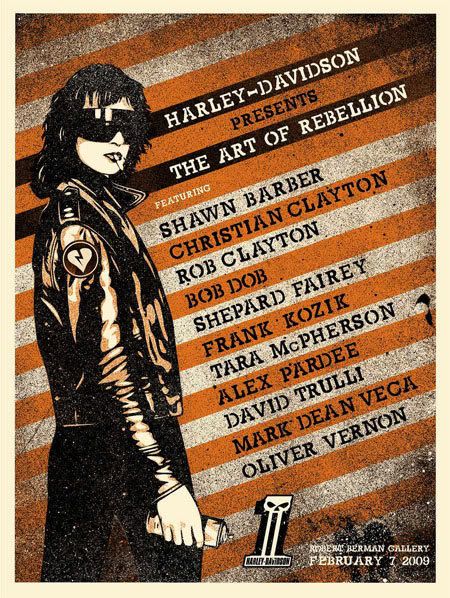 Harley-Davidson have gathered 11 of today's most relevant and exciting artists to present their take on the theme of rebellion.
The Art of Rebellion is a one-night only event taking place on February 7th, 2009 at the Robert Berman Gallery in Santa Monica's Bergamot Station Arts Center. All the artwork is for sale and a portion of the proceeds will be donated to Art Matters, a foundation that assists socially and aesthetically groundbreaking artists.
There will also be giveaways of a limited edition Shepard Fairey poster, an open bar and DJs.

The featured artists are: Shawn Barber,  Christian Clayton,  Rob Clayton,  Bob Dob, Shepard Fairey,  Frank Kozik,  Tara McPherson,  Alex Pardee, David Trulli,  Mark Dean Veca,  Oliver Vernon.
The Art of Rebellion
February 7th, 2009 | 7PM - 10PM
The Robert Berman Gallery
Bergamot Station Arts Center
2525 Michigan Ave., D5
Santa Monica, CA  90404
310.315.1937 | www.robertbermangallery.com
Here is my finished gas tank, front and back, done with acrylics.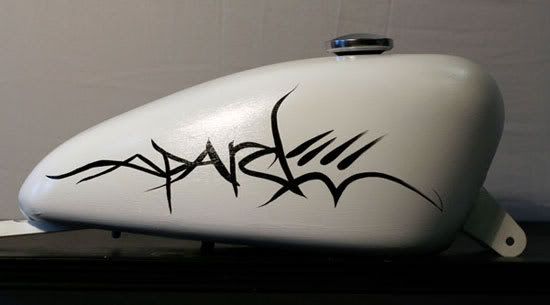 And here is my additional piece, which also includes (below) the inspiration for the piece, which was a really powerful and sad journal that I found in by the creek behind my studio.
Detail of the piece:
There wasn't much in the journal other than this page and a couple of other entries that talked about hating his dad. But here is what this page says:
"October 24, 1987
I never really wanted to write anything in here except stories about dragons and Cyclopses and stuff before. But today is different…
After I was born my mom produced an overabundance of white blood cells in her body because of a disease. So whenever she would try to eat, the blood cells would think that the food was an enemy, and they would attack the food by making her vomit it up. By the time I was 4, Mom weighed 79 pounds and all she could eat was rice, bananas, and plums. Dad never believed she was sick. He used to say it was 'cause of guilt for her cheating on him before I was born. He said she felt bad 'cause she knew in her heart that he wasn't my real Dad. But Mom never cheated, and Dad was really my Dad. Either way, Dad's always hated me. So when Mom starved to death when I was 9, Dad started being extra mean to me.
He made me mow the lawn every day, which wasn't that bad, except he made me bite down on a piece of wood to keep my muscles tight while I did it so that I would "get my man-strength". But all it did was cut my mouth with splinters. He hit me a lot. Mostly when I would talk about Mom, or when I would beg to sleep inside 'cause it was too cold in the shed. And he would make me shoot things too. "G'head, you point that rifle at them bunnies and you pull that trigger to get some fuckin' hair on that little girl chest 'a yours!" So I did it. Bunnies, squirrels, even the occasional cat that hopped our fence just because it was OUR property, he said. And it wasn't even for food. Dad was a vegetarian.
My childhood was disgusting.
But after 13 years, I finally rebelled.
Today was the day that I killed my father.
October 25, 1987
I slept through the night. And for the first time in my life, I remembered my dreams.
I dreamt that my life is finally…going to be beautiful."
And finally, some in-progress photos of the tank: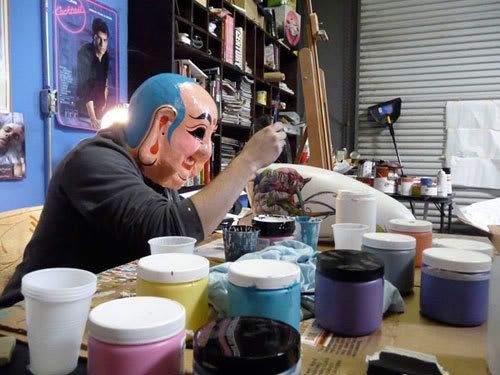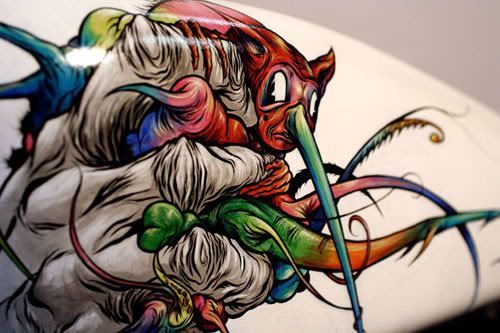 Word.